When I was pregnant with my first child, I tried as hard as I could not to overbuy stuff. There's no shortage of media out there trying to tell you all the things you must have for a baby. I wanted to be frugal and to avoid stuffing our small apartment to the gills. What I really needed to know was which things you need right away for a newborn.
I must have overdone it in terms of not buying stuff, because I ended up making an Amazon order with Next Day shipping from the hospital! It was just a few things we had missed, but I decided to keep track of all the things we actually used that first week, and sent the list off to a good friend of mine who was pregnant as well and due just a few months later.
Since then the list has evolved to help my sister-in-law with two babies, my own second baby, friends who have given birth, and now you! This list is partially based on a similar list from my childhood friend Bethany's blog that I read years ago and bookmarked, long before I was even pregnant (or married, for that matter!). It was super helpful to me to look back and see what things she felt were helpful, especially when creating my baby registry.
Speaking of the baby registry, we managed to get 23.5% off the leftover items on our registry by combining the completion discount on the Amazon baby registry with the Discover IT fourth quarter cashback bonus. Read all about that baby registry credit card hack here!
So here you go: for my friends getting ready to have their first kids, anyone else wondering what things you need right away for a newborn, my lists of what we actually found useful and necessary:
For the Baby – Things You Need Right Away for a Newborn
If you're more of a visual person, or you're making an Amazon baby registry, you can find this list of Newborn Essentials on Amazon as well. It's in their handy "#FoundItOnAmazon" format (hate the name, but it is useful!), where you can <3 items or quickly add them to your registry. Just click here or on the image below to be taken to the list on Amazon!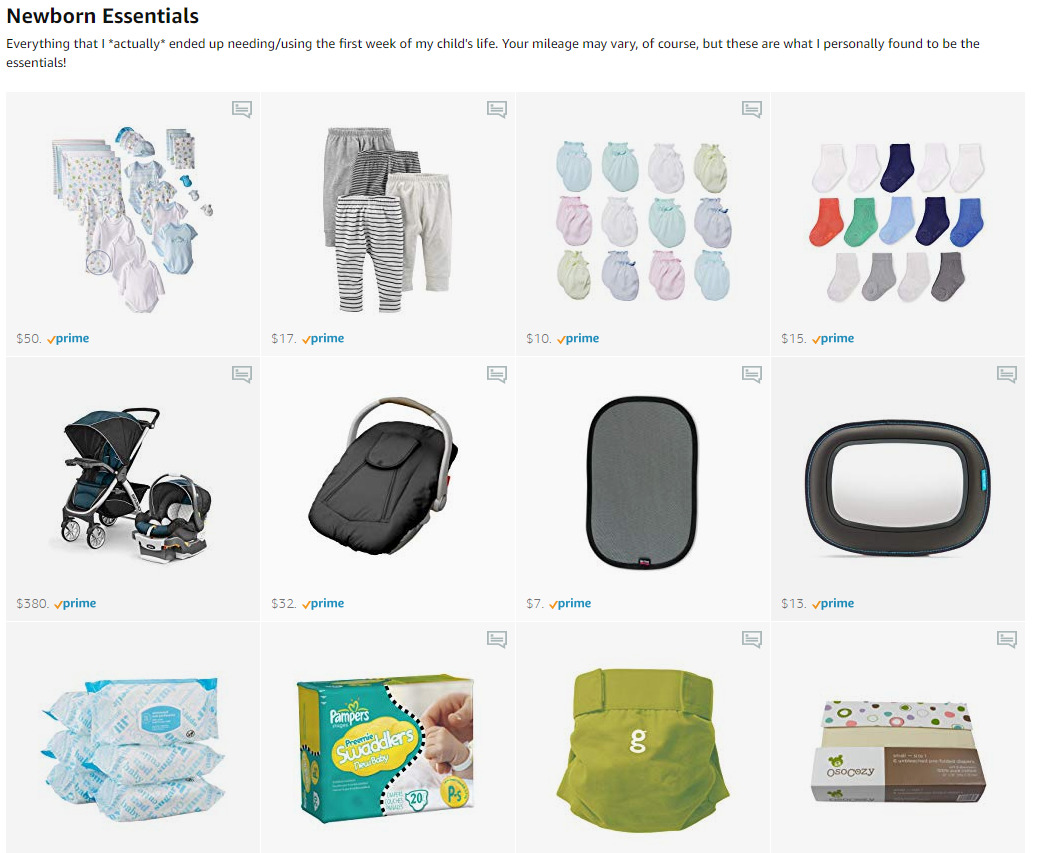 For Momma – Things YOU Need Right After Having a Baby
In addition to the things you need right away for a newborn, here are some things that postpartum mothers will need during that first week! Again, if you're more of a visual person than a list person, I've got you: this list of Postpartum Mom Essentials is also available as an Amazon list:
Nice-to-Haves – Extra Things That Help With a Newborn Baby
Enjoy the first week! It really is a bit of a honeymoon period… sorry to say. 😉 But hopefully this list of things you need right away for a newborn helps prepare you for the road ahead.
If you've found this list helpful, let me know in the comments below! I'm considering making another list of additional things that we got a lot of mileage out of during our baby's first year. I'd love to hear from you as to whether you want that!
And for the parents who have been there, did I miss anything? 😀