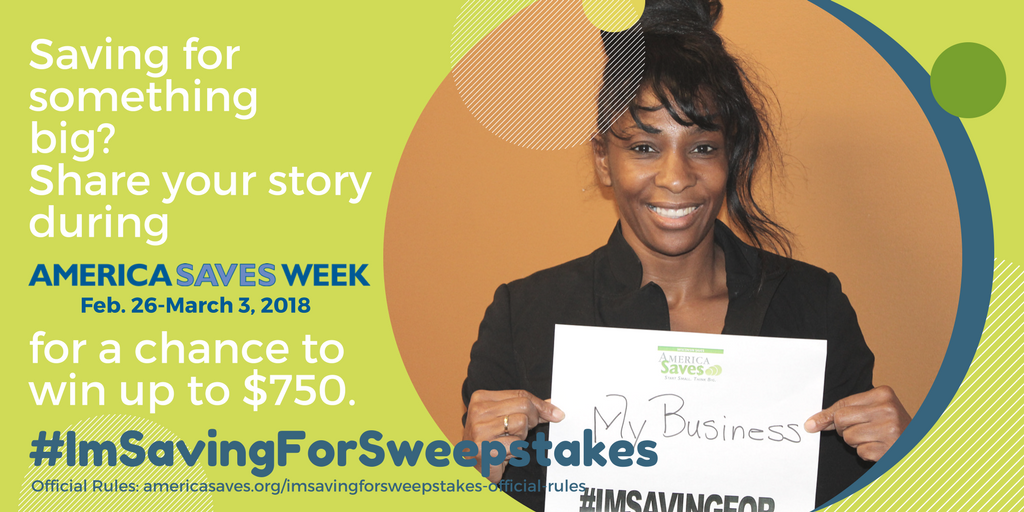 Whether you're saving for a new car, to buy a house, to start a business, to become debt free, for retirement, or for anything else, you could almost certainly use a little more cash toward your savings goal.
America Saves Week is a national effort to set a savings goal, make a savings plan, and save automatically. Join me and the millions of others who are taking time this week to start or grow our savings.
It all starts when you make a commitment to yourself to save. I'm a big fan of making a public commitment to save, because it's one of the little steps that made a big difference early on in my savings journey. I pledged to pay off my credit card debt, and when I was done with that, I pledged to work on some savings goals. I could only commit to saving a mere $5/month toward retirement. But in less than 10 years since I first made that pledge, my retirement savings have swelled to over $90,000! It all grew from that little $5 seed and the savings habit that I made.
Let America Saves help! Take the first step today and take the America Saves pledge to save money, reduce debt, and build wealth over time. America Saves will keep you motivated with information, tips, and reminders to help you reach your savings goal. Think of them as your own personal support system.
Share Your Savings Goal for a Chance to Win up to $750 in the #ImSavingForSweepstakes
To celebrate the 2018 America Saves Week (Feb. 26-March 3, 2018), America Saves is launching the #ImSavingForSweepstakes. It's easy to enter. Just tell America Saves your savings goal and make a plan to reach it for your chance to win $500 toward your goal, then boost your potential prize by an additional $250 by sharing your savings goal, story, or tip on Facebook, Instagram, or Twitter. (Plus, be entered to win an additional First Prize $100 gift card, just by entering here through Poorer Than You!)
How to enter:
Take a photo, draw a picture, or make a collage illustrating your savings goal

OR Make a short video featuring your savings goal by answering at least one of these questions: What are you saving for? What is your savings story and how can it help other people? What is your favorite savings tip or trick?

Share your video or illustration on Facebook, Instagram, or Twitter with the hashtag #ImSavingForSweepstakes
Take the America Saves Pledge and tell America Saves what you're saving for and make a simple savings plan to reach your goal

When you make the pledge through one of the links on this page, you'll be entered to win the grand prize of up to $750 toward your savings goal, and you'll also be entered to win a bonus first prize $100 gift card! (And yes, you could win both!)
Get creative!
Keep it simple by taking a video or picture in front of the item you're saving for – like a new car or house
Use a video or photo editing tool to put yourself in the frame with your goal – like a trip to the Grand Canyon or Mount Rushmore
Use an app to add a caption or some character to your submission
Take the Pledge!
No Purchase Necessary. Sweepstakes ends 4/6/18. See Official Rules.
More Cash Prizes for Saving and Sharing
I'm so excited to see what you are saving for! Feel free to tag me in your social media post (@Stephonee on Twitter, @PoorerThanYou on Facebook, or @Stephoneek on Instagram) or just tell me about your goal in the comments below!