The contest is now CLOSED! A big "thank you!" to all who entered! The best entries, and the winner of the laptop bundle, will be posted here on PoorerThanYou.com by 6pm today. The winner will also be contacted by email, so watch your inbox!

HP and Microsoft have graciously provided me with a sweet laptop bundle to give away to one of you guys, in any way that I see fit. Here's what the prize pack contains: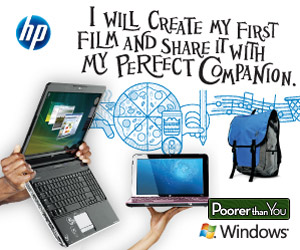 Sweet! So what flaming hoops am I going to have you jump through to win this bundle?
Contest Rules
Create a piece of multimedia that embodies a sound personal finance concept. "Multimedia" can be a photo, a drawing, a video, a collage made with software, or even a song if you so choose. I will pick my favorite submissions and feature them here on the blog on Saturday. I will assign each of the best submissions a number and use Randomizer.org to pick the winner!
I am not looking for the most artistic person in the world. I wasn't a photo major or an art major… I was a film major, but that's beside the point. I don't expect you to be any of those things. It should look (or sound) like you put some work into it, but aesthetics will not be the #1 thing I use to pick out my favorites. Pretty is nice, but it's not the point here.
Things I will be looking for in choosing my favorites:
Money topics! It's open to anything (poke around this blog for ideas), but try to keep it relevant to college students or 20-somethings. It can be something simple, like a cool photo of money. Or it can be something big that demonstrates a complex money topic in an easy-to-understand way.
NO COPYRIGHTED OR TRADEMARKED MATERIAL. Even if it's unintentional, you cannot use anything that you don't have the rights to (including pictures used in a collage, or music). Anything that violates copyright law will be automatically disqualified.
Fun! Personal finance can seem really dull and boring sometimes. It's your job to make it fun and get people excited about money with your creation.
If you want to do something other than one of the multimedia forms I've already mentioned (photo, drawing, video, collage, music), contact me before you start your project. Let me know what you're thinking of doing, and I'll let you know if it will qualify for the contest.
Entries must be submitted by Noon Eastern Daylight Time, August 22nd. No entries submitted after that time will be considered, no matter how good they are. The number of "favorite submissions" will depend on the total number and quality of submissions.
Entries must be submitted in the comments section of this post. This means you will have to host your creation elsewhere (your own website, blog, Flickr, Photobucket, YouTube, etc.) and just paste the link into a comment. DO NOT JUST POST THE LINK IN THE "WEBSITE" FIELD OF YOUR COMMENT! Put the link in the body of the comment. Otherwise it will not be clear whether you are entering the contest or just leaving a regular comment.
Be sure to use a valid email address when leaving your comment — one that you check often! I'll be using the email address left in the comment to contact the winner.
One entry per person. You can work in a team, if you like, but then it's one entry per team. And you'll have to figure out which one of your team members is responsible for winning the laptop bundle.
I reserve the right to delete or disqualify an entry for any reason, including but not limited to copyright violations, multiple submissions, or obscene content. By submitting media into this contest, you give me the right to use your content in upcoming posts on Poorer Than You and other related projects.
Relatives of the site owner (Stephanie) are not allowed to enter. Sorry Mom… I know you really want this bundle, but you can enter the other 24 contests of the Better Together giveaway!
This contest is open to residents around the world and is not restricted to any one location. For areas where customs or taxes would prevent shipment of the bundle, an equivalent credit to the HP online store will be issued. If you have won a bundle in one of the other Better Together giveaways, you are not eligible to enter this one — sorry, no two-fers!
Go go go go! I can't wait to see what you guys come up with!