It happened last year on my birthday. I alluded to it in last month's net worth update. Yes, it's happening: together with HP and Microsoft, I'm giving away a laptop bundle on Poorer Than You this month!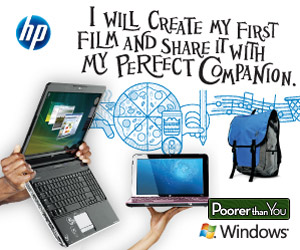 As a part of a massive 25-blog giveaway called "Better Together" I'll be giving away a delicious prize pack that's designed specifically for college students:
You can learn much more about the two computers in the bundle on Thursday, because in addition to providing a bundle to give away, HP also loaned me a second bundle to review. So check back on Thursday for some in-depth descriptions! (Or subscribe to the RSS feed or you can subscribe by email!)
So when can you enter to win? And how? Well, just like last year, the details of "how" won't be revealed until my specially assigned giveaway-day. But I can tell you when that will be! Here are all of the sites that will be holding one of these giveaways, and their giveaway dates:
So get yourself back here on the 18th and enter to win!