Many thanks to everyone who entered the PoorerThanYou and HP Better Together Giveaway! The requirement to enter was to submit a piece of multimedia that relates to personal finance. Here are the top entries, in the order they were submitted. Remember, top entries were judged on the following:
Demonstration of a sound personal finance concept. Entries that were off topic or hard to understand were not considered.
Free of copyrighted material. This is difficult for me to verify, even though I'm a big copyright geek and now a lot of the rules. But I have vetted these to best of my ability. If I find out in the future that a top entry is in violation of US copyright law, it will be removed from this page.
Fun! This can be hard to do with personal finance, so I was a bit lax about this rule. But there were a few "downers" submitted, which was the opposite of what I wanted. Entries that looked on the sunny side of things were much more likely to make the cut.
Submissions after the "jump:"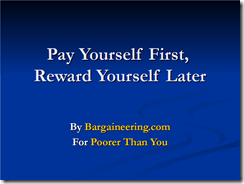 Jim from Bargaineering came up with a slideshow to demonstrate how small savings each month can really add up! Click the image above to see what saving $1 – $500 per month could get you!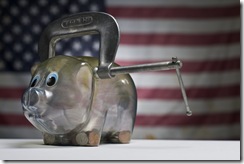 Photographer Charlie Doerner submitted this image of his for the contest. He describes it as "a photo illustration about the current american [sic] economy and how it effects our personal finances."
My friend and longtime PTY reader Peter Mottola submitted what was obviously a personal lesson on Do-It-Yourself projects!
Reeve made a video with tips on how he put himself through college. Way to go!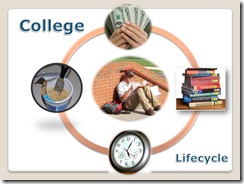 Andre Da Costa gives us a depiction of the College Lifecycle, "the demands of college life, the key elements that make up every students tertiary experience: Money, Textbooks, Time, Food (Ramen) and of course studying for your goal, with the root or starting point of all these things going back to Money and how you manage it to your advantage."
Mrs4444 sent in a picture of her son with the new (to him!) car he worked for this summer. Saving up for a dependable used car when you're in your teens is definitely a sound personal finance idea — way to go, Mrs4444's son!
Barbara Baker's video has 5 great tips that have helped her family manage their finances. (You may need to visit the video's YouTube page to be able to read the text. Just click on the video twice and it should take you there!)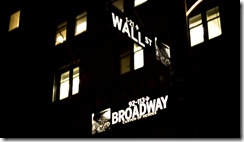 Harry T. shares this simply beautiful picture that he snapped at the corner of Wall Street and Broadway. He explains it as "1) As a place many college graduates think they'll end up and 2) As a place many college students don't understand."
Chris B submitted this nice simple image of tracking your spending. As he says, "the queen is watching!"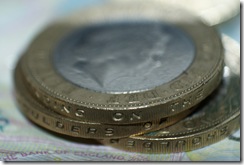 Krish M took this nice macro shot of some British currency. Sometimes, I'm jealous — American money isn't nearly as pretty as other countries'!
Bogdizzle's Retirin' Early Rap
Bogdizzle took his first try at making a rap for this contest! It's chock full of good advice and definitely fun to listen to. Link the link above to download the MP3.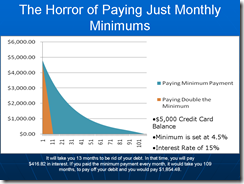 My Journey made a graph that poignantly demonstrates the difference between paying just the minimum payments on a debt, and paying twice as much. A very clear demonstration of debt payoff!
Renee Watkins made a nice and simple graphic about how saving money is like planting a seed. Click the picture above for a larger version.
Chris Swan's Song
To the tune of "Clementine"
Chris Swan wrote a sweet little personal finance song that you sing the tune of "Clementine." Just like the original, this is sure to get stuck in your head!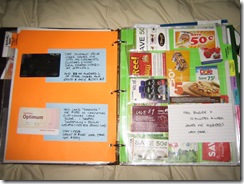 Colleen C gives us a peek into her coupon binder, which saved her over $1000 last year! Click the picture above to view a larger version, where you can read  the tips on the index cards.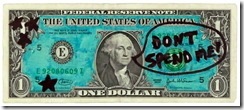 J Money from Budgets Are Sexy apparently uses his money to remind himself not to spend his money! Cute, J… but maybe you should try this with Andrew Jackson and Benjamin Franklin?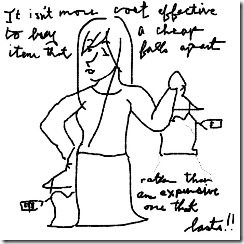 Rita drew us a simple graphic that reads "It isn't more cost effective to buy a cheap item that falls apart… rather than an expensive one that lasts!" She's so right — quality matters!
Why Buy It When You Can Win It?
Jess presents some great tips on entering giveaways to win stuff you want. Although you don't want to fill your home with stuff you don't need, it's good to see if you can win something before you go out and buy it!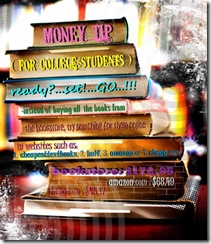 Birute's image of textbooks has some good tips on saving money when you buy them! Click the picture for a larger version if it's hard to read.
Abby Joy's Tight Wad Rap
(Lyrics)
Another personal finance rap! The message of the rap, in a nutshell:
"Avoid debt—spending money you don't have.
Keep short accounts—build credit and favor.
Invest…in people."
Milcah's video has several great tips on how to manage and save money! Including, of course, reading Poorer Than You and related sites! 😀
Tanya demonstrates some smart tips that will make clipping coupons worth your time!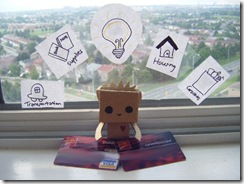 Fonda Wong's photo is about planning how you'll spend your money before you go out and spend it!
Victor Hsieh submitted a nice visual of saving money over time.
Miranda (who wrote an article for PTY last year) shared this video with great tips for parents on how to save money while back-to-school shopping.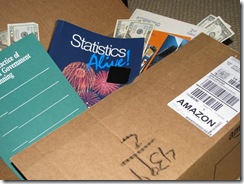 Jess shows us the money her husband saved by buying his textbooks online!
Jill very simply shows us that time is money!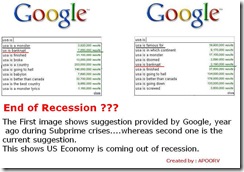 Google's "suggest" feature shows you what other people have recently search for that is similar to what you've started typing. Apoorv Gulati wonders if the change in people's searches indicates that we're coming out of the recession.
I may not agree with all of Richard's Rules of College Finance/Life, but each campus is different! On mine, there were a lot of fun things to do, for free! But remember, if your campus has free fun stuff, it's not really free. You're just paying for it through your tuition!
Mike Piper of The Oblivious Investor made this simply great video about investing in index funds. It's really easy to understand and sums up the two biggest reasons why index funds rock!
My friend and (sometimes) comic artist Dave Morgan spent a lot of time putting together this personal finance comic. It's a very smart look at dealing with personal finance advice. See how many personal finance gurus you recognize! (Click the thumbnail above to view the full-size comic.)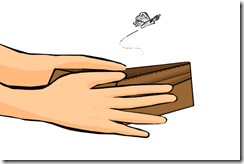 Larry N. calls this a "quick sketch" that "represents a lot of people's money problems, including mine." Larry, if this is a quick sketch for you… I'm envious! (I never could draw…)
Nathan Cahill's video about the dangers of debt in college feels very familiar to me — it's almost as if he used my net worth graph to make it! (I don't think he did. But my graph is very similar, and for a lot of the same reasons as in the video!)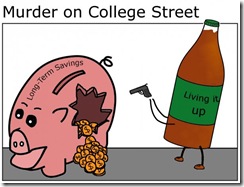 Chad Oliver keeps this drawing on his bedroom wall to motivate himself to save money. Not a bad idea — maybe Chad will give his permission in the comments for others to print it out and use it that way, as well?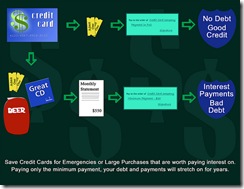 Auriette offers this illustration of the difference between making minimum payments and paying your credit card off in full. It's a little hard to read, but in the top check, the bill is paid in full, and in the bottom the check is for only the minimum payment.
Winston's Guide to Saving on Textbooks
This short presentation is a must watch/read for anyone who's buying textbooks for college!
The Winner
I hope you enjoyed checking out the contest entries as much as I did! There are even more good entries on the contest page. Even though not every submission made the cut, some of the other submissions might be helpful to you in your personal finance journey, so check them out!
There were 36 entries featured here as the "top entries." Entering in 1-36 on Randomizer.org, the final winner is…
#35, which is Chad Oliver! Congratulations Chad, hope you enjoy your HP laptops and Timbuk2 bag!
Again, thank you to everyone who entered! And everyone (except Chad) is welcome to keep entering contests in the HP Better Together Giveaway — there are still lots of chances! Good luck!
If you came to PoorerThanYou because of this contest, I hope you stick around. There's a lot of great content here! You can subscribe to PTY via RSS feed or get articles sent to you by email.