The College Money Network is helping you celebrate the holiday season with a giveaway! With the economy in a recession, many of us are cutting back on our holiday spending this year, but we still want to have just as much fun. Share your frugal holiday ideas (gifts, party plans, etc.) and earn chances to win one of the awesome prizes we're giving away just in time for the holidays.
Later this week, I'll be posting some of my frugal holiday ideas, and so will other CMN members. But for today, I'm sure you just want to hear about the giveaway!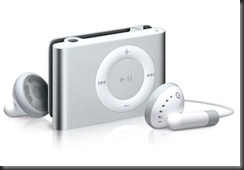 Prizes
How to Enter
There are multiple ways to earn entries into the CMN Frugal Holiday giveaway. Complete as many as you can to increase your chances of winning a prize! You may enter each way once.
Leave a comment on this post sharing your frugal holiday ideas. (1 entry)

Subscribe to my feed via RSS or email. Then send me the secret phrase that appears at the end of each post in my feed. (2 entries)

Write a post on your own blog about your frugal holiday ideas and link back to this post. Email me to let me know. (Posts you've already written count, as long as they were written in 2008.) (3 entries)

Visit individual College Money Network member sites for opportunities to earn additional entries, similar to the ones you see here. Copying and pasting your comment on multiple blogs will NOT count. (Maximum of 6 extra entries)
How To Win
All valid entries will be assigned a unique number. We will use a random number generator to select the winning numbers. Odds of winning depend on the number of entries received.
All entries must be received by December 15, 2008 at 11:59 PM PST.
Winners will be notified the following day. After all the prizes have been claimed, we will release an official announcement listing the winners.
Rules and Restrictions
All winners must be 18 years of age or older and live in the United States.
No purchase is necessary to participate in this giveaway.
We will choose the winners from the qualified participants. We are the sole judges of adding entries to the list. Plagiarized content, trackback from splogs, spam, and comments containing abusive or inappropriate languages will not be considered.
To award the prizes, we must be able to contact you. Please leave a valid email address with your comment, or make sure we can contact you through your web site. Your contact information will not be shared with anyone else.
For certain prizes, winners will be required to submit a physical address to ship the prize. Again, your contact information will never be shared with anyone.
Prizes are provided as-is, and substitutions may be made at our discretion.
Winners must reply within 1 week from the time we notify them to claim their prize. Otherwise, they forfeit their prize, and it will be awarded to an alternate.