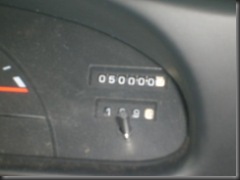 It doesn't necessarily have to be your grandparent, but buying your first car from a member of the elderly community has some awesome perks. My car (nicknamed Fity Thou') serves as the example of what a sweet deal you could land.
Why My Granny Car Ownz:
I got it for $2000 and was allowed to pay monthly, with no interest. Grandmas are so sweet!
Low mileage. I got it in November and it didn't even hit 50,000 miles until yesterday (see the sweet picture I forced my passenger to take).
Taken care of well. When my grandfather was alive, he made sure it saw regular checkups. My grandmother continued the trend, and she didn't drive it much anyway (see "low mileage" above).
All leather interior.
Random perks left inside, specifically for me. I think she gave me two ice scrapers and three boxes of tissues.
If you're shopping for a first car for yourself or (heaven help you) a teenage child, consider moseying your way up to the nearest retirement community.