This is a guest post by Joshua Heckathorn, who runs Creditnet.com and holds an MBA and B.S. in Finance. Creditnet is a free resource for anyone who wants to learn more about credit and compare hundreds of credit cards online. When Josh isn't glued to the screen of his Mac, you're bound to find him at the nearest rock-climbing wall or sushi joint around Seattle.
Have you checked the interest rate lately on your checking account?  If you haven't, there's a good chance you're raking in a whopping fraction of a percent on your money, or maybe even nothing at all.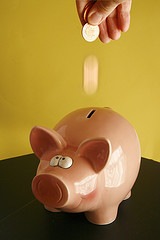 I checked my "high-interest" checking account this morning just to see where I stand.  Are you ready?  .08% APY!  What a joke.  And that's exactly why I leave the bare minimum in this account at all times.
It just doesn't make economic sense to leave any more cash than absolutely necessary in an account that won't reward you for storing your hard earned dough.  The banks are making good money off your cash (theoretically), so why shouldn't you be able to at least beat inflation? Besides, there are loads of better options right at your fingertips.
If your goal is to find a safe and highly liquid investment that offers the best interest rates at little or no cost to you, online savings accounts are hard to beat.  You probably know that already, but what you may not realize is online savings accounts can also be used as a convenient way to pay for monthly expenses such as your credit card bills.
Yes, you can certainly do this from a checking account as well.  However, you'll be missing out on the extra interest you could have earned, and you may also run the risk of not having enough in your checking account each month.  Enter the dreaded overdraft charge — I'll bet you can think of a million better ways to spend $30!
In fact, this leads to a common excuse for keeping too much cash in a regular checking account. Many individuals, young and old, struggle with developing a monthly budget and reconciling financial accounts.  So, we argue that it's just easier to leave extra money in our checking accounts to make sure all the bills are covered.
It might be the easier route to take, but it's definitely not the financially savvy thing to do.  I don't care if you have $1,000 or $100,000 in savings, you should always make an effort to be smart with what money you do have.  Making a couple of extra percentage points on $1,000 might not turn you into the next Warren Buffet, but the interest still adds up over time.
That said, if you don't already have a high-yield online savings account, try opening one today with a reputable company that consistently offers competitive rates.  ING or HSBC Direct are both great options with user-friendly sites and decent customer service.
Next, transfer your existing savings to the new account and set up automatic savings to pull as much as your budget will allow from checking into your online savings account each pay period.  Finally, make a visit to your credit cards' websites to schedule auto-payments directly from your online savings.  Keep in mind that AMEX still doesn't allow payments to be made from online savings accounts.  However, most other major credit issuers, including Citibank and Capital One, don't have an issue with it.
Now, sit back and watch your savings grow without ever worrying about credit card late fees or bank overdraft charges again. If you like how this setup works with your credit cards, you may even wish to schedule auto-payments for other big-ticket bills like your car payment or rent.  Online savings accounts allow up to 6 ACH transfers each month, so you might as well use them all up while still enjoying the higher interest rates.
Editor's note: For an example of what Josh is describing here, check out my post Using ING Sub-Accounts to Save Hundreds on Student Loans, where I describe the process of paying my student loans automatically out of an ING savings account! – Stephanie