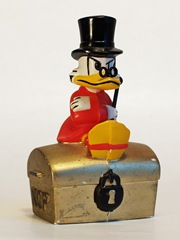 Last month I announced some changes to my Savings Snowball, including dropping the goal for my Emergency Fund from $10,000 to $5,000. No one said anything about that, so it must not have been a huge controversy. But I don't find myself especially comfortable with either of those numbers. Why? Because nailing down how big an emergency fund should be is not easy.
Experts love to give you rules of thumb like "3-6 months living expenses," which is certainly as good a metric as anything. But if your current living expenses are inordinately high or low, that'll throw the whole thing off.
The truth is, your emergency fund should be big enough to exactly cover the cost of true emergencies in your life, but no bigger. Obviously not having enough money in your emergency fund is bad, but too much money isn't good either. You might be tempted to use your E-fund for non-emergencies if there's too much money in there. And extra money in your E-fund isn't being put toward other goals in your life, which will slow those goals down.
The truth is that the only way to know exactly how much money you'll need in your emergency fund is to be psychic. And I'm going to go ahead and assume that if you're psychic, your emergency fund consists of "already knowing the winning lottery numbers." So for us mere mortals, we must rely on the old metrics of "3-6 months expenses" or simply picking a nice round number out of thin air, like I did.
Some tips on keeping your emergency fund big enough, but not too big:
Remember to adjust the amount for life changes. When you first move out on your own, you'll need a bigger emergency fund than you did when you lived with your parents or at college. In general, the size of your emergency fund will have to grow as you go through life.
Credit cards and other available credit can help in a pinch, but don't rely completely on them. Relying solely on credits cards as your "emergency fund" is stupid. But if you have a credit card with a good limit and a low interest rate, it can be used once your cash reserves are tapped out, as long as you have a way to repay it later.
Personal relationships should also be a part of your emergency fund. Don't be a mooch and go running to friends and family for every little thing that comes up! But do work toward strong ties with people so that you have people to rely on in a true emergency. The flip side of this is that you have to be ready and willing to help out with their emergencies, as well.
Avoid tapping your emergency fund as much as you can. If you can pay for minor emergencies or not-really-emergencies out of pocket, then you won't need to keep as much in your actual emergency fund to cover the real-deals.
Keep your deductibles for insurance in mind. If nothing else, your emergency fund should have as much in it as your highest deductible — be it auto, home, or health insurance. Best case scenario would be enough money to cover all of your highest deductibles.
Don't sweat your emergency fund too much. Yes, you should have one and you should follow the tips above to choose the size of it. But slow and steady wins the race — putting aside any money every month into an emergency fund is better than not. In fact, half of Americans have no emergency fund at all, so if you put anything away at all, you're already "above average." Just don't let that go to your head, hotshot!
Save