If you've only got one debt hanging over your head, paying it off isn't rocket science: you pay as much as you can every month until the sucker is gone. But if you've got more than one debt to worry on, how do you prioritize them?
No New Debt
Before you even think about how to pull yourself out of a debt hole, you've got to stop digging the hole! Stop acquiring debt. Don't use your credit cards if you're carrying a balance on them from month to month. Use a debit card instead. If you've got some fancy home equity line of credit, don't draw anymore from it. If you can't stop acquiring new debt, you won't be debt free. If you're having trouble making ends meet without using debt, you need to drastically change something in your life.
What can you drastically change to stop acquiring debt? That's something you have to figure out for yourself, but I can tell you what I did: I had to drop out of college for nine months and vow not to buy anything unless it was used (except food). Hopefully you won't need to take as drastic of measures, but I'll tell you something: it worked! I'm debt free now, except for my low-interest student loans.
Write Down Your Debts
No matter what theory of debt pay-off works for you (see below), each of them starts off the same way: making a list of all of your debts, including the total balance of each debt, the interest rate, the minimum payment, and a little something I like to call the "annoyance factor" of each debt. The annoyance factor should be a number, and it doesn't matter on what scale (1-5, 1-10, 1-100, whatever!). Just as long as a bigger annoyance factor means the debt is more "annoying" to you than a debt with a lower annoyance factor.
There's a spreadsheet below for entering all of this information into. First, here's a quick explanation of the debt repayment theories.
The Three Theories of Debt Repayment
Lowest Balance theory: Pay off your debts in order from lowest balance to highest. This is best if you have a very emotional relationship with money, and you want to see progress quickly. If you would get frustrated and give up if it took you too long to pay off the first debt, this is the theory for you.
Highest Interest Rate theory: Pay off your debts in order from the highest interest rate to the lowest. This makes the most mathematically sense, and works well for number-oriented people. If you want the most dollar-for-dollar efficient method, this is the theory for you.
Annoyance theory: Pay off your debts based on how annoying they are to you, or how pressing it is to pay them off. If you have a debt from a company you really hate, or personal debts to family you want off your back before you deal with any other debts, this is the theory for you.
Free Debt Snowball Worksheet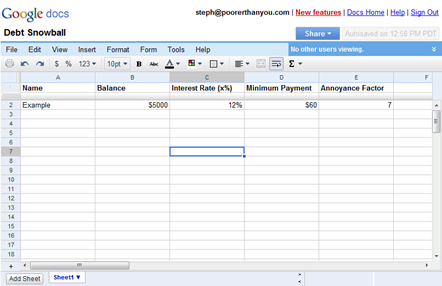 Open the spreadsheet in Google Docs (it's free and totally awesome, don't worry)
In your copy, you can now edit the spreadsheet and put your own debts in. Don't forget to replace the "Example" with a debt of your own!
Now comes the fun magic of Google Docs. If you hover your mouse over the gray bar underneath any of the headings (Balance, Interest Rate, or Annoyance Factor), you'll see that it turns orange and says "Sort."
For the Lowest Balance theory of debt payoff, click the arrow on "Sort" under "Balance" and choose "Sort A > Z"
For the Highest Interest Rate theory, click the arrow on "Sort" under "Interest Rate" and choose "Sort Z > A"
For the Annoyance theory, click the arrow on "Sort" under "Annoyance Factor" and choose "Sort Z > A"
And now your debts are cleverly sorted for you, based on the payoff theory you've chosen. So all you have to do now is throw as much money as you can manage at the debt that's sorted onto the top, and make the minimum payments on all the debts listed below it.
When your first debt is paid off in a few months (or, in some cases, years), you just have to open the spreadsheet again, delete the paid-off debt, and start throwing as much money as you can at the new top-dog debt!
The great thing about this is you don't have to stick to any one of the theories if it isn't working for you. You can start out with Lowest Balance, and if you decide to change to Annoyance later, you can just re-sort the spreadsheet and adjust your payments. See — who said change isn't easy?