First thing you have do is say "ooooooooooooo!" in excitement and awe. Come on, do it, or I won't tell you what's going on!
Ok, good, here's the deal: HP (yes, Hewlett Packard) is giving away 15 laptop prize packages on 15 blogs. For serious! And you know what's better than a free laptop prize pack? A free laptop prize pack given away on PoorerThanYou.com!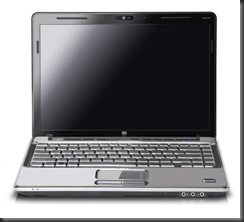 The prize pack I'll be giving away includes:
(The dv4t is the first laptop featured in this video, if you want to get a better look at it.)
Not only do I get to give away this fabulous prize pack, but I get to kick the whole thing off! The excitement starts right here on Friday September 26th. I'll announce the requirements for my giveaway, and every two days after that, another blog will announce theirs. So you get 15 chances to win, and it all starts right here!
Giveaway will vary by site, and the details will be announced on each site's start date. Here are the participating sites and the dates of their giveaways:
So you'll want to check each site on their start date. Some blogs will give away dv4t notebooks, like me, and some will give away dv5t and dv7t series notebooks. We each got to pick – I picked the dv4t because it's the most portable. All three are great systems!
So check back here on September 26th to get find out how to enter. You'll want to subscribe to the RSS feed or subscribe by email, so you don't forget!