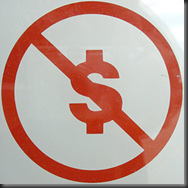 Budgets are the first thing people think of when I tell them that I'm "into personal finance." There's an assumption going around that I'm the Great Supreme Queen of Budgeting, ruling over all of the lesser peons with my Glorious Budget of Power, Puppies, and Being Awesome.
Ok, so, no one has actually worded it like that.
Confession: I don't use a budget. I've tried PearBudget, the simplest of the simple, easy, and awesome budgeting software. And for budgeting software, I like it quite a bit.
But I don't use it. Sure, everyone once in a while, I open PearBudget up and fiddle with it and put in all the purchases I've made since I last played with it. But something always goes wrong. An expense doesn't fit, or my spending is too erratic from month to month to make any sense within the confines of a budget.
I'm a college student. I spend a random amount of money on textbooks three times a year. I spend a fluctuating amount of money on gas every month. My income is dependent on what part of the school year it is. Often times, PearBudget will commend me one month for spending far less than I earned! Except that the only reason that ever happens is when I know that the next month, I've got a lot of expenses and less income. So then budgeting software yells at me the next month for spending more than the income for that month.
Perhaps there's a piece of budgeting software or some system out there that would work perfectly for me. But I really don't see any need to go out and find it. I don't need a budget.
Instead, I just track and plan. I have a simple spreadsheet I made for myself in Excel. I use it to track every single penny I spend. And every penny I earn. I also estimate my future income and expenses for the month, so that I know whether I'm looking down the barrel of a "good month" or a "bad month." Then I plan accordingly.
That's it. And it works for me. It's been working for me for almost two years now. So if you haven't pulled your financial life together yet because you hate the idea of making a budget, then it's time to get started. Just track what you spend and what you earn, and after a while, you'll figure out whether yoy even need a budget at all.