Moriah here!
With the Making Do project, we not only want you to write a fantastic story, but we also want you to get some skills and feel more confident if you're going to try freelancing. And to me, even a year into my freelancing journey, pitching is the most daunting part. But don't worry, it's definitely a skill you can master.
While pitching to every organization is a bit different, the primary elements are the same. Here are what we're looking for when we ask you to pitch us a query.
(For those of you who don't know, a query is a letter (or in this case, a form) to propose writing ideas. But you can just categorize pitch and query in your brain as the same thing.)
Formatting your Pitch
Pitch formats are relatively simple. You'll want to greet the editor (Hi, that's me!), introduce your piece, give a few details about it, and then end on a positive note.
Here's my favorite pitch I've ever written (ironically, TFD rejected the pitch, but ya know… that's freelancing for you).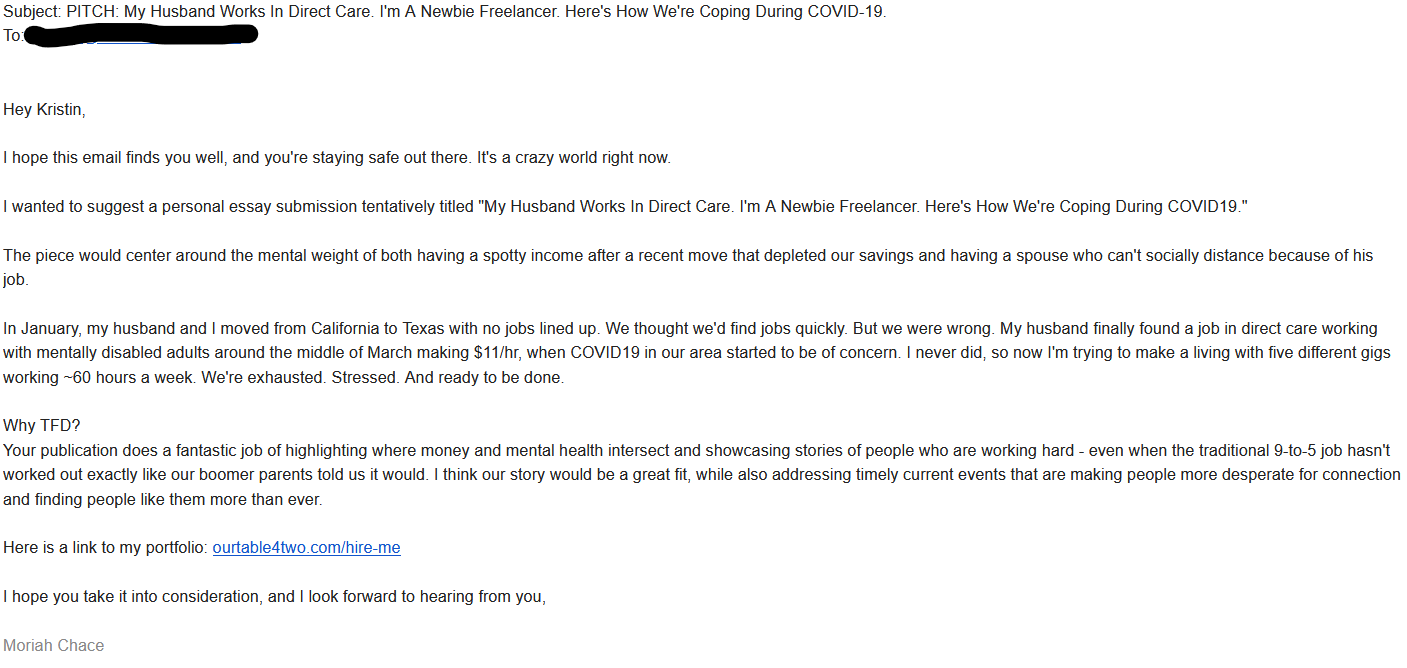 1. Start with a greeting
As you can see, I started with a greeting.  "I hope this email finds you well" is my go-to. Since I pitched this in late March, I mentioned something personal – like it's a crazy world right now. That's not needed, but can add a personal touch.
2. Give me your title
I got straight into the meat of my pitch and gave them two things.
the type of article I was pitching (a personal essay)
the title of my piece
This immediately should tell me what your piece is about. A lot of people tend to pitch just vague ideas. Don't do this. Be specific. Editors love this.
3. Tell me about your piece.
This should stay short. Three to five sentences should be enough to explain what your piece is about. It's enough to get me interested but doesn't give everything away. Feel free to tease the editor a little bit here. If you don't want to give away a resolution of your piece, don't. That's totally fine.
4. Tell me why I want the piece
This step is definitely optional. And I don't require it at Making Do. But it can be a great way to show your potential editor that you're interested in writing for them and not just writing this in general. But again, keep it short. Editors don't want to read a novel about why you love them. A short blurb is enough to show your interest in the publication.
5. End with a formal close
I always end every pitch with a link to my portfolio and a simple farewell. Including your portfolio is again, optional. But it can be helpful for editors who haven't worked with you before to see a snippet of all of your best links. And keep your ending professional. A nice "Thank you for your consideration" is a wonderful ending.
A Few Tips
1. Home in on your idea
The awesome part of Making Do is that your story is your pitch. We're looking for unique stories about what money does and doesn't do for lower-income individuals. It's an extremely personal topic – but it can also be a huge topic to think about.
The best queries are super-specific ideas. For example, I queried an article for Women's Personal Finance about divorce. But instead of saying, "Hey I want to write an article about how divorce affected my finances", which is broad, I narrowed it down with a very catchy potential headline "How Divorce Ruined My Finances But Saved My Life." The pitch was accepted, and now it's my most widely circulated piece.
The difference between the two is that one is a topic and the other tells a story. I want you to capture your story in your pitch.
2. Keep it short and sweet
You don't have to write the entire piece in order to pitch it to me. Bullet points are great. Three to five sentences explaining the piece you want to write should be sufficient, along with a short intro and a short conclusion.
I also love reading why people think the piece would fit for Making Do. But again, three to five sentences works great.
It's enough to give me the basic idea of your tone, how you view the piece—but doesn't overwhelm me with content.
However, you can definitely attach the piece if you feel so inclined, but we don't require full pieces. So don't worry about having the piece completely written before you pitch.
As the industry standard, most publications prefer a pitch rather than a completed piece. Completed pieces can be helpful if you have no other published work to highlight your writing ability, but they're not necessary. And if you add them to the query, they should be below your signature line or added as an attachment.
3. Watch out for Grammar and Spelling issues
These are a big turn-off to editors. Keeping your pitch clean helps us know that you're serious about your writing. And we get it, occasionally a misplaced comma will happen, but trying to keep your pitch as professional as possible will leave a good impression on the editor.
I highly recommend someone else reading over your pitch before you send it. Or using an online grammar checker. I pay for Grammarly, and I cannot recommend it enough. But even using the free version will catch most errors.
Other pitching guides/resources you may find useful:
Now… pitch!
To pitch your personal money story for the Making Do project, use our form. If you want to pitch a guest post that doesn't fall under the guidelines for Making Do, we also have a general guest post pitching form.