Moving day is fast approaching for me, and I have a little problem to overcome: I'm taking everything in my car. I'm not getting a moving van because I just don't have enough stuff to justify it. Even if I did, I'd have to drive the van there, then drive back and get my car – because my car has to get to Virginia somehow! So I'm faced with the dilemma of fitting everything I own into my 1996 Oldsmobile.
I'm a girl, so there is a significant amount of clothes and shoes to be considered in this move.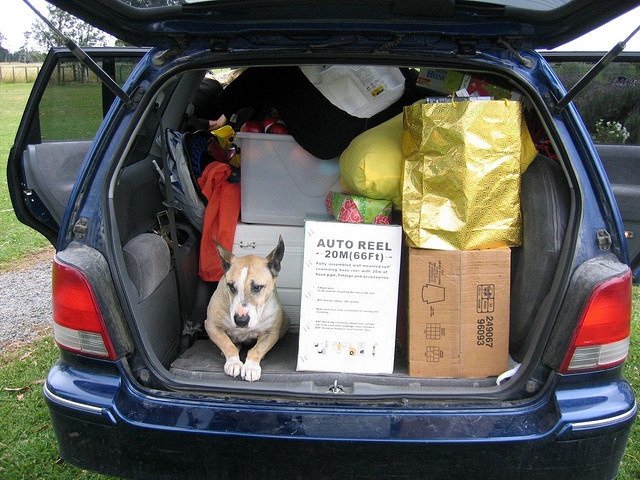 Luckily, I've helped quite a few friends "Tetris" their things into cars to move. So I do have a bit of experience with this. Here you will find my philosophy on packing everything you can into a car:
Before the Move
Yes, packing a car starts long before you actually start packing. As soon as you know you'll have to move, and that you'll be relying on your car to do it, preparations must be made.
Stop acquiring stuff – this is the big one! My friends and family are very sick of me saying "I want this, but I just can't get any more stuff before the move!" But it's true – everything I buy before the move is something that has to be moved!
This includes not buying a lot of bulk food or toiletries in the months leading up to the move, either. Sure, a giant thing of cereal or shampoo may save some money, but if you don't use it all, you'll have to either leave it behind (canceling out your savings) or find room for it in the car. Yikes. Speaking of food:
Eat all of your food – especially perishables. It's one thing to bring along a few cans of tuna and some pasta, but milk probably won't survive the trip! Especially if you've moving out of state, like I am. You might have to get creative with recipes toward the end, but eating "mystery meat weird-noodle with frozen vegetables casserole" isn't so bad, and it will make packing easier.
Coordinate with roommates so you don't end up with doubles of things. Remember this from dorm living? It still applies! How many copies of the LoTR trilogy extended edition DVDs do you need? How many mini-fridges? Sell off or give away extra stuff. Or leave it with your parents, if they'll let you.
Clean out your car about a week before you think you need to. Clean it inside and out, and especially vacuum it. The cleaner your car is, the more comfortable you will be with shoving your precious belongings into weird configurations in your trunk. And do it early, because something will come up if you put it off until the day before the move, and you might end up moving in a dirty car.
Oh, and that junk in your trunk? It's gotta go! Make lots and lots of room for the important stuff.
Preparing Your Stuff
Resign yourself to the fact that you will not be able to take much furniture, if any. Maybe you can fit like, a small chair in there, or some IKEA-style furniture that disassembles. But like me, you'll probably have to leave the antique bookcase and dresser behind. If your parents are cool with it, you can probably leave some stuff at their place. (In my parents' case, they're more than happy to hang onto the bookshelf, considering they've already filled it with their books!)
Avoid boxes whenever possible, which is counterintuitive to how we normally pack. But think about it: boxes take up space, and they aren't flexible. Boxes don't fit in and around other things, like the contents of a box might. The more stuff you can keep free of a container, the better.
You will use boxes for some things. It's just impractical to carry books individually out to your car, and then from your car into your new place. For the boxes you do use, use small ones. I've found that copy paper boxes are about the biggest I want to go, at about 17″x12″x12″. I'm also using some crates that I've had since the beginning of college.
Get rid of the original packaging, which fits in with the "avoid boxes" thing. For some things, the original packing might be a benefit, like a flat-screen monitor. It makes it easier to carry and provides a good amount of protection. So sure, the original box might be best for a few things, but not most things.
Use garbage bags for clothes, or cloth laundry bags. Yep, throw your clothes right in a garbage bag. Why? Garbage bags are big and flexible. 'nough said.
Wrap breakables in clothes and towels, instead of using packing material. Forget bubble wrap and newspaper – use something you have to transport anyway! I also have a lot of yarn, because I'm a knitter. So I'm planning to shove balls of yarn in between breakables, as packing material. Get creative with the stuff you have to move!
Put liquid in something waterproof, or you'll be sorry when they leak. My current plan? Put my toiletries, etc. in my plastic garbage can. I definitely won't care if they leak into that!
Packing the Car
Honestly, there isn't a whole lot I can tell you here. It's going to depend on your car and your stuff! You're just going to have to play your own game of Car Tetris. But I do have a few ideas that might help:
Pack the essentials first, in case you don't have enough room. This is another counterintuitive thing. I mean, if you pack your essential stuff first, won't it be on the bottom of everything? Won't that be a pain when you're unloading? Yes. But there's a few reasons to do it anyway. First of all, it gives you incentive to unpack the entire car, instead of just getting the good stuff out and leaving the rest for a few days.
Secondly, there's the chance that everything you've pack might not fit. And if that happens, and you've put non-essential stuff on the bottom: you'll have to unpack everything to get it out to make room. So pack in order of importance. That way, once your car fills up, you're done. You just need to figure out what to do with what's left, and then you can drive away!
Put stuff you'll need in the car in the front seat, like snack food, your wallet, MP3 player, car chargers: whatever you'll need during the drive. This might also include a laptop, if you're planning on staying overnight or just stopping at places with free Wi-Fi. It should also include a backpack with basic toiletries and a few days worth of clothes – just like a carry-on bag on an airplane. Because hey, you never know: so it's just good practice.
Try to balance the car, so that you don't have too much heavy stuff on the left or right, or in the cab or the trunk. This might be hard to pull off, but it's worth a shot!
Things I Have No Clue About
I may seem wise in the ways of car packing, but there are still a few things that elude my great genius. I certainly hope you guys have these things figured out, so that you can educate me in the comments:
Hangers! They are the enemy of packing! They won't fit in any box! They catch on everything! My current plan is just to shove them where ever they may fit, even if that means I have two hanger here, ten hangers there, a few in the front seat, some in the trunk:
Pillows are big space-takers. Are they even worth bringing? Or should I bite the bullet and get new ones when I get there? Or maybe I can try to squish them under a bunch of other stuff?
Musical instruments are hell to pack. I'm suddenly glad that I'm not musically talented, and I don't have to deal with them. Hurray!
Happy packing, everyone!
This article is a part of a series of posts on moving out on your own.