You'll need:
Appointments to visit apartments from Part 1
A camera (a good one trumps a camera phone)
Index cards
GPS navigator (oh-so-amazing if you don't know the area!) or printed directions from Google maps
Viewing Apartments
It's my firm belief that apartment hunting should always occur in pairs. If you're going to have a roommate, that person is your ideal appointment buddy. But even if you're not going to have a roommate (or they're not available), you should take someone along. First of all, for safety. You don't know the person who's going to be showing you the apartment, and you probably don't know the neighborhood. Secondly, you'll need one person to ask questions and take notes (you), and one person to take pictures.
When you get to the apartment you're checking out, first, take a picture of the outside. After three appointments, everything all starts to blur togother, so you'll want a lot of pictures to jog your memory later. Chances are, your camera has some sort of numerical identifier it attaches to the pictures you take. So grab one of your index cards, write the address of the place, and the number corresponding to the picture. When you're done with the appointment and get back in your car, you should write the number of the last picture on there, too.
Basically, the idea here is to make an "apartment score card" — one for each apartment you see. At the end of your appointment, your score card should look something like this: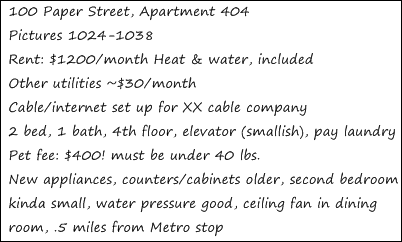 Be nice to the person showing you the apartment — especially if it's the landlord or a current tenant. A current tenant might report back to the landlord if you're really rude or anything, so be on your best behavior! Ask if you can take pictures, especially if there's still someone occupying the apartment. And take pictures of everything, especially anything you think might be a potential problem.
Ask questions and write down the answers on your score card. What you ask will depend on you and your situation, but here's a list of suggestions:
How much is the rent? (Even if it was in the listing, ask again)
Does the rent include any utilities? What's the average cost of the utilities that aren't included?
Does it come furnished or unfurnished? (We actually saw one apartment that cost more if we wanted it unfurnished, because the owner would have to pay to store the furniture!)
If it's a condo that the owner is renting out, who pays the condo fees — you, or them?
What's the parking situation? How many spaces? (If there's only one and you need two, can you pay for an extra space?)
What lease terms are they looking for? 6-month, 1 year, 2 years?
Is the place hooked up for cable and internet? If so, through what company?
Are pets allowed? Is there a pet fee and/or weight limit?
Is there air conditioning?
If there isn't in-unit laundry, where are the facilities, and how much does it cost per load?
What amenities are there in the community? (Gym, pool, etc.) Go see them if you can.
What are the terms for breaking the lease? (This can be important if your job isn't stable, or you think you might be transferred.)
Is there an application fee? What must be paid up front? (Security deposit, first month's rent, etc)
Once you've given that person the third degree, try to talk to a tenant of the apartment or the building. Ask them how they like it, what they don't like, how long they've lived there, etc. Try not to get too invasive, but try to get a sense of how they like the apartment and the area.
Make note of things you see in the apartment on your score card, as well. How new are the appliances? What's the state of the bathrooms? Will it be hard to get furniture in and out? If you have a bike, is there someplace to store it? How old are the heater/air conditioner? Are there ceiling fans? How's the lighting? Flick every switch and test every faucet for water pressure. Open kitchen drawers and peek in cabinets. Get right in there, and take a lot of notes. Fill up the front and the back of the score card!
And thank the person showing you the place before you leave!
Making a Decision
So you've got all your score cards and your corresponding pictures — how do you make a decision? Honestly, with all of that information in front of you, it's best to just go with your gut. Reread all of your score cards, talk it out with the person who went to the appointments with you, and then just make a decision. Your gut feeling, based on the information you took down, will most likely guide you.
But don't forget to do a little extra investigation before you call to seal a deal. Check and make sure it's an okay neighborhood — look online for crime rates, talk to people who know the area, etc.
Check to make sure that the person you're dealing with really has the authority to lease the apartment. There's a popular scam that involves gaining access to an empty apartment, showing the place to people who want to lease it, getting a deposit check from them and running off with the money. Know who you're dealing with!
Applying For and Signing a Lease
You may have to pay an application fee. You may have to authorize that your credit be checked. You may even have to get a cosigner on your apartment if your credit is bad or you have no rental history. You may have to list references for places you've lived before (hint: if you have old landlords from college, warn them that they'll be getting a phone call beforehand!).
When you do get your hands on a lease to sign, read it. Really, really read it. Ask questions about things you don't understand, or that seem fishy. Make sure the rent and other payments match what you talked about before. And have someone who's rented a lot before read it, as well. Make sure you absolutely understand it before you sign and send in money!
Before move-in, you'll likely have to do a walkthrough of the apartment with the landlord. If the landlord doesn't request this, you should. Make a note of anything wrong with the apartment, sign it, and have the landlord sign it. Otherwise, you could get stuck with a bill when you move out, for things that were already broken when you moved in!
Inspiration and further reading:
How to find your first apartment
My First Apartment
How To Rent Your First Apartment
Phew! What a tiring process! I swear, I slept for two days straight after my apartment hunt last month. I hope I didn't miss anything in this article, but I'm sure my amazing readers who've been through this before can leave a few more suggestions in the comments!
This article is a part of a series of posts on moving out on your own.