Did it go up? Did it go up?!? Did it go UP?!?
Oh yes, it went up! 🙂
Change: $112 or 0.29 %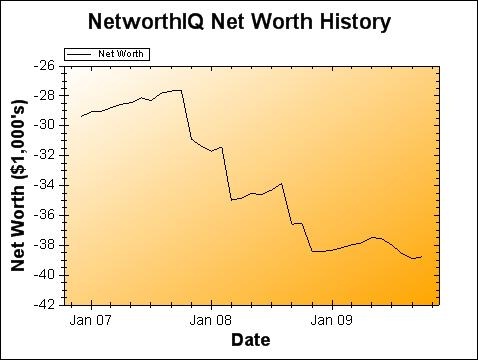 Finally, a little breathing room! The last few months of moving and not finding full-time work right away really took a toll on me emotionally — and on my finances. But, things are starting to come solidly come together!
Work: Income is a little funny right now. I've got a huge freelancing job that's 40+ hours a week, and the clients are pretty awesome. I love working with them. But, I still have to be careful about money. Because I'm an "independent contractor," I have to take care of taxes myself — nothing is withheld for me. So, as I've always done with freelance income, one third of my income is put aside for such things. Between moving to a new state and having only 1 month of W2-type work this year… my taxes are just gonna suck.
Savings: Now that I'm working "full time," I'm ready to ramp up my savings and siphon some of the two-thirds of my income (what's not going to taxes) into my goals.
Weddings Fund, Formerly called my "Brother's Wedding Fund," I'm expanding it out because I was asked to be the groomswoman in my best male friend's wedding. Also, I figure I myself may do the white-dress-and-veil thing, and there'll be no money coming in from this bride's family, so I've got to save for it myself. With the first wedding scheduled for the end of May, it's time to really ramp up my contributions to this fund.
Retirement Fund, growing at a pitiful $5 per month right now, needs to be kicked into high gear. I still don't think it's a good idea for me to sign up for a Roth IRA that requires certain monthly minimum contributions, since I'm still on irregular freelancer income. I'd much rather save up $3,000 in my savings account and then open a Roth IRA at Vanguard. Not sure how long that will take me, but I have this pipe dream of doing it before April 15th so that I can open it for the 2009 IRA year. (IRA years go from January 1st of the year in question until April 15th of the following year. Yeah, it's weird, I know.)
All other savings funds are going to stay the same… for now. I'm going to have to adjust my Savings Snowball a bit, but all that really needs to be changed is moving Retirement to the top.
Phew… so relieved to see that little line go up! Do you guys have any questions about this month's net worth update?