Erm, oh, hi there! I could have sworn I was better about updating than this. I can't believe you're still around, reading this at all! (And believe me, I am truly grateful that you are!) I could make a bizillion million excuses for why I haven't been around. But the truth is, things have been busy, in a good way. My previous post on here marks the start of my new wonderful job. And since then, money problems have just not been on the forefront of my mind. Sure, I'm not making the big bucks (by any standard), but… well, let's get to the numbers first, then we'll talk details.
October: $1,313 or +4.52 %
November: ($235) or -0.85 %
December: $904 or +3.23 %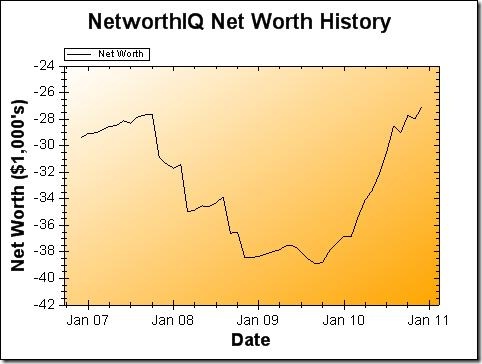 Up, down, up! And all three months, higher than any net worth posted on this blog before that. Slowly, I work my way up from the deep valley of student loan debt – constantly reminded that my highest net worth was at age 17, when I hadn't taken on any loans at all yet! And I also need to bear in mind that my tax bill this year will drop my net worth down to a more realistic level.
But my savings are growing, slowly yet steadily. I haven't been able to contribute any more to a retirement fund yet, since my job situation was so shaky for part of the year, I have been much more focused on more liquid savings (like my emergency fund). I hope I can scrape up some money to throw into my Roth IRA before the April deadline, but I won't cry a river if I can't.
I don't want to develop a lackadaisical attitude toward my money, but I can certainly see that the days of micromanaging are, at least for now, behind me. I used to have to watch every penny to make sure that my bills were paid. Some months I had to rely on my emergency fund, rather than adding to it. I'm not saying that I'm set for life now, but years of foundation-laying work might actually be paying off and allowing me to relax a bit. (Just a bit, though.)
This entry marks 4 solid years of updating this graph monthly. (Even if I haven't managed to do so well at blogging about it during the last six months, I have updated the graph consistently!) The overall picture (something like a jack-o-lantern grin) is starting to become clear. I'm excited to see where it will go from here. And I hope, since you've come this far with me, you'll stick around to see where it goes, too.
If you have any questions about my net worth or how it is calculated, feel free to ask them in the comments.