I just got back from FinCon (the financial media conference, where money nerds like myself go to meet up with fellow bloggers, podcasters, vloggers, freelancers, companies, and—most importantly—old friends). And I do mean just—I'm writing this paragraph on the Metro platform, navigating my way home from the airport.
I wanted to write an intro before I got home and ran my numbers for the net worth entry below. Because one of my key takeaways from #FinCon18 (which was my first FinCon ever, believe it or not) was that there is something way more important than numbers: the amazing community of people who support each other in building financially healthy lives.
Check out the picture below. It's blurry and dark, which is honestly not a bad thing, considering several of the people are anonymous bloggers that would have needed to have been blurred out anyway. Here are a bunch of us that went out on the very first night of FinCon, to celebrate my 32nd birthday. Of the 23 people here, 16 had never met me before in person, though they've all known me on the internet for varying lengths of time (from a few months to more than ten years, in the case of the two bloggers from "the before times" that were in the bunch).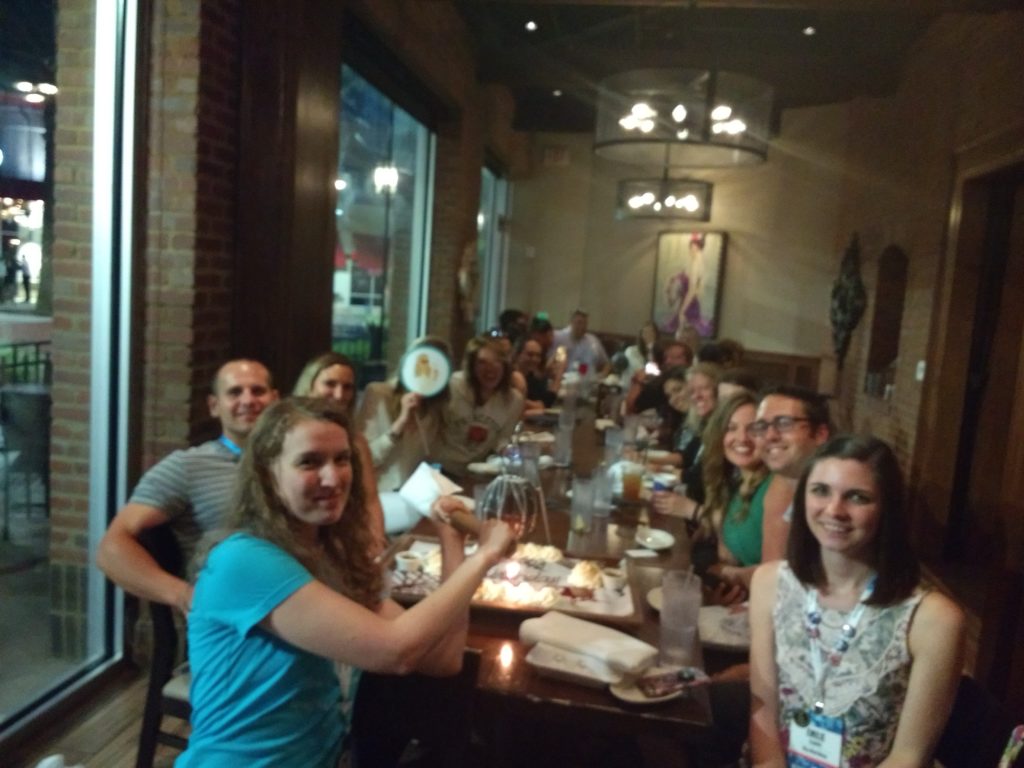 I mention this because it was abundantly clear, even at this conference dedicated to talking about finances, that money takes a big ol' backseat to community and relationships. That can be hard to remember when running the numbers for say… a net worth update blog post where I may or may not hit the $100,000 milestone. But it's always there, and nothing brings that to the forefront quite like connecting with old friends and new ones over smashed bits of piñata and churro.
But on the other hand… LET'S SEE THOSE NUMBERS!
Change: -$547 or -0.55%
September Net Worth TOTAL: $99,277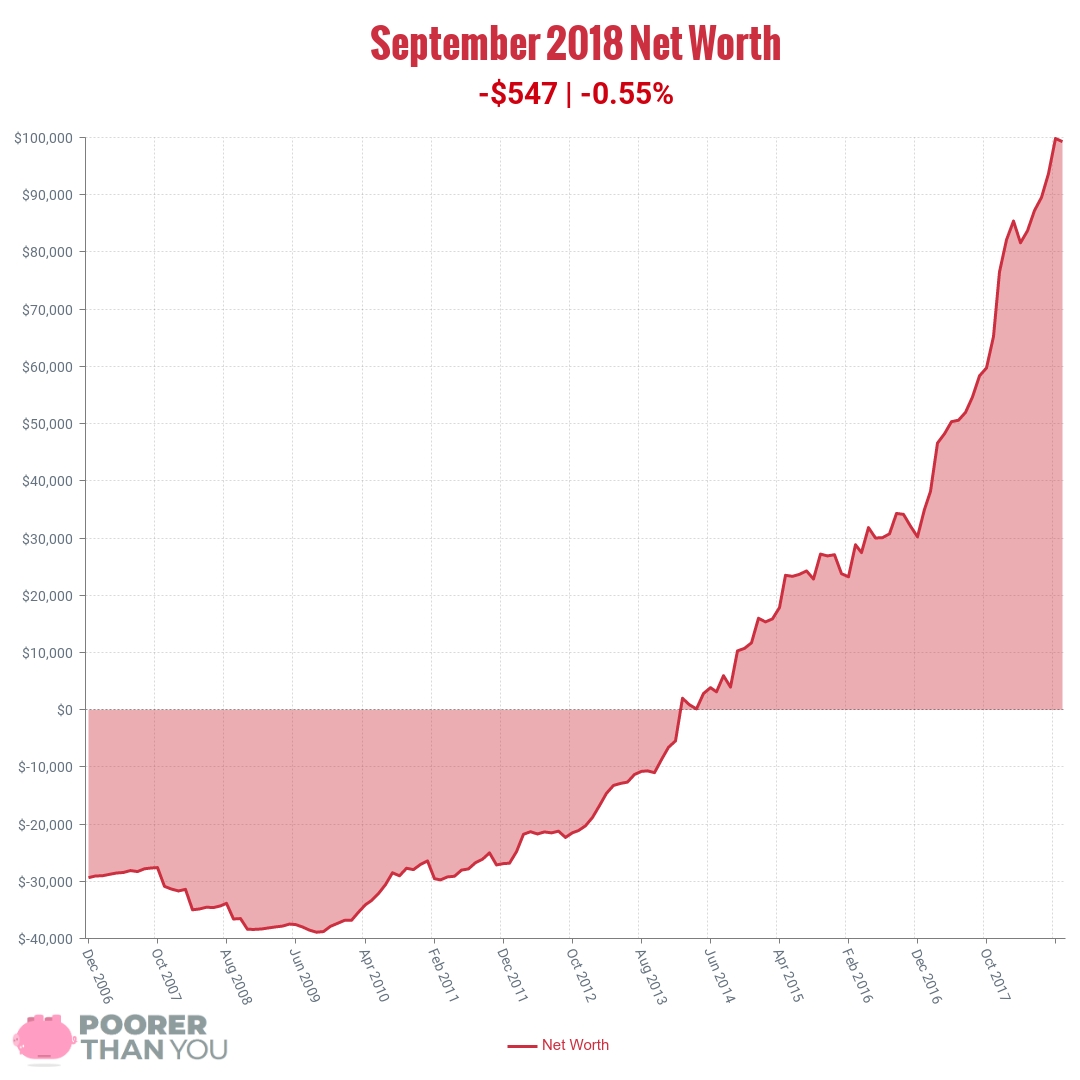 Whomp whomp whomp whhhhhhhhhaaaamp.
Okay, okay, it's not that bad. It's basically flat. But I did not, as I had hoped I would, hit the coveted "$100k in net worth" milestone this month. And here's why:
Cash: -$2,117
Ugh. You might be tempted to think that I spent all of that cash on the chocolate piñatas at FinCon, but no, those were only $20 each and I did not buy 100 of them. In fact, FinCon really had a negligible effect on the cash flow this month (though the missed hours of work will be showing up in October's first paycheck).
The explanation here is actually pretty simple. Over the course of September:
We received a pile of medical bills. Having a toddler means going to the emergency room. Yay?
We fought off illness brought on by an active, socializing toddler. We missed some work because of sick days.
That's it, really. We were sick or had doctor-y things to do, and it cost us a lot of cash this month. Discouraging, but not the end of the world. In fact, we hit our health insurance deductible this month, so now it's time to SCHEDULE ALL THE DOCTORS' APPOINTMENTS!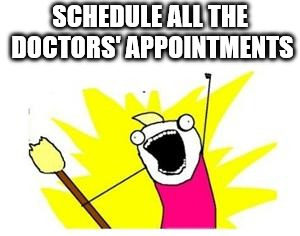 Everything Else
Normally I'd break out the rest of the net worth update by category, but there's barely anything of interest going on there. I think we can do a few quick bullet points and then just move on:
Retirement: normal contributions to HSA and a little bit of growth
Car: I have no idea why this keeps going up in value. Camrys be hot right now?
Other Assets: I got a birthday check that I haven't deposited yet
Student Loans: regular minimum payment + 3¢
Credit Card: (refinanced student loan) regular minimum payment
Other Debts: my tax liability for my business actually went down thanks to FinCon spending
Milestone Progress
The Milestone: $100,000 net worth. We already know I didn't hit it this month. A few hundred per month until the end of the year would get me there, but I'm kinda hoping to knock it out in one fell swoop in October, even with the lower paycheck from FinCon. LET'S DO THIS.
The Milestone: Paid off Unsubsidized Stafford student loan. I've got $1,217.78 left on this bad boy. And I even have my student loan payments set up so that any extra I pay automatically goes toward paying this one off. But, I'm not really sending any extra to it right now (well, $0.03/month extra, because rounding). Besides focusing on the above milestone more than this one, I'm also big on maxing out all of my available retirement contribution "space" before tackling my student loans. Still, I'm tempted to throw a little extra at it next month, just to speed things up. Maybe instead of $0.03 extra (what I'm doing every month now, yay rounding!) I'll do $1.03 extra next month? Whoa, look out debt, I'm coming for you!
Bonus: Carmen from Make Real Cents is DEBT FREE!
I had the pleasure and the privilege of spending my first afternoon at #FinCon18 with Carmen from Make Real Cents during the FinX event we both participated in. (An eye-opening experience that I am definitely preparing a blog post all about.) At that time, Carmen was only two days away from sending in her very last debt payment. And so now, as of the end of September, she is officially DEBT FREE!
Soo I'm finally debt free ???? https://t.co/KPnNW6kCwB pic.twitter.com/z2H6I1yuVL

— Carmen (@Makerealcents) September 29, 2018
Her "back to school" debt freedom photo shoot is even more adorable than I imagined! Look at that happy debt-free face and that shiny sign!
Congrats Carmen! It'll be a while before I join you in debt freedom, but I'm so glad to see that you got there. 😀
And you, dear reader? Have you paid off debt or celebrated another net worth milestone recently? Leave a comment below to let me know, and you could be featured next month!
Don't know where you're at with your money to be able to celebrate? Tracking your net worth month to month is the best way to find out! You can do it by hand with a spreadsheet like I do, or you can check out Personal Capital for some automagical tracking. You and I each get a $20 gift card if you sign up through me and then link at least one valid investment account.
Time Travel