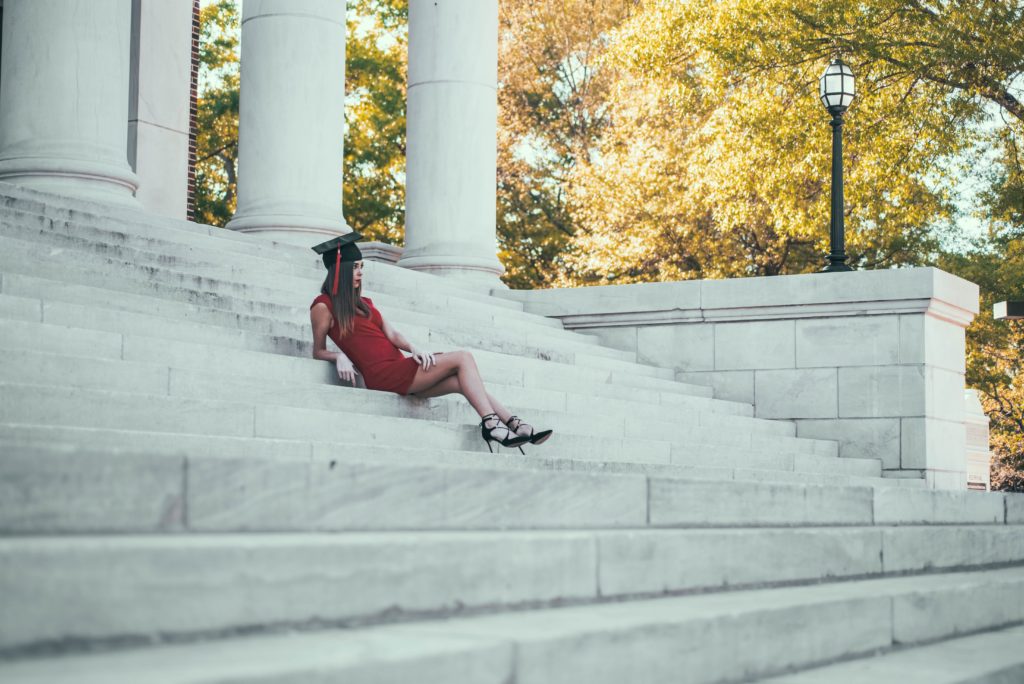 Editor's Note: Graduation season is upon us! Congrats to all the freshly-minted graduates out there… a new chapter is beginning for you. But if this new chapter includes a page on paying for the last chapter, you might be feeling a bit overwhelmed right now. Not to worry! Kat Tretina from Student Loan Hero is here on the blog today to help you navigate everything you need to know before you start paying back those pesky student loans. Take it away, Kat…
After four years (or more) of college, it's finally time; you're going to graduate. Although it's a huge achievement, you might not have a lot of time to celebrate. Graduation is a major milestone in your life and marks your transition into adulthood.
If you took out student loans to pay for school, your first harsh dose of reality will come in the form of your monthly payments. For many graduates, the amount due can come as a huge shock, and you might be unprepared to manage your debt.
If you don't know where to begin with your student loans, here's how to avoid common mistakes and get your financial life in order.
4 biggest student loan mistakes new grads make
When you first applied for financial aid, you probably didn't give much thought to your interest rate, loan servicer, or repayment term. Over the course of your college career, you likely took out other student loans, too. Now that years have gone by, you might have even forgotten how much you owe.
Not having that information is a huge problem. Unfortunately, many graduates don't understand their loans, leading to the following four mistakes.
1. They don't know when their grace period ends
When you take out a student loan, your loan documents outline when you have to start making payments. Depending on the type of loans you have, you might not have to make payments until months after your graduation date. The period between when you graduate and when your first payment is due is your grace period. If you don't know when your grace period ends, you could end up missing payments. That issue can hurt your credit and lead to late fees.
Most federal student loans have a six-month grace period. But payments for PLUS Loans begin as soon as the lender disburses them.
When it comes to private student loans, grace periods vary by lender. With some, payments are due while you're still in school. Other private student loan lenders allow you to postpone making payments for a few months after graduation. If you're not sure when your grace period ends, consult your loan documents or contact your lender.
2. They don't know their student loan servicers
It's easy to forget about your loan servicers by the time you graduate. To make it more confusing, loan servicers sometimes sell loans to other companies. If you don't know your servicer, you won't be able to make payments or request changes to your repayment plan.
There are two ways to find out who owns your student loans:
Check the National Student Loan Data System (NSLDS): If you took out federal student loans, you can find your servicer by searching the NSLDS. It's a comprehensive database that will show you your loan servicer and balance.
Review your credit report: Private student loans aren't listed on the NSLDS. Instead, you can find your loans by checking your credit report for free at AnnualCreditReport.com.
3. They don't know how much they owe
One of the biggest mistakes you can make is not knowing how much you owe. Your current loan balance can be different from what you originally borrowed. With the exception of Direct Subsidized Loans, all private and federal student loans accrue interest while you're in school and during your grace period. Depending on your interest rate and how long it's been since the lender disbursed the loans, your balance could've grown by thousands.
To find out how much you owe now, contact your loan servicer for an updated balance.
4. They don't know their interest rates
Many graduates don't pay attention to interest rates, which can cause problems later on. Your loan's interest rate affects your total balance and your monthly payment.
If you don't know your interest rate, you can find out by contacting your loan servicer or by reviewing your original loan documents.
How to improve your finances after graduation
Once you know which loan servicer you owe money to, how much you owe, and when your payments are due, you can come up with a repayment plan that works for you. To improve your finances after graduation, complete the following steps.
1. Create a budget
Learning to live within your means is the best thing you can do for long-term financial stability. To do so, you need a budget. It doesn't need to be fancy, and you don't need special software. Just make a list of how much money you bring in each month. Then, list all your set expenses, such as rent, student loan payments, utilities, groceries, car insurance, gas, and your cell phone bill.
Your goal is to earn more than you spend each month by sticking to a budget. If your expenses are higher than your income, you'll need to make sacrifices, such as by reducing how often you eat out.
2. Make sure you can afford your payments
When you create your budget, you might find that your student loan payments eat up too much of your income. If that's the case, you need to take action right away before you fall behind on your bills.
You have two options when you can't afford your payments:
Apply for an income-driven repayment (IDR) plan: If you have federal loans, you might qualify for an IDR plan. With an IDR plan, the government extends your repayment term and caps your payments at a percentage of your discretionary income. Although you'll pay more in interest charges over time, signing up for IDR can dramatically reduce your monthly bill now and give you more breathing room in your budget. To apply, contact your loan servicer.
Refinance your loans: Another option to reduce your monthly payments is to consider student loan refinancing. When you refinance, you work with a private lender to take out a new loan. The new loan has a different repayment term, interest rate, and monthly payment. If you qualify for a lower rate or extend your repayment term, you could reduce your monthly bill. There are downsides to refinancing, especially if you have federal loans, but it can be a helpful tool if you're struggling with your debt. If you decide that refinancing is right for you, compare offers from student loan refinancing lenders to ensure you get the best deal.
3. Boost your income
When you're fresh out of school and in an entry-level job, your salary will probably be low. Without a large paycheck, it can be hard to pay down debt or set aside money for savings.
To help you accomplish your financial goals, boosting your income is essential. Luckily, you don't have to depend on your regular job for money. There are a number of side hustles you can pick up to earn extra money in your spare time. You could consider walking dogs, delivering groceries, cleaning houses, tutoring students, or watching children.
If you use the cash you earn from these jobs to make extra payments toward your loans or to set up an emergency fund, you'll be much more secure.
Tackling your finances
Graduating from college is an exciting milestone, but with it comes many obligations and responsibilities. Although it can be overwhelming, by taking the time to understand your loans and come up with a repayment strategy, you can take charge of your debt and get on track.
Photos: Jonathan Daniels
About the Author: 
Kat Tretina is a writer for Student Loan Hero. She graduated from Elizabethtown College, before earning a master's degree from West Chester University. She specializes in writing about personal finance and is dedicated to helping people improve their financial futures and pay off debt.