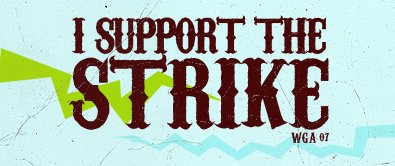 What does this mean?
There will be no new entries on Poorer Than You until the end of the WGA strike. I may respond to the occasional comment on old posts, and I encourage discussion in the comments section of this post. But there will not be any new content.
But Stephanie, you're not a member of the WGA!
True. This is a showing of solidarity toward my fellow writers. It may seem silly, but due to my connections to the film and television industries, I feel deeply moved to action by all of this. I don't feel content to sit by and simply be an observer.
You're not hurting anyone but yourself by doing this.
Perhaps. I am not really sticking it to "the man" by doing this, as I answer only to myself and my readers on this blog. However, I'm hoping to at least raise some awareness of the cause. Also, I feel that because I have advocated (on this very blog) digital and internet formats for watching television, I need to do this. Writers should be fairly compensated when their work is released in any format.
You're just looking for an excuse not to update.
You might think that, and I don't blame you. But I'd like to remind you that I do make income from this site, and striking puts my already precarious finances in jeopardy. I am, in fact, putting my money where my mouth is by doing this.
Where can I find out more about the strike?
The Writers Guild of America website
Why We Fight – a video explaining the reasons behind the strike
Support the WGA Stike!
United Hollywood – unofficial blog by a group of strike captains
Please consider visiting these websites and supporting the WGA strike in any way you can. Thank you.