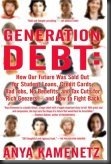 My generation: do we have a name? We are the young adults, born between 1980 and 1995 (give or take). I hear us called "Generation Y," "Echo Boomers," "the Digital Generation," and "the iPod Generation," but none of these names strike a chord with me. But there's another possibility – are we "Generation Debt?"
One of our own, columnist Anya Kamentez, gives us this label in her book Generation Debt: Why Now is a Terrible Time to be Young. I picked this book up at the library after having read several of Anya's articles on Yahoo! Finance – and I have to say, it was one of the most enjoyable and eye-opening books that I've ever put my hands on.
The book is a mishmash of relevant statistics and commentary on the economics of our generation, and how social and political factors play into those economics. It's hard to write up a review, or even an overview, since no page is to be missed. It's all startling and staggering.
In short, I knew our generation was in trouble, but I had no idea how much trouble we are in until I read this book.
There's a large focus throughout the book, most especially at the beginning, on the problems in paying for college. This is obviously something I know a great deal about, living through it every day. But Anya has pulled together all of the factors feeding into it, which brought new light to the problem for me. The government's shift from providing grants to guaranteeing loans. Schools raising their tuition prices faster than inflation and faster than the growth of the average income. The FAFSA (Free Application for Federal Student Aid) being a poor system for calculating aid, since it doesn't take many factors into account, including recent changes in family status (such as unemployment, disability, or emergencies).
Although there's a strong focus on college and the enormous debt it brings so many of us, there's also a good deal on low-wage earners: both those who forgo college (for any number of reasons) and those who get a degree that doesn't end up being any help.
Our benefits are shrinking. Social security won't be there for us. The entire economic system is taking a shift, and we're going to be the ones caught up in it. The baby boomers are beginning to retire right now – and over the next 30 years or so, we'll be picking up the bill for a lot of them.
As I said, this review is difficult to write. The copy of the book I have is full of post-it notes – item after item of things I would like to go on about in great detail. But here it is: you should really just read the book. Whoever you are. If you're a member of Generation Debt, like I am, do not miss this opportunity to pick up the book and start to understand the world that you're entering.
If you're a parent of one of us "G-Debters" (I just made that term up – Anya, you can thank me later), please read this book. Please, please. I'm very much hoping to get this book into my parents' hands, so that they can better understand what world they've sent me and my siblings into.
If you're a high schooler, I also encourage this book. But be warned, a lot of it will seem like doom and gloom, and you may even be tempted to put the book down and never look at it again, halfway through. Do not fall into this trap – you really want to read the whole thing and especially get to the last chapter: "Waking Up and Taking Charge."
Get Generation Debt from Bookshop today!