I have a crush on this computer. It's so cute, and sometimes I think it's even flirting with me! (And yes, my boyfriend is totally jealous.) Oh little 10-inch netbook, how I adore you!
As a part of the Better Together giveaway, presented by HP and Ivy Worldwide, I've been loaned the same models of the notebook and the netbook that I will be giving away next week. I'll be using these laptops over the course of several months and offering you guys completely honest reviews about the value of these products.
This bundle is being billed as the perfect combination for students who need performance and screen space while in their dorm rooms, but are also looking for mobility so that they can work in class, in the cafeteria, in the library, etc.. My focus with this site is to help you spend your hard-earned money on things that are of value to you. So how well does this bundle live up to its claims, and is it really perfect for college students on the go?
Last week I gave you guys my review of the HP Pavilion dv6, so today I'll cover the adorable 10-inch netbook.
Specs:
– Intel® Atom™ Processor N270
– Genuine Windows® XP Home Edition with Service Pack 3
– 10.1" Diagonal SD LED Anti-glare Widescreen Display (1024 x 576)
– Intel Graphics Media Accelerator 950 (shared) with up to 128MB total available
graphics memory
– 1024MB DDR2 System Memory (1 Dimm)
– 160GB (5400RPM) Hard Drive (SATA)
– HP Webcam
– 802.11b/g WLAN(10a)
– 6-Cell Lithium-Ion battery
– 1-Year Free Hardware Technical Support
In somewhat plainer terms: The screen is about 10 inches (measured diagonally), it's got 1gig of system memory (RAM), a 160gig hard drive, a webcam, and wireless. You'll notice that there's no CD/DVD drive — that's to save space.
Portability
The main function of this laptop it to be portable, and it excels at it. Weighing in at less than three pounds, I barely even noticed it was in my backpack! And it's great for moving about. Even during the summer I'm constantly on the go, so this is perfect for me.
During the school year, I would literally run all over campus, all day. It was my job — to go from classroom to classroom, counting the number of occupants. This was a bit of a problem for me, because as a commuter student I needed to have my laptop on campus with me. Everyday I would have to rent a locker for my laptop in the library, and even then it didn't fit real well in those lockers! The Mini would have been perfect though — light enough that I could have kept it in my backpack while working, and small enough to easily fit in the locker if I wanted.
The 6-cell battery helps a great deal with portability, as well. If you go to customize the laptop,  you get the choice of a 3-cell or 6-cell battery. Using the 6-cell battery that HP sent me, I was able to run the computer off of battery power for 4 and a half hours before it warned me that battery power was down to 10%! That's way better than my regular laptop, which has trouble lasting 2 hours on battery power.
Functionality
This laptop is built for portability, not speed or performance or anything else, really. But it gets the job done for most things. The keyboard is smaller, about 92% of the size of a regular laptop keyboard. My parents kept asking if it was hard to type because I have looooong fingers. When I first put my hands on the keys, it was an adjustment, but after about five minutes of surfing the web I was typing with my usual speed and accuracy.
The mouse is a little strange — the buttons are to the left and right of the touchpad, instead of below. This was also an adjustment, but I adapted pretty quickly. I actually like having the buttons where they are, because it means I won't accidentally click the wrong one!
Even though it doesn't have as much processing power or memory as the dv6, it still runs pretty well. I haven't noticed any lag at all, even when broadcasting video over the internet from the laptop. Things load fairly quickly, and its certainly faster than my old laptop in waking back up from hibernation.
Webcam
Some other reviewers have reported that they don't like the webcam on the Mini — that it gives a lower quality image. I didn't notice anything like that when I tested the webcam myself. And I tested it by setting up a Tokbox chat with both computers and other people in the chat room to give me feedback on the two images. The live feeds broadcasting from the Mini and the dv6 were nearly identical.
Neither was super-high quality (you won't be winning any Oscars for cinematography!), but each is good enough for long-distance video chat or secretly filming your roommate doing something embarrassing!
Look and Feel
The Mini comes in three colors: swirl black, swirl pink chic, and swirl white. The model I was sent was the swirl white, and I like it quite a lot. It's got a shiny white lid with a neat pattern on it. The keyboard and surrounding plastic is more of a matte white, which is good because it doesn't show fingerprints or anything (unlike the dv6). The touchpad is also white.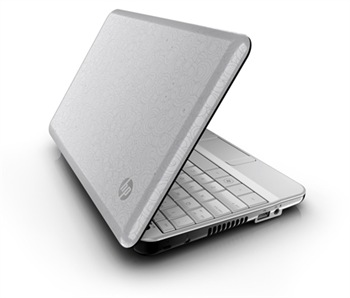 If you get the 6-cell battery, it juts out from the bottom of the computer. This is actually soft of good, because it props up the computer a little when you have it on a table, making it easier to use.
Odds and Ends
The Mini has an on-switch that seems specifically designed so that the thing won't turn on in your backpack, even if the lid comes open (nice!). Most of the other functions are controlled not by switches, but by function keys. I prefer this for the volume control, as opposed to the dv6's touch-sensitive volume control.
There are three USB ports, so you'll have no trouble plugging in a thumb drive, a mouse, or even an external DVD drive, all at once! There's a five-in-one card reader, which is great for getting pictures off an SD card. It's also good if you want to expand the Mini's 160gb of hard drive space. There's an ethernet port for if your dorm, like mine, still has you tethered to the wall instead of using wireless. And there's a VGA port, which is great if you want to use an external monitor instead of the Mini's 10-inch screen, or if you want to hook it up to a projector to show a presentation in class.
Value
I'm a pretty big fan of this little computer! (Could you tell?) Selling for about $350, it's not the cheapest netbook on the block, though. And I haven't tested any other netbooks to tell you how it compares. But I'm quite taken with it, and it's just the type of computer I would buy for my hectic on-the-go lifestyle. Especially if I were buying it as a compliment to a more powerful computer to stay on my desk at home. For highly mobile college students, I give the HP Mini 110 my stamp of Recommended.
Special Offer
Do you want a Mini of your very own? Well, you can stick around for a little while and try to win one when I do my giveaway on August 18th (and I sincerely hope you do). But if you're a pragmatist that needs a computer for school, and can't wait around to see whether you win one or not, HP's got you covered. As a part of this whole Better Together promotion, they're also offering really special deals to the readers of the sites involved (that's you).
Each offer is different and for a limited time only. Here's the current offer:
Offer valid only August 13-15
Get $500 off on a bundle of the HP HDX 18T Premium laptop + HP mini 110 XP netbook
Stay connected anywhere with the Mini netbook
Huge 18" screen for gaming & Blu-ray
To take advantage of this offer, customize your bundle at the HP Shopping site, and use coupon code NBY4876 at checkout to redeem  discount off of bundle.
Valid for HP Home & Home Office (www.hpshopping.com) internet and call center purchases only. Coupon valid on first 100 redemptions, or while supplies last. Any unused portion will be forfeited. Each coupon code is limited to one usage per customer; one coupon code per checkout. Offer void where prohibited, taxed or restricted by law. Non-transferable. Not valid retroactively on previously purchased items. Not valid for any resale activity as defined by HP Home & Home Office Store. Coupons may not be used to purchase gift cards. Not valid on clearance sales. May not be permitted with certain bundle offers. Not valid on: Academic and Employee purchase programs, HP Employee purchase program, Refurbished products, Extended Service Plans. For complete coupon conditions, see "Coupon Information" in the "Customer Service" section at www.hpshopping.com.