As a part of the Better Together giveaway, presented by HP and Ivy Worldwide, I've been loaned the same models of the notebook and the netbook that I will be giving away in about two weeks. I'll be using these laptops over the course of several months and offering you guys completely honest reviews about the value of these products.
This bundle is being billed as the perfect combination for students who need performance and screen space while in their dorm rooms, but are also looking for mobility so that they can work in class, in the cafeteria, in the library, etc.. My focus with this site is to help you spend your hard earned money on things that are of value to you. So how well does this bundle live up to its claims, and is it really perfect for college students on the go?
I'm going to take a look at each machine separately, so today we're going to cover the larger notebook, as opposed to the smaller "netbook."
Specs:
– Intel® Centrino® 2 Processor Technology featuring Intel® Core™2 Duo Processor
P7350
– Genuine Windows Vista® Ultimate 64-bit with Service Pack 1
– 16.0″ Diagonal High Definition HP BrightView Infinity Display (1366×768)
– ATI Mobility Radeon™ HD 4650 (M96) with up to 2815MB total available
graphics memory with 1024MB dedicated
– 4096MB DDR2 System Memory (2 Dimm)
– 500GB (5400RPM) Hard Drive (SATA)
– LightScribe Blu-Ray ROM with SuperMulti DVD±R/RW Double Layer
– HP Webcam with integrated digital microphone
– Intel® WiFi Link 5100AGN
– 6-Cell Lithium-Ion battery
– 1-Year Free Hardware Technical Support
If you're like me, only about half of that made sense to you. Here's how it breaks down: this notebook has a 16" (diagonally measured) widescreen display, a Core™2 Duo Processor, Windows Vista, a very nice graphics card with 1gig of dedicated memory, 4gigs of system memory (RAM), a 500gig hard drive, a Blu-Ray player that can also play and write DVDs (and can make labels for certain DVDs), a built-in webcam and microphone, wireless card, a battery (of course) and a one-year warranty.
Processing Power and Graphics
I'm not a huge gamer — or at least, I'm not a variety gamer. I tend to pick one game and obsessively stick to it. Since 2004, that game has been The Sims 2 and it's gazillion expansions. Make fun of me all you like, but this game takes a lot of processing power and an advanced graphics card to run. Combine that with my general obsession with the game, and it seemed the perfect test subject for this computer.
Did the game run perfectly on this computer? No. Some of the cut-scene animations were still a little jumpy, which I think is an indictment of the game more than anything else. But other than that, I've never seen this game run so smooth before. I cranked all of the graphics settings as high as they would go (which is something that would send my desktop screaming to a halt), but the dv6 didn't flinch.
So I loaded up a 16-room college dorm from the University expansion pack — arguably the most intensive part of the game. You've got about 17 or so autonomous little people running around, doing their own thing, while you control your characters. Even on the most intense lot of the game, with all of the graphics turned all the way up, the dv6 took it like a champ. I was able to zip around from floor to floor in the dorm with no lag time — an action that normally slows the whole game down on my desktop (without the graphic cranked!).
Conclusion: The dv6 took everything I could throw at it, gaming-wise. It may not be enough for the most dedicated of gamers, but they're probably not in the market for a notebook, anyway.
Blu-Ray Player and HDMI Output
I couldn't resist renting one of my favorite movies, Serenity, on Blu-Ray to test out the dv6's Blu-Ray player. I wanted to really push it to the edge, so in addition to watching the special-effects-heavy movie, I turned on the picture-in-picture cast and director commentary. The computer handled was handling the movie just fine, even with the picture-in-picture turned on, so I decided to push it even more. I grabbed an HDMI cable and hooked that thing up to my parents' 42" HDTV.
The computer was able to output beautifully to the TV, still with the picture-in-picture on. Getting it to display on the TV was a cinch thanks to Vista, and the media remote that comes with the dv6 let me relax on the couch and control the movie from afar.
Conclusion: If your college experience is anything like mine, you'll be watching a lot of movies in your dorm with your friends, and sometimes hooking your player up to larger TVs to watch with a larger group. The screen size and Blu-Ray player of the dv6 will more than handle the first task, and the HDMI output will be a really benefit for the second.
Webcam
To put the thing to rigorous testing, I held webcam chats with two free services: TokBox and Skype. TokBox lets you hold a multi-camera chat over the internet, and at the high point of our chat, we had four webcams and two people with just microphones. The webcam wasn't great — we've had better quality with an external USB webcam. But for a built-in webcam, it worked quite well. The quality of the picture was nearly identical to that of the built-in webcam on my boyfriend's MacBook. We had similar results with Skype, which only allows two people to connect with webcams.
Conclusion: You won't be making any high-quality films with this webcam, but it works just fine if you're hoping to snap a quick picture or video-chat with friends and family.
Look and Feel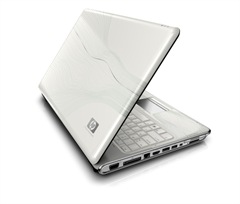 The model that HP loaned me is the "Moonlight White" color, which comes with a cool sort of waves and dots design on the shell. It's not a stark white, but more of an iridescent pearl color, which is very attractive. Still, there are some things I don't like about it. Because it has a smooth and shiny finish, it shows fingerprints really well, which is a bummer since, presumably, you're going to be touching your notebook! The touchpad is a shiny silver that, although it works well, also shows fingerprints (even more so than the case).
The keyboard is comfortable, I've not go complaints there, even after several hours of writing. The volume and wireless are controlled by "touch media controls" instead of buttons or rockers. Honestly, I don't care too much for these — the touch controls didn't respond while I was loading a game, so when the sound was up too loud during the load screen of The Sims 2, there was nothing I could do about it except throw my hands over the speakers!
Conclusion: It's an attractive computer right out of the box, but it will take some careful maintenance to keep it looking good as you use it. (HP provides a cloth for wiping down the surface.) And I don't suggest the Moonlight White if you've got pets —I'm constantly brushing away the very visible hair from my black cat and black Labrador!
Odds and Ends
I already mentioned the HDMI output and the remote that comes with the system. In addition there's:
5-in-1 integrated Digital Media Reader for Secure Digital cards, MultiMedia cards, Memory Stick, Memory Stick Pro, or xD Picture cards.
4 USB 2.0 ports
2 headphone jacks
1 microphone-in
1 VGA (15-pin) for hooking up an external monitor
eSATA + USB 2.0 (someone ask my boyfriend what this does!)
Ethernet port
1 notebook expansion port 3
1 IEEE 1394 Firewire (4-pin)
I'll come back to software in a later review, because I haven't fully tested everything. But I will say that it only comes with a 60-day trial of Microsoft Office. Most students will want to purchase the Office upgrade when buying this machine. It also comes with a 60-day trial of Norton Anti-Virus, so you'll want to either purchase the full version or get a different anti-virus program.
Value
Overall, I'm a fan of this computer. My family has always been fairly loyal to HP computers, so it probably comes as no surprise that I like this computer. It's not perfect for every student, but the price is right for the vast majority of us. If you're writing papers, playing a few games, surfing the internet, and watching movies (Blu-Ray, DVD, and online), this notebook will serve you well. For college students, I give it my stamp of Recommended.