This review is for an earlier edition of the book. A newer edition has been released: Paying for College, 2020 Edition: Everything You Need to Maximize Financial Aid and Afford College. Read on for a review of an earlier edition.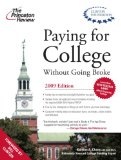 Paying for College Without Going Broke: 2009 Edition by Kalman A. Chany (with Geoff Martz) – forward by former US President Bill Clinton
Any book that can save you money on college costs seems like it should be worth its weight in gold. Does this book, published by the Princeton Review and the Clinton Foundation, live up to that?
The forward by former President Bill Clinton is worth a read. It's short (page and a half) and I actually learned a lot about him from it. Did you know that he was the first person in his family to go to college? And that it was his administration that created AmeriCorps?
Special message to first-generation college students and their parents:
This mini-chapter explains how college admissions should be a collaborative effort between parents and children, and the importance of being honest on financial aid forms. It also gets into dispelling financial aid myths, and how to decide if college is the best next-step.
Introduction:
Who gets the most aid? The people who understand the financial aid process. This chapter (and parts of the book) demonizes the FAO – Financial Aid Officer. This person is your opponent in the "war" to get as much aid as possible. Think of it like a chess match – you're opposing forces, both governed by strict rules.
Part One: Understanding the Process
Chapter One: Overview
The basics of the FAFSA and determining "need." The financial aid package and the three types of aid: grants (and scholarships), work-study, and loans. There's a great suggestion here to have a "financial safety school." There's also a guide to the rest of the book, including a disclaimer that this is not about lying or cheating the system, but understanding it in order to take advantage and save money, while still following all of the rules.
Part Two: How to Take Control of the Process
Chapter Two: Long-Term Strategies for Paying for College
Basically, this chapter is "What to do if college is more than two years away." Why save at all? How much money will you need (an examination into compound interest)?
Should money be put into the child's name? Answer: "If you have any hope of financial aid, never put money in the child's name." Under the federal formula used by the FAFSA, parents are expected to use 5.65% of their assets to pay for their child's college each year, but children's assets are assessed at a whopping 20%! And once the money is in the child's name, it's extremely difficult to put it back under a parent's name.
What if you're fairly sure you won't qualify for financial aid? Keep your money however you like, but be sure – there's a worksheet in the back of the book to help you determine whether you really will qualify for aid, or not. And you might be surprised.
Types of investments for a college fund: Diversity is key here. There's a quick guide to: stock mutual funds, high-yield bonds, normal-yield bonds, EE savings bonds, tax-free municipal bonds, as well as Cloverdale ESAs and 529 plans.
Finally, specifics on what to do if you have 15 years, 10 years, 5 years, or 2 years to go.
Chapter Three: Short-Term Strategies for Receiving More Financial Aid
Understanding the interplay between filing taxes and filling out the financial aid form. The most important concept here is the "base-year" – the tax year before the student enters college, which sets the tone for how much aid the student will receive. For example, if a student will start their freshman year in 2009, then the base year is tax year 2008. How taxes (for the parents, especially) are filed for 2008 will be critical in determining how much aid that student receives. There is also an explanation as to which assets will be looking at when calculating financial aid – in other words, where you should keep your money, and where you shouldn't, for financial aid purposes.
Chapter Four: How to Pick Colleges
Two important things to think about in this chapter. First of all, there should be an open dialogue between parents and students about what college is going to cost, and what the family can afford. I never had this conversation, and now I have $42,000 in debt to shoulder because of it. I'm not blaming my parents, but rather showing how this is a very important thing to do to avoid a situation like mine. Secondly, you don't really know what aid you're going to get from a school until after you've applied to the school and applied for aid – some schools that are expensive on paper may give more attractive aid packages than public schools. There are a lot of factors that go into it, so applying to several schools is highly encouraged.
Chapter Five: What the Student Can Do
This chapter disappointed me immensely. As a student who was in full control of the entire college process (planning, applying, applying for aid, and paying the bills), I find it disheartening that this chapter is only six pages long. Students with situations similar to mine will have to "translate" the rest of the advice, meant for parents, into what they can personally do for themselves. But the obvious takeaway is that the financial aid process is skewed toward families where the parents are actively involved, and students will do a lot better if they can get their parents to read this book and act on the information. This chapter covers the obvious: get good grades, take AP classes, do well on the SATs, and consider alternatives, like starting at a cheaper school and transferring, taking a gap year, or going to school part-time.
Chapter Six: State Aid
Another short chapter, but this makes sense – the book would be enormous if it tried to cover the intricacies of each and every state aid program. But the main takeaway here is to pay attention to what aid is offered by your state – you may qualify even if you don't qualify for any federal aid. There is a listing in this chapter of state agencies and their contact information.
Part Three: Filling Out the Standardized Forms
This part goes into what you should do to prepare for filling out financial aid forms, including what documents you'll need and when you should file. The explanations, question by question, for the FAFSA and PROFILE are simply awesome. This can help to clear up questions you may have about the questions asked on these forms.
Part Four: The Offer
A guide-within-a-guide to understanding the different types of aid that colleges list on "offer letters." This is very helpful, because this seems to be the second most confusing part of the aid process (#1 most confusing being those forms from the last section). This part also deals with negotiating the aid package, if you're not offered enough.
Chapter Seven: Innovative Payment Options
This chapter probably isn't what you think. The ideas listed here include: transferring in later (again), cooperative education (a big one at the college I went to), short-term prepayment, ROTC, outside scholarships (which account for less than 5% of the financial aid in the US), borrowing from retirement plans, loan forgiveness (usually in exchange for community service), moral obligation loans, and payment plans.
Chapter Eight: Managing Your Debt
From the process of picking a lender to how to pay off the loans once you have them. There's a guide to different repayment plans, and a brief explanation on consolidation, loan discharge, and cancellation. This chapter is a little light, as well, but let's face it – paying off student loans is a different topic entirely than paying for college in the first place. It's information best left for another book.
Chapter Nine: Special Topics
Got a case of divorced or separated parents? The rules for that situation can make your head spin: blended families add a ton of dimension to the financial aid process. This book handles the details with grace – I've never seen such a good explanation of what to do when dealing with blended families in the financial aid process. Other "special topics" include: transfer and graduate students; aid for being academically gifted, an athlete, or a minority; running a business or a farm; recently unemployed workers; independent students; establishing state residency; early decision/action/notification/read; aid for older students; international students; foreign tax returns; study abroad programs; and (my favorite) a note to financial professionals insisting that they learn about the financial aid process in order to better serve their clients.
Chapter Ten: Less Taxing Matters
An overview on how changes in tax laws (and other laws) have affected the financial aid process and saving for college this year. There's some good news and some bad news here, as well as some things that are phasing out.
Chapter Eleven: Looking for a Financial Aid Consulting Service
If you've decided this is all more than you want to deal with, this chapter will take you through how to find and choose a consultant, including what questions to ask a professional before you pay for advice.
Chapter Twelve: Future Trends
More of a chapter of interest than useful information. Although, if you're a parent of a young child, these changes will be important to you in the coming years.
Part Five: Worksheets and Forms
Yep, it's worksheets, forms, and a glossary. And you're done!
Recommendations by Age Group
Is this just a book for snobby rich parents to avoid draining the trust fund in order to pay for their rich kids' college educations? No. Reading this book, I see several things that I could have done over the past fives years to lessen my loan burden and make the whole process easier on myself. Colleges do not always meet you halfway, even when you've demonstrated extraordinary need. I could have benefited from this book (or one like it) at the beginning of my college career.
High school: Although most of the information here is targeted at parents, you could benefit a lot from this book. Like I said earlier, you can benefit the most if you can get your parents to read it as well, and get them to act on the information in it. Highly recommended.
College: If you read this book, you may feel like the ship has sailed on a lot of what you could have done to make college cheaper. But there's still time, and if you're struggling or concerned about the amount of debt you're taking on, this book is well worth a read (again, even more so if you can get your parents involved). Recommended.
20-something: Unless you're already thinking about college for Junior, there's not much here for you, but you probably already knew that. Not necessarily recommended.
20-something or older with young children: The part you find relevant in this book is short compared to the whole, but useful. This probably shouldn't be the only book you read about saving for college, but there's certainly some good information to pick out of chapter two, and maybe even chapter three. Recommended.
Parents of high school students: Get this book and read it right now. The sooner, the better. Highly recommended.
The Giveaway
The giveaway is now closed! You can buy Paying for College Without Going Broke on Amazon.com. Or, you can preorder the 2010 edition!