Thanks to everyone who took the recent survey on Poorer Than You, which asked about the different ways you would like to connect with the site. Here's a graph of the results (keep in mind that everyone had the option of selecting more than one answer):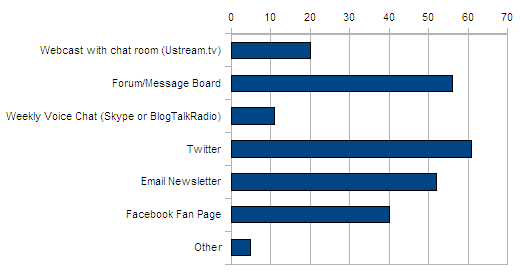 Please excuse my ugly graph — I didn't got to art school for actual art. Let us move on and discuss the results…
69% of you indicated you'd like to interact with Poorer Than You and the PTY community via Twitter. Since some of you actually came to the survey from my Twitter, account, you already know about @stephonee — for those of you who don't…
Question: Would you like to see a tweet when a new post goes up on PTY? Or a separate Twitter account that automatically updates when there's a new post here? Neither? Let me know in the comments!
63%% would like to see a message board on the site. This is something I've been kicking around for a while, but I want to be sure that if it's done, it's done right. I've seen many message boards languish due to lack of participation! But these survey results are encouraging, so there might just be a message board in PTY's future – if you guys promise to use it! [Update: the PTY forums are now live!]
58% indicated that they would subscribe to an email newsletter. This is a definite possibility, if I can find a way to do it, and do it well… without costing a fortune. It's good to know that I'll have subscribers when I finally figure it out!
44% asked for a Facebook fan page — ask and ye shall receive!
22% would tune in to a live webcast via Ustream.tv. I was hoping for more interest in this, since I have something planned for it in the coming weeks, but that's okay! I'll either have to change my plans or do a good job of convincing you guys that it's worthwhile! (Or make it a super-secret members-only club for cool kids…)
12% were interested in some sort of weekly voice chat or podcast. Honestly, I'm a little relieved. I'm more comfortable with Ustream than podcasting – does this make me weird? So I'm glad to see that, percentage-wise, Ustream is favored.
And a handful of people selected "Other." The responses here were mostly "RSS Feed" (make sure you're subscribed!) and "Google" (uh, okay?). There was one response I'm curious about: "More personal access on the blog." Would the author of that comment care to elaborate?
As for the $10 Amazon gift certificate, the winner has been selected and emailed — so check your email! And thanks to everyone for taking the survey and giving me this awesome feedback. 🙂