New Year, new update! It's a really exciting time here at Poorer Than You, and I can't wait to- OMFG WHAT IS THAT GRAPH DOING?!?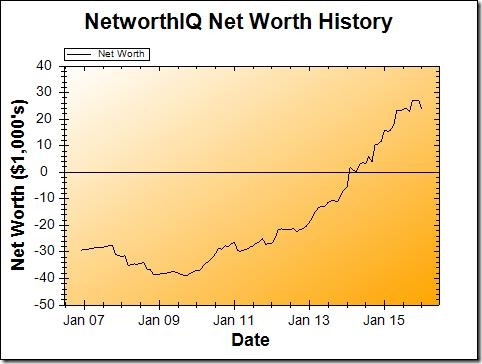 So November was down, but by such a small amount that I can comfortably call it "flat." And I anticipated a "down" month anyway: November has one of those pesky long holiday weekends in it (Thanksgiving), it's a time where sickness generally strikes, and (let's face it) Fallout 4 was released on November 10th.
Sure, you can tell me that the release of a hotly-anticipated video game is a lame reason for my income to decrease over the month… but keep in mind that gaming is my main hobby, and I do it for charity. I took several days off in November and December to play Fallout 4 in live game-a-thons and it was totally worth it, just to see $2,615 raised by the games for clean drinking water in the developing world.
December was basically flat as well, which is a feat unto itself, considering the time off for the game-a-thons and the holidays, and Christmas shopping. I always anticipate December being a "down" month, so seeing it actually tick up (even if only a little) is cause for celebration.
Until you get to January, that is.
Urgh, January. Such promise for recovery after December's spending. But this particular January just didn't cooperate. I lost a big chunk of cash-on-hand to the year-end quarterly estimated tax payment, for being a freelancer. That's alright though, since it's offset by a decrease in my tax liability, as well. But everything else about the month just sucked. The stock market took a beating, though that's only a problem on paper. It can fall further for all I care, so long as I'm buying right now (which I am: a contribution every time I receive payment on an invoice!).  We also dropped a good chunk of change on travel expenses for a friend's upcoming wedding across the country. (Continuing to put money into our Wedding savings account years after our own wedding doesn't look silly at all right now, does it?)
The real problem with January is that toward the end, we got three feet of snow dumped on us over the course of 24 hours. Everything in the region shut down and, thanks to the timing, neither husband nor I were able to do any work projects while snowed in.
But hey, we made it out of the snow storm safe and sound, no worse for the wear (other than the loss of income). Obviously, we're going to have to spend February hustling our asses off to make up for it. That's just how it is.
Also, if you'd like to see how I stack up against other personal finance bloggers, be sure to check out The Ultimate List of Blogger Net Worths over on Rockstar Finance!
---
Bonus for February: For those of you following along on our "Holiday Tree" exploits, I have an update for you. Here's the tree in all its Valentine's Day glory:
(Yeah, I missed getting a picture of it as an actual Christmas tree for you. I'm the worst. My apologies. Maybe next December!)