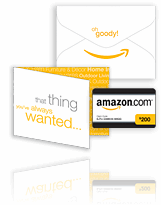 Do you want a ridiculously easy way to enter to win $10 to spend at Amazon.com? I thought you might! Well, it doesn't get much easier or faster than this: take this survey, leave your email address, and you're entered to win.
That's it. The survey should take you less than 30 seconds. If it takes you longer than that, you're doing it wrong. It's one question plus a text box to leave your email address. Your email address will not be harvested and put to use for any evil deeds… no, it will just be used to contact you if you win.
Disclaimer-y stuff: Survey closes at 11:59PM EDT on July 31st, 2009. At that point (or at some point the next morning, if I'm not online at the time) I'll use Randomizer.org to pick one email address from the responses, and I'll contact that person to deliver their $10 Amazon.com gift certificate by email. This contest is open to everyone except where prohibited by law. One entry per person, please, because I really do care about the results of the survey.
You can take the survey, even if you're not interested in winning, or the contest is prohibited in your area: just leave the "email address" box blank. By taking the survey you'll be helping PoorerThanYou.com, so do it!