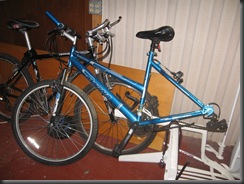 Those of you who advised me on whether or not I should buy a bike (and what kind) will be happy to know that I bought one! I answered a listing on the Facebook Marketplace about a bike for sale, and paid $20 for a women's bike with a bent wheel. I'm going to have to replace the wheel, which will be another $30, but I'm content with that.
I looked several places, including Craigslist, and made plans to visit some bike stores and ask questions. But then the listing for a $20 broken bike popped up on my Facebook page, so I made an appointment to check it out. I took my boyfriend, who very un-helpfully shrugged at me most of the time (even though he supposedly knows more about bikes that I do).
But the bike is in good shape (aside from the back wheel!) and looks good for what I need, so I bought it. Hopefully we'll get it in working order before summer "vacation" hits, so that I can take advantage of a more lax schedule.
I absolutely recommend, if you're a Facebook user already, that you use the Marketplace feature for both your "wanted" and "for sale" classifieds. I've bought and sold textbooks on there before, and it works pretty well. The nice thing is that it puts the listings in your area, and it pops up on your friends' pages, so you might just be able to make a transaction with someone you already know!
I've got a bike! 🙂