I just had a baby, my husband and I only have one car, and frankly, I'm kinda lazy. So I love the idea of Amazon bringing me all of my groceries. Can Amazon make my dreams come true and possibly even live up to the standard set by my favorite grocery store (Wegmans #ForTheWin)?
To find out, I'm trying out all three of Amazon's grocery delivery services. Earlier, I gave you my Prime Now review, testing out their 2-hour delivery service that included limited groceries. Today, I'm taking a look at Amazon Fresh: their more robust grocery offering, which comes with a $14.99/month fee.
What is Amazon Fresh?
Amazon's description:
Amazon Fresh is Amazon's grocery delivery business, offering fresh foods, locally-sourced products and Amazon.com items for same-day delivery.  Operating in five regions, we give customers access to a diverse selection of items while simplifying their lives.
My take on it: Amazon is trying to create a true grocery delivery service with Amazon Fresh. They're attempting to have the full stock of a real grocery store available. And they're doing everything they can to make it as convenient as possible, so you'll get in the habit of using it.
Unlike Prime Now (where the products are delivered in Amazon-branded paper grocery bags), Amazon Fresh deliveries are left on your doorstep in slick-looking sturdy Amazon Fresh totes (pictured above). The cold stuff is all packed together with extra insulation and a few ice packs to keep it cold. They just ask that you put the totes outside your door for the next delivery so they can take them back and reuse them!
The Magic Dash Wand
One of the really neat things they're doing with Amazon Fresh is the Dash Wand. This handy little device has a barcode scanner, a microphone, and a wi-fi connection on it.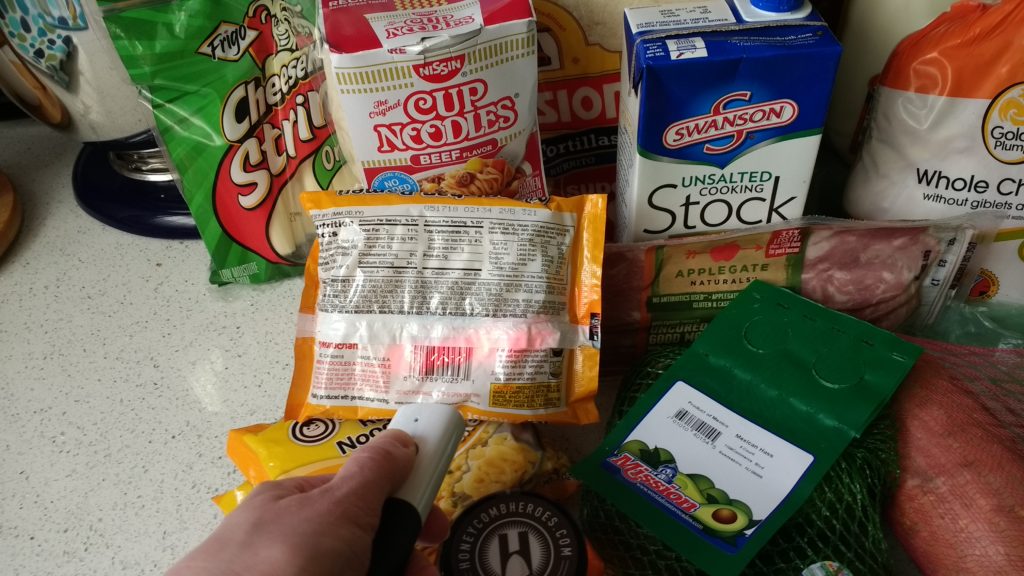 All you need to do is hold down the button on it, and then either scan the barcode of a product or say the name (e.g. "apples" or "butter" or "an 18-gallon jug of maple syrup"), and it will be added to your Amazon Fresh cart. If it's not available on Amazon Fresh, it will add it to your regular Amazon cart. If the Dash Wand isn't sure which brand of 18-gallon maple syrup jug you prefer, it will put a little prompt in your cart, asking you to choose:
You can even click the little speaker icon in your cart, so you can hear yourself asking for things (creepy!). But as one of the question answerers on the Amazon page pointed out, this is useful if you have multiple people in your household, and someone keeps adding cookies and ice cream to the list, and you need to identify the culprit. (In my case, it would be me. But maybe you can discover a sleepwalking and sleep-Amazon-shopping problem you didn't know you had?)
Because it will add things to your regular Amazon cart, and not just to your Amazon Fresh cart, this is actually a very handy little device to have in the house even if you don't use Amazon Fresh. (And it's magnetic, so you can keep on the fridge!)
But, if you do decide to try out Amazon Fresh, there's an added bonus with the Dash Wand: right now, Amazon is selling the Dash Wand for only $10 to Amazon Fresh customers… AND they're giving out a $20 promotional credit when you order the Dash Wand. So, it's on sale to Fresh customer for negative $10. (Currently, Amazon says this offer is valid through January 31st, 2017. But when I ordered my Dash Wand in December, it said it was only good through the end of that month, and then they extended it. Check the Amazon Dash Wand page to see the current offer.)
My Amazon Fresh Haul
This was actually my second Amazon Fresh delivery – the first order included the Dash Wand (of course). I signed up for Amazon Fresh under a promo that gives us a 30-day free trial (forgoing the $14.99 fee for the month). Again, check the Amazon Fresh website for the current promotion details.
So here's my order, and how it compares to the prices at my usual (and favorite) grocery store, Wegmans:
Amazon Fresh Item
Price
Wegmans Item
Price
Brussel Sprouts – 2 lbs


$3.98

Wegmans Brussel Sprouts Family Pack, 2 lbs


$3.99

Shenandoah Apple Blossom Local Virginia Honey

$9.99

No equivalent available, leaving price in for comparison


$9.99

Bagged Hass Avocados, 4 count small


$0.01

Avocados, Family Pack (4 count)


$4.99

Gold'n Plump, Whole Chicken, 56 oz

$6.20

Wegmans Roasting Chicken with Giblets – $0.88/lb

$3.08

Asparagus, 1 Bunch

$3.49

Asparagus, 1 Bunch

$5.24

Frigo Cheese Heads, String Cheese, 24 count

$7.10

Wegmans Cheese Sticks, Mozzarella, Family Pack – 1/2


$3.99

Bananas, 1 bunch (min. 5 ct.)

$1.38

Bananas, 1 bunch – $0.49/lb

$1.18

Maruchan Ramen Noodle Soup, Roasted Chicken – 3

$0.93

Nissin Ramen Cup Noodles Soup, Chicken, 6 pack

$2.99

Nissin Ramen Cup Noodles Soup, Beef – 2

$1.58

 

Yams (Yellow to Orange Flesh), 2 lb

$3.91

Yams, 2 lb

$1.98

Maola, Whole Milk, Gallon, 128 oz

$4.52

Wegmans Food You Feel Good About Vitamin D Milk

$1.79

Idahoan Potato, Flakes, 13.75 oz

$1.49

Idahoan Potato Flakes, 13.75 oz


$1.49

Swanson Unsalted Chicken Stock, 32 oz – 2

$4.58

Wegmans Chicken Culinary Stock – 2

$3.98

Applegate, Natural Good Morning Bacon, 8 oz

$4.85

Wegmans Uncured Bacon, Applewood Smoked

$6.99

Mission, 10 Inch Burrito Flour Tortillas, 8 ct, 20 oz

$0.00

Wegmans Tomato & Basil Tortillas, Gordita Style


$2.79

Oral-B Glide Pro-Health Comfort Plus Mint Flavor Floss

$3.46

Oral-B Glide Pro-Health Comfort Plus Mint Flavor Floss

$5.99

Coupons

–

$3.74

Total (excluding tax):
$53.73
Total (excluding tax):
$60.46
The above total does not include the $20.00 discount for the Dash Wand promotion, so my total paid that day was actually $33.73 before tax!
Now, if you read the above chart carefully… you might have noticed some weirdness. Let me explain my order and my methodology for the Wegmans equivalents:
The Amazon Fresh avocados were on special (a "Fresh Deal"): 1 cent for 4!
The tortillas were free because they ran out of the ones I had ordered – Sundried Tomato Basil ones – so they substituted plain ones and refunded the price! They were $3.47 when I placed the order.
Strange that I could get local honey on Amazon Fresh, but not at my local Wegmans! So I just left it in the Wegmans one at the same price because I would have bought it somewhere – farmers market, maybe?
Generally, I tried to find the equivalent whole product I would have bought from Wegmans, but in a few cases where the quantity/size was vastly different, I calculated out the adjusted price on the Wegmans side.
What I really wanted was some Cup Noodles Chicken Flavor, but Amazon Fresh only seemed to have Beef Flavor… hence why I ended up ordering that, and also 3 things of Maruchan Roasted Chicken Flavor. Wegmans does have the Chicken Flavor cup noodles I would have bought… but no Maruchan (only Top Ramen). It's a pity, really.
(The Cup Noodles are entirely the fault of Final Fantasy XV, by the way. Product placement works.)
Wegmans has coupons too – and theirs are in an app now! So I checked the app – none of the coupons this month would have applied to these items. Ah, well.
So, it was the nearly-free avocados and the coupons that made this order less than the Wegmans equivalent. But even so, the prices are actually comparable, which surprised me! Especially with the $20 Dash Wand promo on top of that, it was a great deal. If Amazon Fresh keeps up the coupons and "Fresh Deals," the $14.99/month fee will actually be worth it.
Still, Amazon Fresh doesn't completely eliminate my need to visit a local grocery store. Though they have a much more robust meat selection than Prime Now, it's not as vast as I would like, and generally the meats are all much more expensive than Wegmans prices. A few examples:
Cheese is pricier too. Because Amazon Fresh lacks a generic option, you're paying brand name prices. For that reason, my order above lacks a lot of meat and cheese, even though I ferociously eat both. Price-wise, it makes more sense to still do a monthly visit to Wegmans to stock up on meats and cheeses.
And then there's the stuff that Amazon Fresh just doesn't have. Like 20 Mule Team Borax, which I need for my laundry and dishwasher thanks to a hard water problem in my apartment. It's available from Amazon Prime Now (a completely different service), or at a severe upcharge on Amazon Prime, but it's not available to me from Amazon Fresh at this time. No french lentils on Amazon Fresh, either.
Things go out of stock regularly, too. I originally had some aluminum foil in this order, scanned with the Dash Wand, but it disappeared from the cart before the order was placed. I didn't see an alert for that one, but with the husband and I both using the Amazon cart, it could have just been the fact that he didn't notice the alert and clicked away from it. Later, I scanned a box of kosher salt with the wand, and it too went out of stock and out of the cart (though I saw the notice in the cart for that one). These items were both available from Prime Pantry, but that's yet another service with a different Amazon checkout, and shipping charges.
I bought Cheerios in my first order, and then for my second order, they were nowhere to be found in Amazon Fresh's inventory. Now, they're the headlining item for the cereal category! So things go in and out of stock, sometimes really inconveniently. The worst part is how the Cheerios didn't show up as "out of stock" on Amazon Fresh – they just disappeared from the search results.
What I Love About Amazon Fresh
It may sound like I'm being overly critical of Amazon Fresh, but in reality, there are quite a few things I like about the service:
The totes and delivery time frames make it super easy for me to do my grocery shopping without leaving the house or interacting with anyone. There are even really early morning deliveries available, which means I can get milk delivered before breakfast when I run out!
Shopping from home also means that you won't mistakenly buy something you already have. Do I need more clementines? Oh, I can just look in the fridge right now and see!
Once you reserve a delivery time, you have an hour to check out (and keep your delivery time).
You can add items to the delivery after you check out, if you forgot something. That's how those instant potatoes ended up in my order!
The Fresh Deals section has some fantastic deals, and makes it really easy to shop everything that's on sale (unlike a physical grocery store).
All of the produce was indeed fresh, which is more than I can say for most of the non-Wegmans grocery stores in my area (hence why I usually only buy produce from Wegmans)
Everything about the Dash Wand. Even though an Amazon Echo can also add things to your cart with voice control, the Dash Wand has that cool barcode scanner. And at -$10 right now, the price is right!
"Shop Past Purchases" function makes it really easy to get your "usual" stuff ordered fast.
Though it's a separate cart from the rest of Amazon, it's better integrated into Amazon's site and app than Prime Now. The two shopping carts appear as tabs on the side of the browser screen, which works pretty well.
What I Didn't Like / Thought Could Be Better
$14.99/month fee on top of the cost of a Prime membership makes this a pricey service if you don't already have Prime for other reasons.
Some of the product names are so long that the size gets cut off. That makes it hard to compare prices. I bought a block of mozzarella that was half the size I thought it was in my first order!
Limited, expensive meat selection. The seafood selection is even worse.
Some key (to me) items are missing, such as borax, french lentils, and certain spices. These items are available elsewhere on Amazon, but that's a separate cart and order to place.
Stock problems plague the service. Hopefully this is just a part of the growing pains of a new service.
Will I Continue to Use Amazon Fresh Past the Free Trial?
Maybe. I'm still undecided. Before I ran the math on my order, I thought Prime Now was going to come out the winner. I was not expecting my Amazon Fresh order to be cheaper than Wegmans!
Of course, most of the reason my order ended up cheaper is that I avoided buying items that were grossly overpriced on Amazon Fresh (meat, cheese, etc.). Because of this, Amazon Fresh isn't completely replacing my need to go to the grocery store, which is what I'd hoped for. So is it worth the $14.99/month fee to replace 3 out of 4 shopping trips?
My initial thought is that we'll keep the service active… for now. While I have an infant at home to take care of, the convenience makes a lot of sense. Maybe when the kid is older and I can pop out of the house more easily (ha! is that a thing?), it won't make as much sense any more – we'll see. Also, if the Fresh Deals start to dry up and prices rise, I'll cut and run.
---
This is Part 1 of a 3-part series on Amazon's grocery delivery services. Be sure to also check out the Prime Now review and the Prime Pantry review (coming soon!)
What do you think of grocery delivery from Amazon? Is Amazon Fresh available in your area? If so, have you tried it? Leave your thoughts and questions in the comments below!
Save
Save
Save