Can Amazon replace my favorite grocery store? As a one-car family with a brand new baby, I was keen to find out! I've checked out Amazon's Prime Now 2-hour delivery, and the Amazon Fresh grocery delivery – now it's time for their dry-goods-in-a-box service, Prime Pantry.
Prime Pantry has been around a lot longer than Amazon's other grocery offerings. It's also the only one that's available to all Prime members – not just people who live in certain areas. Despite all that, this is the first time I've actually ordered anything from Prime Pantry. But I got a $5 off Prime Pantry promo from selecting the "No Rush" shipping on a previous Amazon Prime order, so I figured… why not?
What is Prime Pantry?
Amazon says:
Prime members can shop for groceries and household products in everyday package sizes (for example, a single box of cereal) with Prime Pantry. Prime Pantry allows Amazon to expand its selection and offer thousands of items to Prime Members that are cost prohibitive to ship for free individually.

Prime Pantry provides vast selection, exclusive savings, and convenience. You can purchase groceries and household items in everyday sizes, as opposed to bulk sizes, online or using the Amazon.com mobile apps, and have these items delivered to your doorstep, saving you a trip to the store and giving you some time back in your busy life. Prime Pantry also provides great value with Weekly Deals and Coupons.
My take? Prime Pantry is a $5.99 box, that you can fill with any number of non-perishable food items or drugstore-type items, and the shipping cost will remain just $5.99 as long as everything fits in the box. You don't need to 100% fill the Prime Pantry box – that's a misconception I had before I looked closer at the service. However, your brain will trick you into thinking that you do, just to justify the shipping charge.
Amazon does give you a way to escape the $5.99 shipping fee, though: simply put 5 items in your Prime Pantry box from their list of "qualifying items." With 5 of those special items in your Prime Pantry box, the shipping fee is waived. This is a pretty obvious trick to get you scrolling through seemingly endless slider bars of "Household Cleaning," "Snacks," "Skin and Body Care" etc., hoping to find 5 things that you actually want/need.
So why did I use Prime Pantry at all? Was it the siren call of the $5 off promotion? No. The real reason is that Prime Pantry has some items that you can't get anywhere else on Amazon, or are ridiculously overpriced elsewhere on Amazon. My downfall was that my husband wanted some Cheerios. They had mysteriously disappeared from Amazon Fresh the week that we needed them, but Prime Pantry had them! Same story for the roll of Reynold's Wrap aluminum foil that literally disappeared right out of my Amazon Fresh cart. And there was a drugstore purchase I needed that – you guessed it – wasn't on Amazon Fresh or Prime Now.
So, did I order the Cheerios and aluminum foil, get my $5 off, eat the $5.99 shipping charge, and not get sucked in to trying to put 5 qualifying free shipping items in my Prime Pantry box?
My Prime Pantry Haul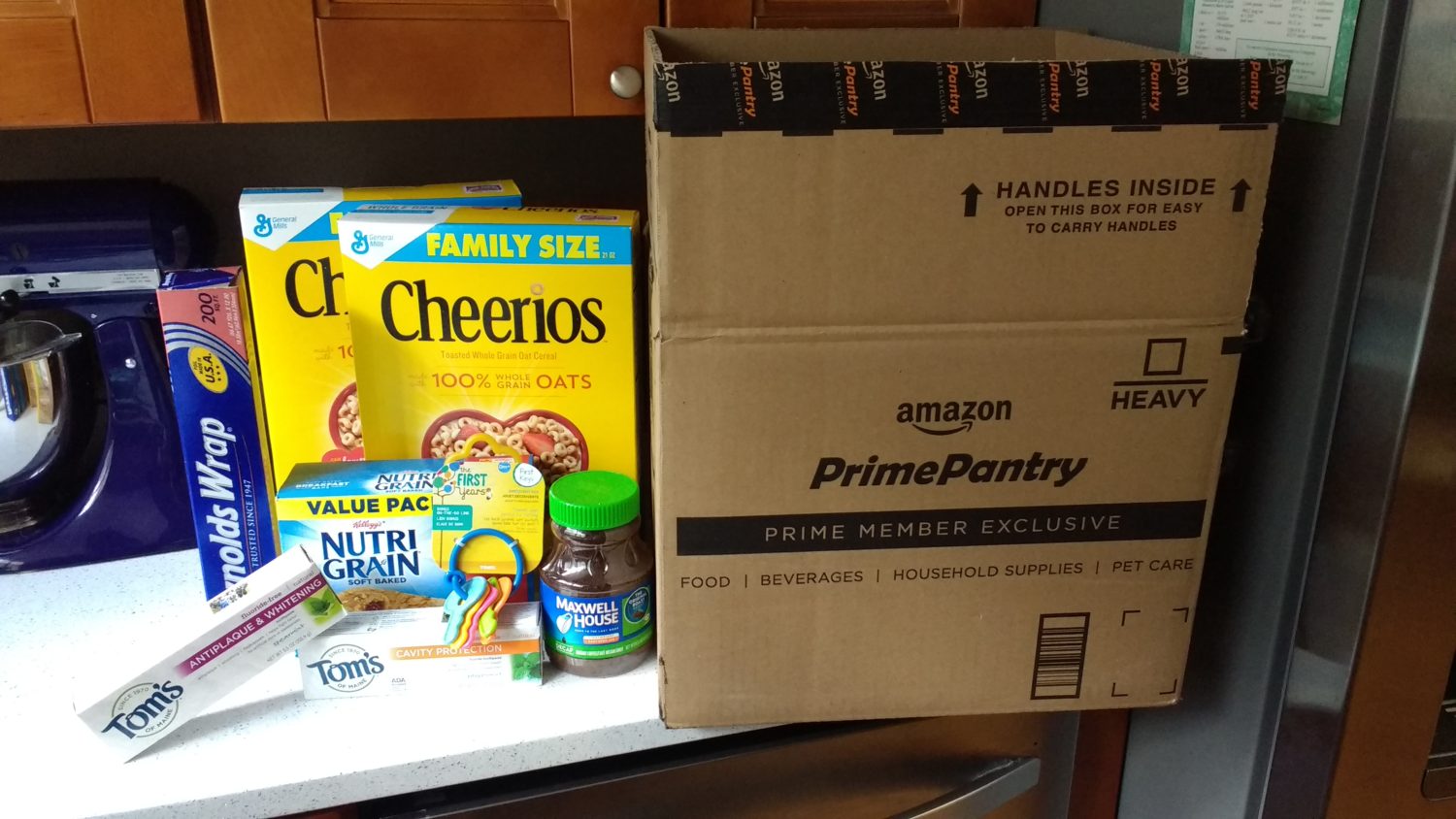 Okay, yes. I knew exactly what tricks Amazon was playing on me: the percentage counter for how "full" my box was (don't want to waste any space!), the 1-2-3-4-5 counter for how many free shipping items I had added to my order, the pages of related items… and yet, I fell for it hook, line, and sinker.
So… did I at least save some money? Here's how my Prime Pantry order stacked up against the prices from my usual (and favorite) grocery store, Wegmans:
Amazon Fresh Item
Price
Wegmans Item
Price
Kellogg's Nutri-Grain Bars, Strawberry, 16 count*


$5.04

Wegmans Fruit & Grain Bars, 8 count – 2


$5.38

Tom's of Maine Toothpaste, Spearmint, 5.5 Ounce*

$4.29

Tom's of Maine Toothpaste, Spearmint, 5.5 Ounce




$3.99

Tom's of Maine Toothpaste, Peppermint, 5.5 Ounce*


$4.04

Tom's of Maine Toothpaste, Peppermint, 5.5 Ounce


$3.99

Maxwell House Instant Decaffeinated Coffee, 8 Ounce*

$5.48

Maxwell House Instant Decaffeinated Coffee, 8 Ounce

$5.99

Name-brand drugstore-type purchase

$11.85

Same name-brand drugstore-type purchase


$13.49

The First Years Learning Curve First Keys Teether*

$2.00

Would not have purchased

Reynolds Wrap Aluminum Foil (200 Square Foot Roll)

$9.19

Wegmans Aluminum Foil, 200 Sq Ft


$4.99

Cheerios Gluten Free Cereal, 21 oz – 2

$7.96

Cheerios Cereal Family Pack, 40.7 oz


$5.19

No Rush Credit

–

$5.00

Total (excluding tax):
$44.85
Total (excluding tax):
$43.02
* = Items purchased just to get free shipping (and thus save $5.99)
So the totals ended up being pretty similar, but only because of both the No Rush Credit and the Free Shipping promo. Plus, I bought several things I didn't necessarily need. I wasn't out of Nutri-Grain bars or toothpaste at the time – I just thought to stock up on them for the free shipping. I might not have bought the instant coffee at all – it had been a passing thought that I could stop being jealous of my husband's delicious coffee smell in the mornings. And the baby teether keys? Those aren't available at Wegmans, and I only bought them for the free shipping. (Not that I won't, you know, let my kid play with them now that I own them.)
So honestly, the only things I was on there to buy were the drug, the aluminum foil, and the Cheerios. If I had just gotten those and paid the shipping charge, the total would have been $34.99 ($29.99 after the No Rush Credit), vs. $23.15 at Wegmans. This shows that it's worth it to buy five of the Free Shipping eligible items… if you can find five things you actually need in there. Or in my case, 5 things I can use, 3 of which I will eventually need.
What I Liked about Prime Pantry
You may note that in my previous Amazon grocery reviews, this section was called "What I love about…" But I don't have a lot of love for Prime Pantry. Still, here are the few benefits I did notice:
Items that are not available elsewhere on Amazon, or aren't available in a regular household size or for a decent price.
Integrates nicely into your regular Amazon cart, including the ability to save your entire Pantry box for later.
"Easy Reorder" (Shop Past Purchases) feature makes it easy to find your usual items again.
Arrives in a very sturdy box with handles – which I immediately reused to pack up old clothes to take to a donation facility.
Available to all Prime members, so you could get some household staples delivered to a remote area, if you need to.
What I Didn't Like / Thought Could Be Better
The $5.99 shipping fee, of course.
Little tricks to get you to shop more (free shipping with qualifying items that are laid out to take a while to rifle through, percentage counters, etc.) mean that the time savings from shopping on Amazon instead of just going to the store is practically lost.
Shipping is slower – 3 days instead of Prime's usual 2-day shipping.
The fact that some items are only available through Prime Pantry, forcing you to use the service and pay the shipping fee (or find 5 free-shipping-qualifying items) to get stuff you need.
Maybe this isn't Amazon's fault… but that decaf instant coffee I bought is totally gross 🙁
Will I Use Prime Pantry Again?
Probably not. The $5 off promo I got seems like it ended up being more work than it was worth. If all I need are Cheerios, aluminum foil, and something from the drug aisle, there are better ways to get those things. Faster ways, that cost about the same – such as asking my husband to grab them from the grocery store near work, or stocking up on them during my monthly trip to a physical grocery store.
That may change if I ever move back to a rural area, of course. I can see how the service would have been marginally more useful back when I was living in the middle of nowhere. But living in the suburbs, with a Wegmans just a 10 minute drive away? Prime Pantry just doesn't compare.
---
This has been a 3-part series of reviews for Amazon's grocery delivery services. Be sure to check out my reviews for Amazon Fresh and Prime Now as well! And there's one more Amazon grocery delivery service that I use, but haven't reviewed: Subscribe & Save. If you've enjoyed my reviews and would like me to tackle Subscribe & Save as well, let me know in the comments below!
Have you used Amazon Prime Pantry? If you love the service, I'd love to hear about your experience! Hate it? Never used it? Let me know, below!
Save
Save
Save