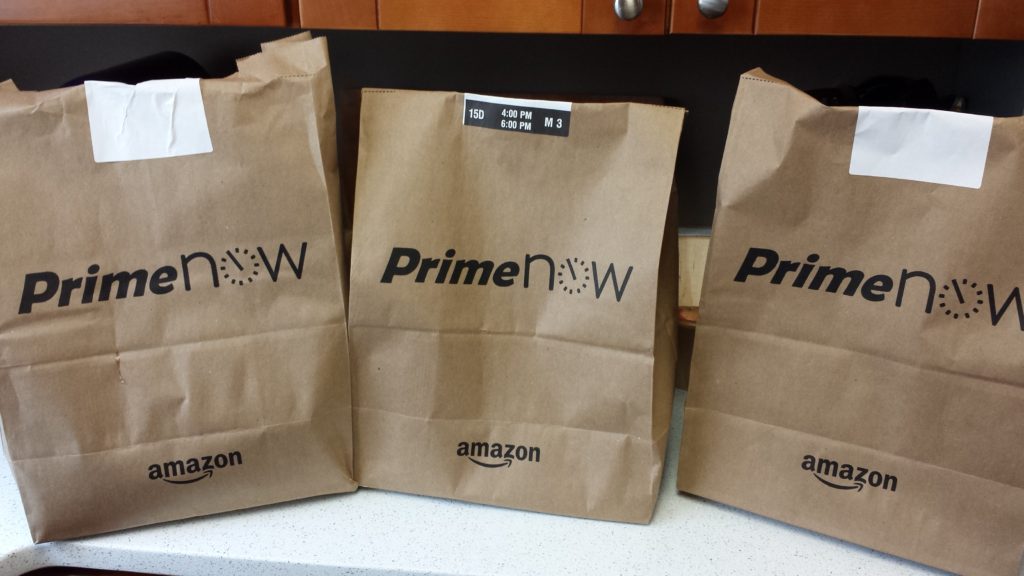 Amazon gets me. They know I hate driving, that I'm terrible at dealing with cashier small talk, and that I'm terrified of store associates asking "is there something I can help you with?" They're more than happy to coddle me by delivering pretty much anything I want, straight to my door. And now, that even includes groceries!
But grocery delivery has always been a difficult pitch for me. I live in a heavily suburban area, and there have always been online grocery delivery options available to me here. But, there's something else here: the greatest grocery store in the history of grocery stores, Wegmans. If I have a Wegmans, I need no other grocery store. Except, Wegmans won't yet deliver to me. So, is there room for Amazon to move in on Wegmans' territory and steal my heart by allowing me to shop for groceries in my PJs?
Grocery delivery isn't just about laziness for me. I actually have good reasons to look into such a service these days: my husband and I have just one car, so I can't just pop out to the grocery store any time I want to. And now I'm transitioning into being a work-from-home mom, so it's even harder to get to the grocery store.
Can grocery delivery save my household time and/or money? When it's Amazon offering the service, I'm willing to give it a whirl and find out!
Amazon actually has three different grocery delivery services, and they are all only available to Prime members. I'll review Amazon Fresh and Amazon Prime Pantry separately later – for now, we'll just focus on the first of the three that I tried: Prime Now.
What is Prime Now?
According to Amazon:
Prime Now offers household items and essentials you need every day plus the best of Amazon, with FREE 2-hour delivery.
If you ask me, I'd say "It's a smaller selection of Amazon items, plus some food, delivered today, and you have to tip the driver." As the name implies, you have to be an Amazon Prime member to use the service, and it's only available in certain areas.
I discovered the existence of Prime Now in my "market" (Northern Virginia) when I was on Amazon shopping for a cutting board. The particular cutting board I found said that I could have it the same day… with Prime Now.
With a baby on the way (at the time) and Amazon offering $10 off the first purchase with promo code 10PRIMENOW, I figured I'd go ahead and give it a shot. Since Amazon Prime Now requires a minimum order of $20, and the cutting board didn't quite cost that much (thank goodness), I decided to try and accomplish as much of the week's grocery shopping as possible on Prime Now.
Prime Now has a decent selection of groceries, including some fresh produce (I got baby carrots) and a limited selection of meats. The lack of meats is really what keeps it from being a viable complete grocery replacement for me. I'm just not a vegetarian by any means (and with my husband's allergies to nuts, eggs, and legumes, we will never be a vegetarian family). But, I was still able to get a decent amount of what I would have gotten at the store, without leaving my apartment.
My Haul from Amazon Prime Now:
Here's what I got: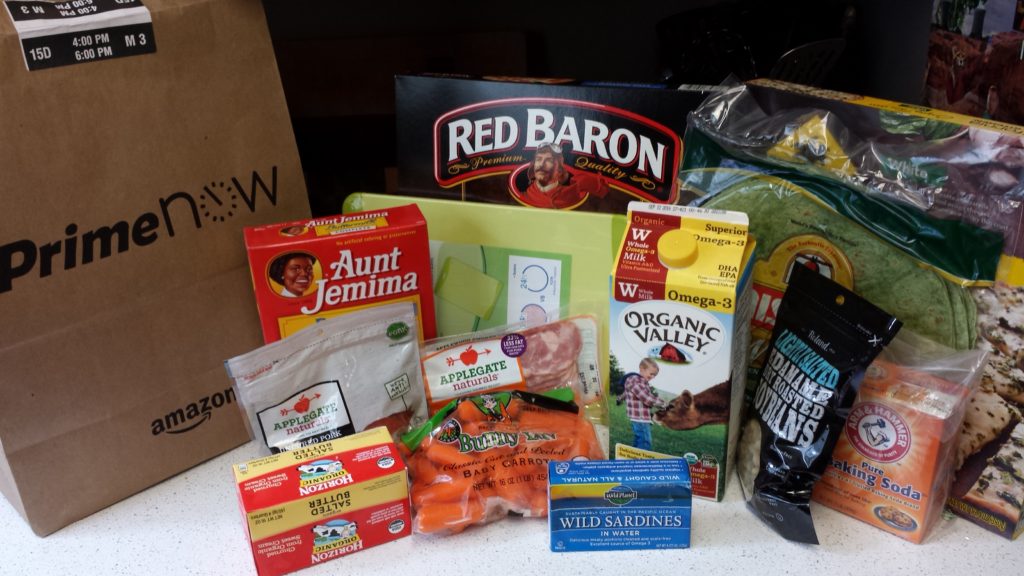 And here's how the order compares to my usual Wegmans prices for what I would have bought at Wegmans if I had gone there (you'll see, I usually stick to the Wegmans brand products):
| Prime Now Item | Price | Wegmans Item | Price |
| --- | --- | --- | --- |
| Applegate, Natural Mini Pork Pepperoni | $5.09 | Wegmans Sliced Pepperoni, Italian Style | $2.39 |
| Applegate, Natural Good Morning Bacon | $4.99 | Wegmans Uncured Bacon, Applewood Smoked | $6.99 |
| Organic Valley, Organic Whole Milk | $4.99 | Wegmans Organic Vitamin D Milk | $3.99 |
| Wild Planet Sardines, Wild, in Water | $2.69 | Wild Planet Sardines, Wild, in Water | $2.69 |
| Mission, 10 Inch Wraps Garden Spinach Herb | $2.69 | Wegmans Spinach, Garlic & Pesto Tortillas | $2.79 |
| Red Baron, Classic Pepperoni Pizza | $4.19 | Red Baron, Classic Pepperoni Pizza | $3.99 |
| Roland Roasted Edamame Light Salt | $2.29 | Seapoint Farms Edamame, Dry Roasted, Sea Salt | $1.79 |
| Microban Antimicrobial Cutting Board | $8.99 | *Would have still ordered this product from Amazon | $8.99 |
| California Pizza Kitchen, Thin Crust Pizza | $6.79 | Wegmans Organic Thin Crust Spinach & Feta Pizza | $5.49 |
| Organic Baby Carrots, 1 lb | $1.49 | Wegmans Organic Carrots | $1.29 |
| Aunt Jemima Pancake Mix, Buttermilk Complete | $3.09 | Aunt Jemima Pancake Mix, Buttermilk Complete | $2.99 |
| Arm & Hammer Baking Soda, 16 Oz | $0.79 | Arm & Hammer Baking Soda, 16 Oz | $0.89 |
| Horizon Organic Butter, Salted, 4 sticks | $6.09 | Wegmans Organic Salted Butter Sweet Cream | $4.99 |
| Tip | $5.00 | | |
| Total (excluding tax): | $59.47 | Total (excluding tax): | $49.27 |
These prices don't reflect the $10 off coupon code, 10PRIMENOW.
With the coupon code, I ended up spending only 20 cents more than I would have at Wegmans for the same items, and everything was delivered right to my door by a friendly delivery woman! Since I was quite pregnant at the time, I was happy not to have to waddle around the store and lug the groceries in from my car!
I used Amazon Prime Now again a few weeks later, when suddenly both the HVAC unit and the living room blinds in my apartment broke at the same time. I had to work from home in order to be there to let contractors in to fix them. But of course, we were experiencing a weird heat wave at the time, and I couldn't turn on the AC or adjust the blinds to keep the sun out of the window right next to my computer! I tried to swing by Lowe's to buy a fan… but apparently they don't sell those in October, even if there's a heat wave. So what's a sweaty pregnant woman who has to work from home to do?
For my second Prime Now order, I of course bought myself a little fan, and some regular groceries that we were out of (including a monster package of Charmin toilet paper, for my upcoming postpartum needs), and again, it was delivered within 2 hours. Ah, the sweet relief of a fan and soft toilet paper!
What I Loved About Amazon Prime Now
Prices were decent. With the tip, it only worked out to $10.20 more than getting mostly generics from my favorite grocery store, and $10 probably covers the time saved, and the gas saved.
Groceries brought directly to my door – no unloading from the car!
Fast – the orders really are delivered within 2 hours (or at the time you specify)!
Everything arrived intact and fresh.
Surprised me with the decent selection. They've got everything from frozen pizza to Advil to PlayStation controllers!
"Shop Past Purchases" function makes it really easy to get your "usual" stuff ordered fast.
You can adjust your tip amount any time during the 48 hours after delivery. So you can tip more for great friendly service, or adjust it down if you were disappointed.
What I Didn't Like / Thought Could Be Better
Selection could be wider – where's the meat? They also lacked a certain drugstore item that I would have liked to get within 2 hours.
It's a separate website and app from Amazon. Who needs this many apps? My phone came with like 4 Amazon apps preinstalled (Shopping, Kindle, Audible, Amazon App Store…), who needs another Amazon app on their phone?
The $20 minimum and the tip encourage you to spend more (to get a better deal)
Would I Shop Prime Now Again?
Sure! The "pros" definitely outweigh the "cons," and the price is right. It can't completely replace my Wegmans trips (because of the lack of meat), but it could potentially reduce my number of grocery trips to once or twice a month, just to stock up on meats and things.
The biggest problem is that because it's a separate website, I kinda forget about Amazon Prime Now. We just end up going to the grocery store when we need stuff, instead of remembering to check and see if something's available on Prime Now.
I've also been checking out Amazon's other grocery delivery options: Amazon Fresh and Prime Pantry. I'm going to review those shortly, but it's worth mentioning now that having the three different services compounds the "I kinda forget Prime Now even exists" and "too many apps!" problems.
---
This is Part 1 of a 3-part series on Amazon's grocery delivery services. Be sure to also check out the Amazon Fresh review and the Prime Pantry review!
What do you think of 2-hour delivery of groceries and goodies from Amazon? Is Prime Now available in your area? If so, have you tried it? Leave your thoughts and questions in the comments below!
Save
Save
Save
Save
Save
Save
Save
Save