This article marks the end of the "Graduating?" series here on PoorerThanYou.com. I hoped you've enjoyed this series and maybe learned a thing or two. Here are all the posts in the series:
To wrap things up, I want to give you access to some more great articles and resources about life after college. If you know of anything else on the web (or any books) feel free to leave a link in the comments!
The New Graduate's Guide to Financial Freedom – JD Roth shares his words of wisdom for college grads, including establishing an emergency fund (natch), avoiding consumer debt, and looking way down the road at "retirement" (not so far off as you might think!).
More from Get Rich Slowly:
Career Advice for the College Graduate
Life After School: Advice for New Graduates
The Hartford's Playbook for Life [PDF] – One of the very best ebooks I've read: it covers everything from budgeting to apartment renting to retirement contributions. A fantastic read, and the basketball theme draws understandable analogies without being too "sports-y" for those of us that can't make a free throw!
Banker Girl's Advice for Fledging Financial Professionals actually applies to many professional fields – if you're planning on climbing a corporate ladder, you should give this a read.
8 Frugal and Cost Cutting Tips for the Newly Independent is a fantastic set of tips – most of which, I never would have thought of! (Does the picture look familiar?)
Inexpensive Tips For A Greener Life After College – "green" doesn't have to mean "expensive" – in fact, many things that are good for the environment are good for your wallet. Start your new life off with these tips, and you'll be eco-friendly with money in the bank! Bonus: this article is part of another series of advice for new college grads, so be sure to check the bottom for links on finances, job interviews, furniture, and more!
Last, but far from least, Jim just released the New Graduate Money Guide on Wallet Hacks. This short guide is jam-packed with actionable personal finance tips – meaning stuff you can actually take a bite out of now and see some results!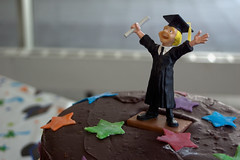 I hope you've enjoyed this series and the links in this wrap-up. Still have questions? The nice thing about this blog is that it lives on! Ask your question in the comments or send me an email – even if you just need someone to talk to as you shift to the next stage of your life.
Congratulations!
Photo by CarbonNYC