Hi. I don't want to leave you guys hanging, even though that's what I've obviously managed to do. I won't try to do the obligatory excuses, but rather just say that my life has gotten more hectic instead of less, and that we're still in the "valley" of my hypothetical time graph. However, my net worth graph is looking a lot less valley-like, so let's focus on that!
Change: $1,311 or 3.70 %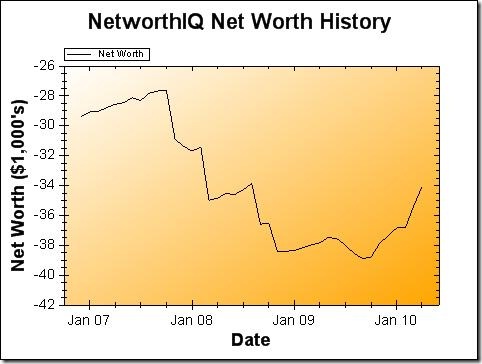 I call that "movin' on up" alright! The vast majority of April's jump went into my newly formed retirement account at Vanguard, actually. The rest is sitting in my (interest-baring) checking account, waiting to be allocated out into my savings. With all the busy-Steph-ness, I haven't taken the time to rework my Savings Snowball since the big retirement-fund investment. Most likely, the focus will shift to my emergency fund for a little while, and then even out to spread out amongst my goals so that I can hit some targets sooner.
For such a pretty "up" graph, there isn't much else to tell. But no news is good news, right?
If you have any questions about my net worth or how it is calculated, feel free to ask them in the comments. Also, if you'd like to see how I stack up against other personal finance bloggers, be sure to check out The Wealthy Blogger List. (Spoiler alert: the name of my site is highly accurate.)