This net worth update is coming in a bit late because last week was wack-a-doodle busy for me. As if things weren't already busy-busy with work, a toddler, online businesses, and everything else I try to cram into my life… I finally got my braces put on last week! But, that happened just after the end of the month, so it won't be covered in this update. Whomp whomp. Still, these are the final round of numbers in the lead-up to that big expense, so let's dig in to what will probably be the peak of the net worth mountain (for a little while):
Change: +$8,513 or +7.40%
April Net Worth TOTAL: $123,576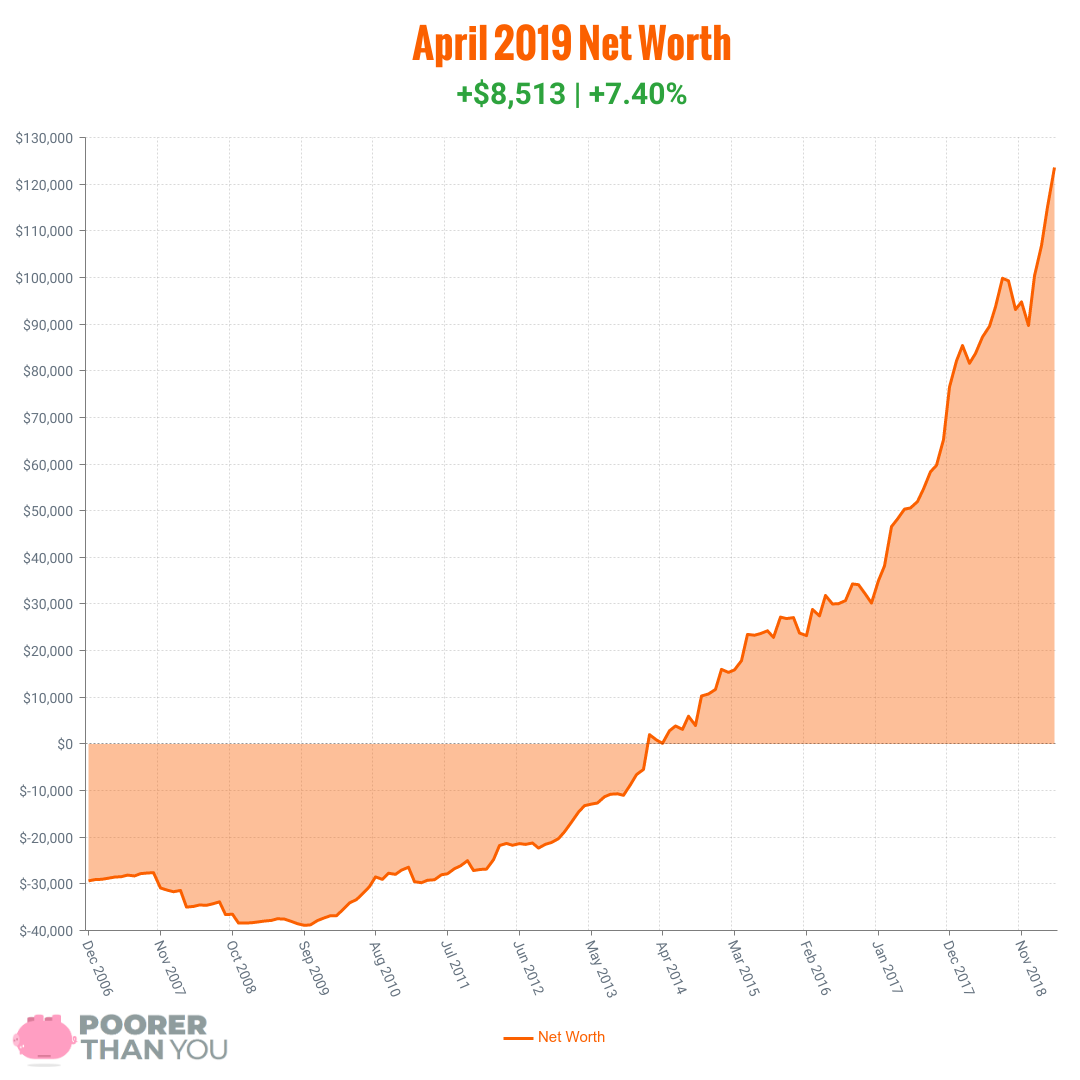 Holy moly… was not expecting that! Okay, to be fair, I wasn't really expecting anything. The busyness this month created a "just hang on and get through it all" mentality and I had exactly zero expectations of what the numbers were going to be. So, let's dig into the categories and learn together just what happened this month… because I sincerely don't even know.
Cash: +$3,121
This is where the meat of it happened this month, so there's a lot of ground to cover. There wasn't any one big thing that made up the greater-than-$3,000 cash increase this month. It was a lot of little things (or, medium things, I guess). Our tax refund from the Commonwealth of Virginia finally came in. I got a second $300 bonus from Chase for having opened new checking and savings accounts with them.
Counter-intuitively, we spent quite a bit of money this month. My yearly life insurance premium came due as it always does in April, and I paid for that and a few other expenses using Plastiq and a new credit card. I've been working on "churning" credit card bonuses as a tactic to drum up money for our dental work, and by doing this we cleared another $500 bonus this month.
There were some true "little" things, but even they added up pretty significantly. A lot of you seem to be excited about earning 5% interest on your savings and signed up for NetSpend accounts last month, so I got some bonus money from that. We sold more video games on eBay, and that's easy money. I also cut off my hair and prepared the ponytail for eBay, though I haven't listed it yet, so that doesn't show up in this month's total. (This is not at all the first time I've sold my hair on eBay.)
Put it together and what have you got? Bippity-boppity-three-thousand-one-hundred-twenty-one-dollars, believe it or not!
Retirement: +$4,843
More money than the first category! And way less exciting! Okay, not less exciting (woooooo money!), but less interesting to talk about. Everything in the cash category was active, and lifehacky, and "hey look I did things!" But here in retirement? It's the same story. every. month.
There weren't any unusual contributions this month, just the usual HSA contributions from my paychecks. That's it, the rest was all growth.
Not that I mind growth, of course, not in the least. Especially after all those months at the end of last year, where the stock market was having a time of it and going down right when I was supposed to be crossing the $100k net worth milestone. No, I am thankful for the growth.
But it doesn't leave me much to say here. I don't ever even know the stock market is doing well until I run these numbers. Because that's one of my secrets-to-success: I only look at my investments once a month, when I do my net worth report. It keeps me from poking at them, moving things around, making little "adjustments," or just plain panicking and moving all my money into silver doubloons. That sort of meddling works really well with cash (see above) and is horrible for investments.
Cars: -$41
Okay, I've got even less to say here. My car depreciated a little and no one is surprised, since that's what cars do. It did get an oil change this month, so it's got that going for it.
Other Assets: +$53
These were purely some uncashed checks:
Credit card rewards from a card that I'm not using much these days, my Citi Doublecash, which is my "daily driver" when I'm not credit card bonus churning… but I am right now. So rather than get the rewards as a "statement credit" on a card I'm not using, I requested a check, and here that is.
A refund check for a late fee from Plastiq for a payment that got lost in the mail. So, I now know what happens if you pay a bill through Plastiq and the check doesn't make it! Not the greatest thing that ever happened, of course, but I don't blame Plastiq. (I interact with the postal service enough in my day job to be confident in saying THEY LOSE STUFF MORE THAN YOU THINK.) Plastiq was quick to help me fix the issue. After confirming that the check never made it, they refunded my money (so I could make an instant payment on the biller's website to bring my account current), and I submitted a screenshot of the late fee, which they sent me a check for.
Student Loans: No change
So now that my girl Elizabeth Warren (who I've been a fangirl of pretty much since the start of this blog) has announced that she's running for President of the United States, and has announced her plan to cancel the student loan debt of 95% of Americans… I see no reason whatsoever to make any of my student loan payments anymore.
I'm kidding. Of course. Well, only about the last part where I stopped paying my student loans. (I am super pumped that EW is running for prez, as you might imagine.)
Rather, the reason there was no change in my student loan balance is super mundane: my due date was the last Sunday of the month and the payment didn't hit my balance before it was time to run the numbers. That's it.
Though, in the larger scheme of things, I have been thinking about how much it might not make sense for me to focus on paying off my student loan debt if there's a chance that Senator Warren could win the presidency and cancel my remaining debt. There is an argument to be made for only paying my minimums until my debt gets canceled, or she gets knocked out of the election race.
It doesn't matter as anything more than a thought experiment for me at the moment, since the dental work is taking up all extra money that would otherwise be available for paying off my student loans. I just love a good thought experiment!
Credit Card: -$107
Speaking of only paying the minimum on things, I did it again. As a quick refresher, this is a 0% interest credit card that I used to "refinance" some of my student loans. I actually did something very interesting with this the other day… but… that was in May and not April, so you'll just have to wait until next month to find out what. 😉
Other Debts: -$430
What goes up must come down, which is actually a good thing when it comes to debts. Because I paid my life insurance bill in April, the liability I count for it went down! Now time for it to slowly start creeping up again for next year.
Milestone Progress
Debt Freedom: No progress again this month, so May 2024 is still the calculated date. And like I said in the Student Loans category above, it makes a lot of sense to wait on this and see. Not that I was ever super aggressive about becoming "debt free," but now I have even more incentive to sit on my hands a bit with it. As crazy as that sounds!
$200,000 in Retirement Accounts: Currently $118,061, so just $81,939 remaining. The "goal" is to hit it 5 years after hitting $100k in retirement, which is 52 months from now. That will take growth/contributions of about $1,576/month. That seems all too doable given how things have been going. And considering HSA + IRA contribution limits add up to $1,083/month, to say nothing of my Solo 401(k). Is this even real life?
If you've never run net worth numbers before, you may question the nature of your reality too, the first time you do it!
I run these numbers by hand in a spreadsheet, and you could do the same, or you can check out Personal Capital for some automagical tracking. You and I each get a $20 Amazon gift card if you sign up through me and then link it up to at least one valid investment account.
Either way, add it up and let me know if it blows your mind, in the comments below!

---
Time Travel