August has been hot, hot, hot! Weather wise, certainly, but I also made it worse by making a (work-related) trip to Miami in the middle! Let's see if my finances  had a similar toasty trend:
Change: $2,070 or +6.77 %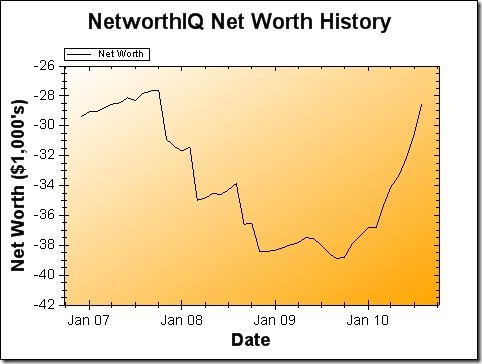 Indeed, it was a good month! However, it also represents my last month of steady employment. (My employer moved out of state and I remain in Virginia.) The money I made in all those nice upward-sloping months on this graph needs to last me through my job search. Which means that September will almost certainly be a "down" month, as little income comes in, and I still pay bills including my student loans, car insurance, etc..
Still, I'm quite optimistic — although September will be a "down" month on the graph, it's not a surprise and it's something I planned for. Just like when I graduated and knew I'd have to draw on my Getting Established fund for a while.
Everyone think good thoughts for me while I do interviews for new jobs! 🙂
If you have any questions about my net worth or how it is calculated, feel free to ask them in the comments. Also, if you'd like to see how I stack up against other personal finance bloggers, be sure to check out The Wealthy Blogger List. (Spoiler alert: the name of my site is highly accurate.)