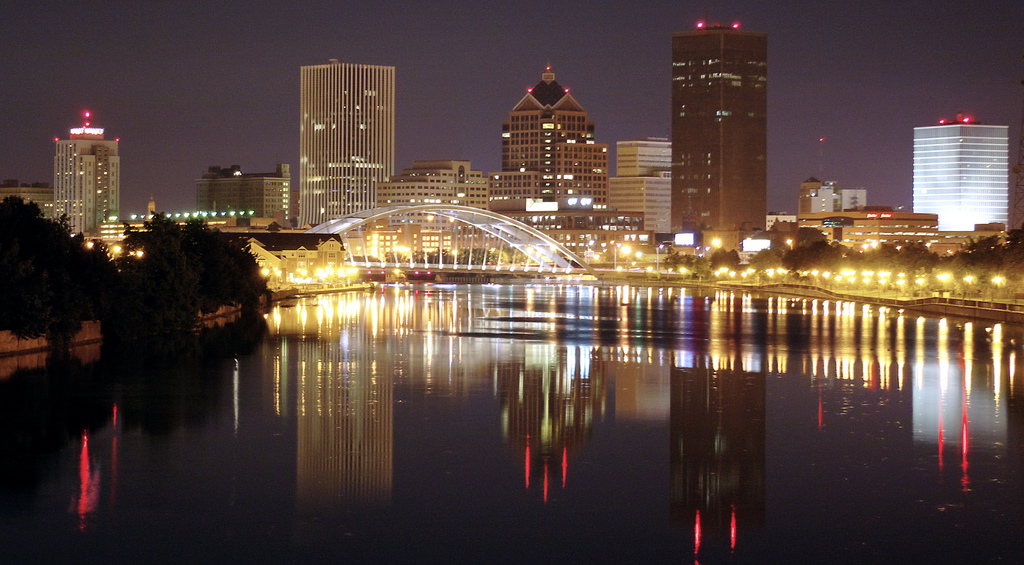 The Flower City! The Kodak City! The World's Image Center! Rachacha! I'm a fiercely loyal Rochester, New York native and I adore this city, despite its flaws *cough*lack of public transportation*cough*. But if you can get around Rochester, I highly suggest you do. As a part of WiseBread's group writing project, here's a list of things you can do in Rochester, for five dollars or less:
Free!
Mendon Ponds Park: trails, water activities, and sledding in the winter! Also a great place for Geocaching (see below).
Urban Exploration: check out all the weird and wonderful parts of the city – I highly suggest a trip to the Legal Wall if you've never been (but wear good shoes, because there tends to be a lot of broken glass).
Geocaching: "The High Tech Easter Egg Hunt" is a ton of fun! A hiking GPS is most useful, but you can get by with one of those talking car ones, if you've got it. Don't have either? Do what we did when I was a broke freshman – look at the satellite image of where the cache is on Google Maps, and use that as your best guess of the location. Harder, but fun, and free!
Festivals: Rochester is a festival town, so there seems to be one every weekend. Each festival is different, so don't knock them all if you visit one and don't like it. Might I suggest Park Ave Fest for college students? (It tends to be a bit more, uh, inebriated.)
Rochester Public Art: A guide to all the public art in and around Rochester. If you're looking for more of a tour-like experience, check out ARTWalk.
Mount Hope Cemetery: Free historic walking tours on weekends from May – October. Twilight tours and other interesting tours are only $4/person.
Self-Guided walking tours: formerly $4.95 for a day's access, now FREE! Just load them up in Google Maps on your phone or print them out and get moving!
Bike Ride Along the Canal: Assuming you have a bike, that is. You could also walk!
$5 or Less
Ice Skating at the Ritter Ice Arena at RIT: $5 for most public skate times, but only $3 for noon-time weekday sessions. Skate rentals are $3, if you need them.
The "Dollar Theater" – Second run movies at cheap prices. Called the "Dollar Theater" because all movies on Tuesdays are only $1. The highest price you'll pay is only $2.25, so it's still a steal, and a great way to catch films you thought you missed in the theater!
Abbott's Frozen Custard: As much a Rochester staple as Wegmans and Kodak!
Buffalo Wild Wings (BDubs): Discount Wings on Tuesday, Legs on Wednesday, and Boneless Wings on Thursday!
Bowl-A-Roll: Lots of specials, including College Night (Sunday & Monday after 9pm, $1 bowling and $1 shoe rental) and FREE bowling if you visit one of a long list of merchants!
Black Button Distillery tours and tastings: For the adults! Right down the street from Rochester's public market (another great budget-friendly place to visit!), you can see how Black Button Distilling makes their craft spirits, and then try some! Tours and tastings are only $5 per person, and you can book a tour online.
$5 or Less with a Student ID
Sonnenberg Gardens & Mansion: Pretty much the coolest gardens I've ever been to. Trust me, they used to take us there as a field trip every year when I was in elementary school, and I still never tire of going!
The Little Theater: Art house films for only $5 for students, children, and seniors.
George Eastman House: One of those "must see" things in Rochester.
Susan B. Anthony House: Women's suffrage for the win! $3 admission for students.
Just over $5
Seneca Park Zoo: The prices drop closer to $5 during the winter!
Red Wings Baseball: Reserved seating is just $6!
Find More
This is by no means an exhaustive list, just some suggestions! This list was originally posted in August of 2008 – I'll try to keep it updated, but I can't guarantee the long-lasting-ness of this list. Some more places to check for cheap or free things to do in Rochester:
City of Rochester list of Festivals, Parades, Concerts and More
RochesterDowntown.com Entertainment Guide
Photo by _yoshi_