I was contemplating the question, "Where do you see yourself in 10 years?" and I starting thinking, "Wait! Where am I now?" Here's the breakdown of my finances… The Man With No Name style!
The Good: cash, checking, savings, assets, etc.
Cash: $82.00 and a bunch of rolled change equaling $11 or more
Checking: two accounts totaling $166.79
Savings: two accounts totaling $14.19 (yeah, I know, I'm working on it)
Assets: one 1996 Oldsmobile Delta 88, worth around $2000, and a single share of Kodak stock ($26)
Etc.: I am owed $200
The Bad: debts with low or no interest rates
Car loan: Interest free, $1900 still to be paid
The Ugly: debts with interest rates
Credit card: $1731.54 with an interest rate around 17%. Painful.
Student loans: $24,867.00, deferred payment for the time being, although the unsubsidized portion is wracking up interest as we type.
There. If anyone was thinking of suing me or asking me to buy anything… you might want to move on. There's no money here!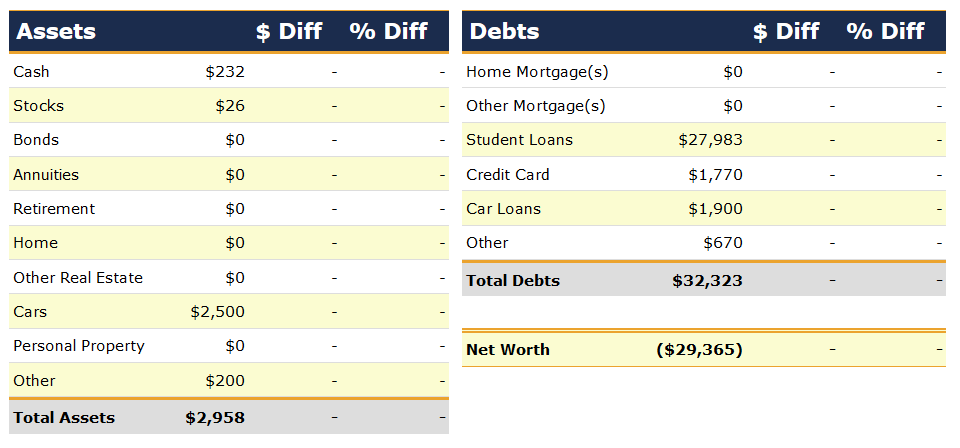 I haven't bothered posting the graph yet, because I only have one month's data. So it looks like I had a huge drop off from $0 to -$25,579 from November to December. Once January is done and I update it, the graph should be accurate and I'll post it.
Time Travel