I had been a "20-something personal finance blogger," starting with the day I dropped out of film school at age 20 and started this blog, up until now… this will be my very first update as a "30-something personal finance blogger," I suppose. So, let's see what the net worth of a newly-minted 30-year-old who shares this stuff on the internet looks like:
Change: +$3,565 or  +11.60%
September Net Worth TOTAL: $34,293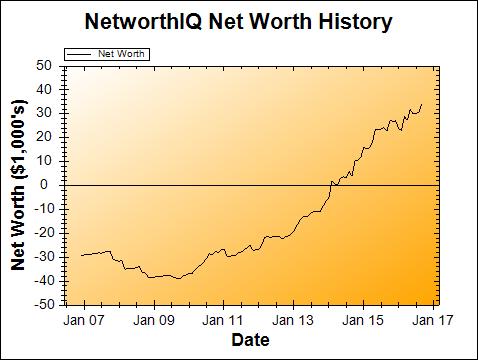 Lookin' good, little graph! I have to say, I really love having nearly 10 years of net worth data in a handy spreadsheet-and-graph setup. Unfortunately I can't recommend the website I use anymore, because it's old, broken, and not maintained at all. I'll probably be switching to Personal Capital soon, which is a free solution that all the cool kids use. (And by "kids," you know I mean awesome people on the internet who track their net worth.)
Mint also gives you a peek into your net worth, but I don't use that exclusively because it doesn't capture things like my physical cash on hand, or my tax liability, which I calculate manually like a crazy person. (I do use Mint to log into 90% of my accounts to make it easier to do the manual calculation, though!) NetworthShare is yet another free online solution that was made to replace the old and broken one that I still use, but the graph is not as easily sharable as the image I get from Old-Brokey, so it's great for tracking your net worth, but not right for me. Obviously, I'll let you know how Personal Capital works out after I get a chance to try to out.
Goal: Reach $38,901 in Net Worth by Age 30 – MISSED
Yup, I fell short of the goal I set for myself to hit $38,901 in total net worth by, well, right now. As much as it doesn't exactly feel good to fall short of a goal, I'm pretty okay with it. Here's why:
It was a pretty arbitrary deadline to begin with. Age 30 was selected because, well, it's that nice round number where you're supposed to become a "real adult." But there's nothing actually special about the day this month where I turned 30 (net-worth-wise, anyway). It has no relation to my earnings or savings or monetary events at all.
It was also a pretty arbitrary goal, as well. $38,901 was the lowest my net worth ever got in the negative back when I had a pile of student loans and not much else to my name. Reaching the positive version of that, where my old student loan balance is completely offset by assets? Would be cool, yes, but again, there's nothing actually special about that number. I'm not "rich" at that number, nor am I necessarily financially secure at that number, nor do I get a big party. Well, I guess I could get a big party, if I throw one, but then I wouldn't have all of that money, now would I?
Other shit is happening. I'm having a baby, sometime within the next 6 weeks. While it has meant that I have extra incentive to save up money, it also means a lot of necessary expenditures, especially in pregnancy healthcare. Sorry not sorry that I put the health of myself and the fetus first. 😛
And lastly: I came pretty close. The $5k-ish that I was off by? Market swings, changes in when my rent is due, and a few other things are pretty much all that came between me and hitting that goal.
With all the baby stuff (especially a labor-and-delivery bill that will top $4k), I can't say I'll hit the goal this year even… but I'm still making steady progress upward despite everything, so… whatevs.
Baby Stuffs
This will be the last month of "not much to report!" I'm firmly in the third trimester (a report on second trimester total costs is coming soon, but I'll reveal a little spoiler: it's not much), and costs are about to start ramping up in the next few days. We recently got my husband the Discover IT credit card (referral link – if you open this card, you get a $50 cashback bonus, and so does my husband!) on the recommendation of Jim over at Wallet Hacks, because it's paying 10% back at Amazon for the rest of the calendar year. And we are buying a significant amount of baby stuff this month (car seat, stroller, rug for the baby's room, and all the odds and ends we didn't receive from baby showers) from Amazon.
But all of those baby purchases will be in October, so as far as September goes, we managed yet another month with absolutely no spending on the baby. A few maternity items for me, and I took a trip up to visit my family in the north (and attend a baby shower in my honor), but we bought absolutely nothing for the baby itself during the month, which was one of our goals. Woohoo, we did it!
Taxes
Somehow, it seems like I'm writing about taxes every month, which is odd, because they are quarterly estimated taxes, not monthly estimated taxes! But because the federal government and the Commonwealth of Virginia seem to be on slightly different schedules, our quarterly tax payments do actually seem to come out nearly every month at some points. September was actually a double-whammy where the two entities actually are on a similar schedule, so they were both paid in September. But hey, death and taxes, whatcha gonna do? (Hopefully avoid a big ol' tax bill next April – that's what!)
Predictions
So September was a nice bump up (minus that tax payment), but here's what I predict for the foreseeable future in my net worth: DOWN. Down every month, for at least the next… four months?
October will just be buttloads of baby spending (even as we try to keep the spending low, there really are things we're required to buy, like that car seat). And the baby could come at any time.
November I'll both lose pretty much all of my income (unless I can somehow work on my freelance projects with a newborn in the apartment – anyone wanna give the odds on that working out?) AND there will be a big, fat, $4,000 – $6,000 hospital bill.
December, I don't imagine I'll be working full-time again yet (plus: during the holidays there usually isn't much work from my clients, anyway), and we'll have to start paying for health insurance on the baby.
January… I hope I can pick up more income again by that time, but let's be realistic: babies are work, and my time may not allow it.
After that… no clue. It's not entirely clear what our "new normal" will look like, as freelancers with a baby in our lives. But hey, it's a new adventure – and that's something to look forward to, even if net worth has to take a hit in the process.
Also, if you'd like to see how I stack up against other personal finance bloggers, be sure to check out The Ultimate List of Blogger Net Worths over on Rockstar Finance!