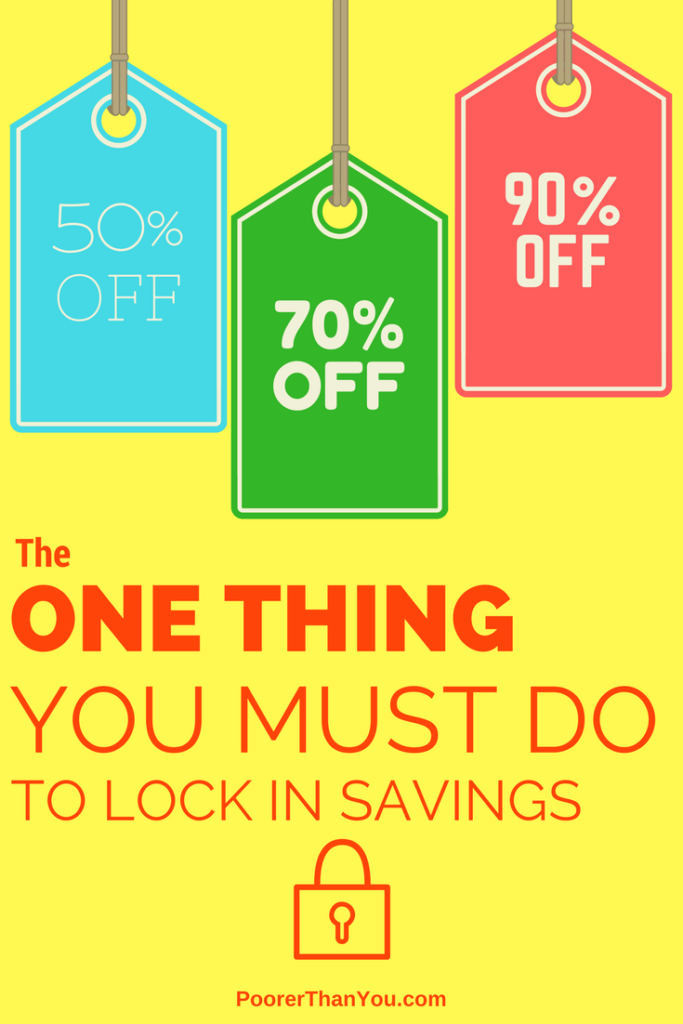 You: "I saved 75% during the outrageous sale at Major Electronics Retailer!"
Me: "Cool! Did you save that?"
You: "What? I just told you I saved 75%."
Me: "Yup. Did you save it?"
You: "What is wrong with you? I just said-"
Me: "Yeah, I heard you. 75%. But did you save it?"
You: "Now listen here, you! I JUST SAID-"
Me: "Who is on first?"
(This is why I don't have any friends. They've all died from the high blood pressure I gave them. Oops.)
But this concept is so crucial, I'm going to continue to be a pain in the ass about it. Because it feels really good to save money, doesn't it? But saving money on a purchase means absolutely nothing if you don't save your savings.
Other Ways to Say "Save Your Savings"
These might be less confusing and more likely to keep you from strangling me out of frustration:
Bank your savings.
Take that money that you saved on a purchase, and use it to grow your net worth.
Whenever you get a good deal, save the difference between the deal and full price.
Make your savings real by actually doing something with the money you saved.
Used a coupon? Put the value of that coupon in a savings account! (Extreme couponers, I'm looking at you.)
You saved money buying something? Great! Now log onto your bank account and put that friggin' money in a savings account. Or pay down your credit card with it. Or invest it. Whatever grows your net worth. Do that.
I think you're with me now. You know what I mean by "save your savings." That there's a difference between the act of "saving money" (putting money in a savings account/investing/paying off debts/growing net worth) and the act of "saving money" (paying less than full price on a purchase). And that, unless you do the former when you do the latter… you're not really saving anything.
What Happens If You Don't Save Your Savings?
You lose that money. It gets eaten up by the evil swamp monster! (Basically.) You spend it on something else. I saved $2 on laundry detergent yesterday, thanks to a coupon from my grocery store. But if I don't move that $2 out of my checking account and into savings? I'll spend it on something else. It's just natural – the money is sitting there, in a spending account.
If you don't have a plan for how you're going to save your savings, you won't save your savings. It's as simple as that.
You're in luck, though. I have some plans for you…
How to Actually Save Your Savings
Let's start with the general premise:
You save some money in some way. Let's say it's a Buy-One-Get-One Free (BOGO) on Snack Packs. So you save $3.24. (Wait, can I really get 12 Snack Packs for $3.24? BRB, gotta go place an order for 120 Snack Packs!)
Now what?
Log Into Your Bank Account, Move Money Into Savings
My friend J. Money did this and he saved $5,484.07 in one year. So this totally works and you should do it. And with the advent of mobile banking, this is ridiculously easy these days. I'm going to use Capital One 360 as my example:
The same day that you save $3.24 on Snack Packs, you log into the Capital One app on your phone, or on the computer.
You choose "Transfer Money" from the little menu on your checking account.
Transfer from checking, into a savings account, $3.24. Memo: "Snack Packs are delicious."
If you don't have a Capital One 360 savings account, use whatever you've got. Or open a 360 account right now, because they are awesome and have no fees or minimums, so I don't even know what you're waiting for. It takes like 42 seconds.
It's important to do this the same day that you save the money. That way, you won't cheat yourself by spending that $3.24 on something else. (Like… more Snack Packs. A person only needs so much pudding.) You can probably do this once a day, for all the money you saved that day, if you found any other great deals.
Sound too tedious? How about you…
Use Online Bill Pay to Throw Savings at Your Credit Card Debt
One of my sneaky little tricks that I used to pay off my credit card debt fast: paying the bill as soon as I got some money. Since "saving" some money counts as "getting" some money, you can use it here.
A thing to keep in mind: some credit card companies will charge you a fee for paying more than once a month. (What a bunch of baloney! But it happens.) Check in with your credit card to find out if that's true. Protip: you can ask them via the Live Chat or Secure Message Center in your online account. No phone calls needed, because I hate phone calls.
Assuming your credit card doesn't charge you a fee for multiple payments:
The same day that you save $3.24 on Snack Packs, you log into your online bill pay in your checking account, or in your credit card account.
You set up a payment for $3.24.
That's it! So easy!
But what if your card does want to charge you for multiple payments in one month?
At the beginning of the month, set up a payment for your credit card in your checking account's online bill pay. Make it for as much as you can afford to throw at that high-interest soul-sucking debt (definitely make it higher than the minimum payment!). Set the date of the payment to be like 5 days before your bill is due.
On the day you save $3.24 on Snack Packs, log back into your checking account.
Edit the pending credit card payment. Increase the amount by $3.24.
The day your payment gets sent off, set up next month's payment. Repeat until debt is gone.
No credit card debt to pay off? No problem! I got other ideas for you…
Invest Your Savings
There are a lot of ways to invest. If I tried to do a step-by-step on all of them, this section would be miles long. Instead, I'll just give a short summary of some ideas, and you can figure out how to do the execution. (Or ask in the comments below, if you're totally lost.)
Put your Snack Pack money in an IRA. Once you have an IRA open, you should be able to contribute small amounts to it whenever you want. If there's a minimum transfer requirement, save up your Snack Pack moneys in a savings account and make a transfer as soon as you have enough.
Find some commission-free ETFs. Use Snack Pack money saved up in a savings account to buy them.
Join LendingClub as a lender. Transfer Snack Pack money into your lender account as you save it. (You can totally do as little as $3.24. I just did it to confirm.) When you get up to $25 in cash in the account, fund a new loan.
Save your Snack Pack money in a savings account, then go into work and up your 401(k) contribution by 1%. See if you even miss the money when you get your next paycheck. If you do, transfer the Snack Pack money back out of your savings account to make the difference. If you don't miss it, leave that money in savings and enjoy DOUBLE SAVINGS.
But what if you're a Luddite and all this "online" stuff just doesn't jibe with you? Other than wondering what you're doing reading a blog, I'd say you could…
Use a Coin Jar
If you're some kind of weirdo that uses cash, saving your savings is super easy and I'm mad at you if you're not doing it.
Take your $3.24 and put it in a coin jar.
When your coin jar starts to look super full, take it to your bank and deposit it into savings.
Next Steps
Wait, what? I just gave you a bunch of action steps! What are you even doing down here, still reading?
Fine.
Scroll back up, pick a way to save your savings.
Do that.
Brag in the comments about how awesome you are at Saving Your Savings.
Bonus step: Want more savings to save? Check out these over 70 side hustle apps to help you make a little extra cash to save!
Photo credit: Shiny Things by formatc1 on Flickr
Save
Save
Save
Save