February has been a month of reflection for me: between doing the 30-day money cleanse, doing our taxes, and generally reading & writing more about money (again). I also got "back" to work (from home) this month, which of course has been an adjustment. So, did it all help? Is my net worth growing at all?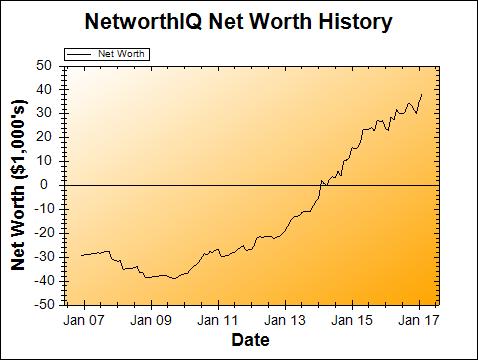 Change: +$3,129 or +8.93 %

February Net Worth TOTAL: $38,149

I guess the work this month did pay off, after all! This puts me within spitting distance of achieving the 1st goal I came up with for the 30-day money cleanse: Hit a net worth of $38,901 by June 2017. Looks like June is totally doable! 😀
Here's what went into February's net worth jump:
Leaning Off of Cash
I've long been a proponent of an emergency fund, especially when you first start out with organizing your finances. I grew up watching the people in my life who weren't good with money bounce from emergency to emergency, always needing cash but relying on credit instead, like a crutch. I saw decisions made about which home repairs to make, and stretching car inspections to months after they were actually due. I wanted to save myself from those types of situations, so I prioritized an emergency fund, even above high interest debt reduction.
But 10 years later, things are different for me. After reading about how ERN over at the Early Retirement Now blog has no emergency fund, I took a look at my own cash reserves. Between emergency funds, a cash buffer in checking, and cash savings (for things like travel, my next car, etc.), my husband and I were sitting on more than six months' worth of expenses in cash. Not to mention several months' worth in Roth IRA contributions (which could be taken out at any time with no taxes or penalties), plus hefty amounts of available credit at low interest rates (thanks to years of careful credit building and management).
I found that even if we took away the cash emergency funds and all the money saved up for our next car, there was still more than 3 months' of expenses in cash in our accounts! So, that's what I did: we're currently in the process of moving what used to be labeled "emergency fund" money into investments, as well as the Next Car fund. Note that this only works because we've been saving cash up for so long!
Not-So-Much-An-Emergency, No Fund Needed
Also, I've severely narrowed the list of things that I consider an "emergency" these days. Car breaking down? That's not an emergency, that's a planned-for expense. (I have a "Car Maintenance" savings account for it!) Loss of income? Being a freelancer, I've been able to shift and change things whenever that happens, rather than pulling from a fund. Medical issue? An emergency, sure, but I work on maxing out our HSA every year, so that's its own separate "emergency fund," and most of it is invested in equities (stocks), not cash.
It's a bold plan, but after 10 years of financial responsibility, it feels like I'm ready for some bold plans. Cash, earning 0.75%, has been dragging down my portfolio and holding my net worth back. Inflation eats away at it every year. There are a lot of different ways to create security, and successfully outpacing inflation is one of them. My idea is to use a little bit of everything, in order to get ahead. But before now, I was using "cash" too much. 
Taxes
Still working on them! There was a slight hiccup with some 1099s, but that's been straightened out. Now I'm just waiting until I have a long chunk of time, so that I can test out Credit Karma's new (free!) tax prep offering and write a review for you nice folks. But in continuing to fiddle with the numbers in TurboTax, I can see that maxing out our HSA and Traditional IRAs for 2016 makes a massive difference in how much we owe in taxes.
$2,857.10 is the difference, in fact! That includes the fact that by maxing out the HSA and IRAs, we go from owing state tax to getting a state refund. We still owe some federal taxes no matter what – ah, the freelancers life! The best part is that because we're putting the money into investments, that $2,857.10 gets to grow our net worth – rather than going to government coffers. Nice.
That's really about it for February – an exciting number change, but not much of a story here! Moving money into investments made a huge difference this month. Is anyone surprised?
Bonus Round – Instant Pot?
Oh! One more thing before I totally wrap up the net worth post for the month. Since you guys were so helpful last month with my question about noise-isolating headphones (I got the HyperX Cloud IIs – thanks Chloe!), I figured I'll ask another:
Our slow cooker is crapping out on us after 5 or so years of heavy use. RIP, 7-quart Crock Pot! I'm trying to decide whether to replace it with the same exact model we have, or to get an Instant Pot. But when I went to look at Instant Pots, I was a little overwhelmed to see that there are five different models! So I'd love to hear some opinions on the Instant Pot, if you have them. I don't want to over-clutter our kitchen with unnecessary appliances, but we cook at home all the time and I know lots of people love their Instant Pots.
Do you own an Instant Pot? If so, do you love it? Which model do you recommend? Has it replaced a slow cooker for you, or do you have both?
---
If you'd like to see how I stack up against other personal finance bloggers, be sure to check out The Ultimate List of Blogger Net Worths over on the Rockstar Finance directory! And as a fun bonus, ERN recently did an analysis of the wealth inequality of that list (no seriously, it's a fun post! analyzing wealth inequality!).

Save
Save
Save
Save