At this point, I think February is just getting shorter every year. It's a weird, sick joke. I'm convinced there will never be another leap year, and eventually the calendar is going to try to pass off a single day, February 1st, as a whole month. I'm on to you, calendar! I know your weird tricks! Ahem. Well, because this month is exponentially shorter than every February before it, this month's update isn't super exciting. At least today, March Fourth, is the only complete sentence on the calendar (albeit, a misspelled one)!
Change: $6,491 or +6.47%

January Net Worth TOTAL: $106,815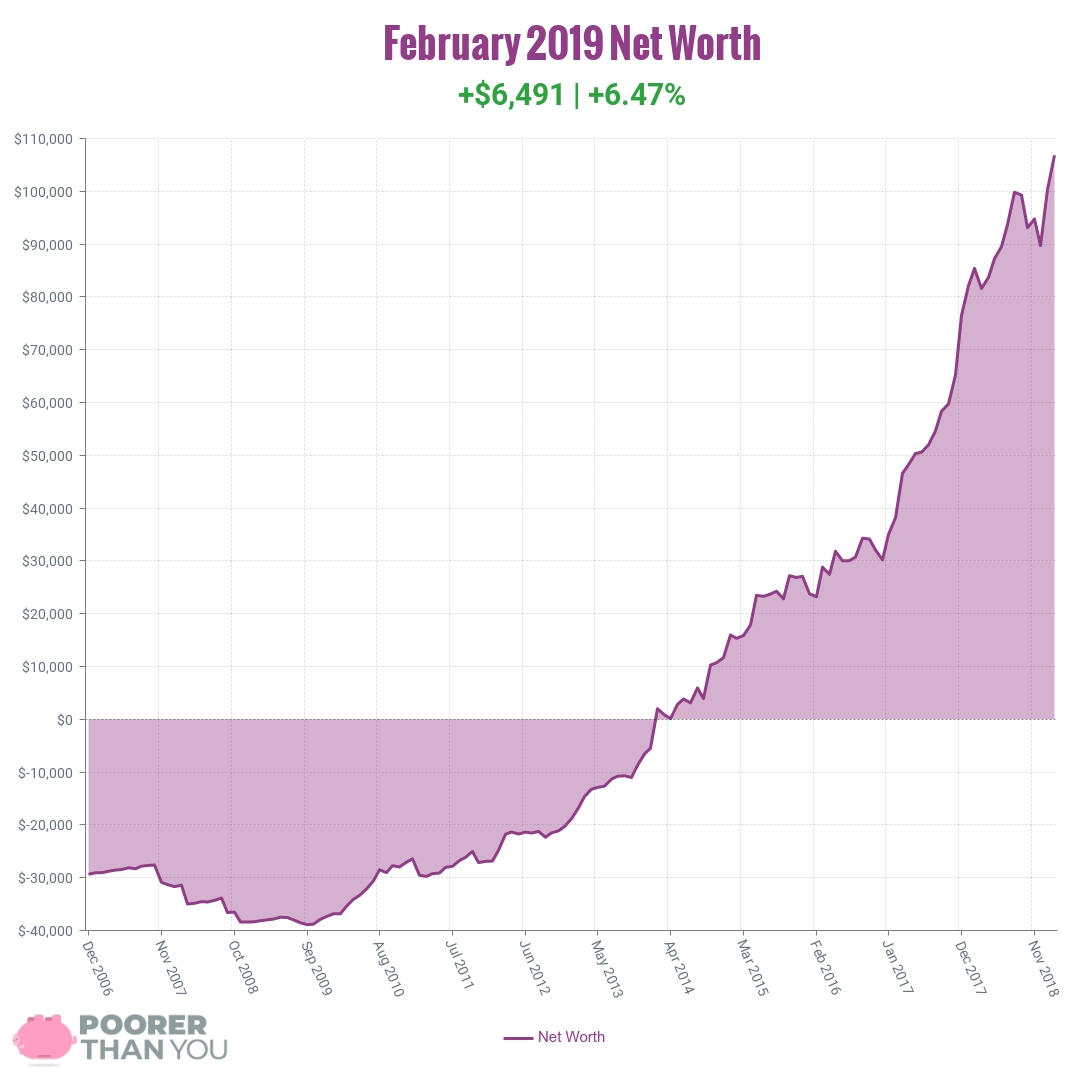 Hot diggity dog, everything's coming up Stephonee! Let's dig in:
Cash +$2,259
Another lovely month of hoarding cash reserves! A good chunk of this was from selling old video games on eBay to pay for our dental work.
Speaking of, I had the rest of my wisdom teeth extracted this month! It wasn't too bad, thankfully, and I saved a boatload by going to an in-network oral surgeon (duh) and by opting for just local anesthetic. A lot of people tried to talk me into getting "put under," but considering the procedure didn't bother me (I guess I'm weird that way) and took less than five minutes, I was glad that I didn't. I was able to drive myself home, so we didn't have to find childcare or a ride for me during the middle of the day, either.
Retirement: +$4,351
The stock market is a-rebounding! (I guess?) I didn't get a chance to make any manual contributions during this short month, so aside from my automatic HSA deductions from my paycheck, that was all market growth.
Car: +$47
It goes down, it goes up, who knows why? Thought it does need an oil change and now one of the seat belts is twisted and stuck—thankfully for a seat we don't often use, but still, annoying!
Other Assets: -$28
I continue to withdraw cash from my Lending Club account as it gets paid, and it looks like one of my borrowers paid off their loan in full, because there was a good amount of cash in there this month. (Well, you know, like $28, which is only a "good amount" in relation to the $44 remaining balance!) Good for you, borrower! I certainly prefer a payoff to a default.
Student Loan: no change
Ah, don't worry—it's not because I missed my payment. It's that February "short month" thing. My payments are auto-debited on the 28th, so February payments never reconcile by the time of the net worth update. Next month will show double, and that's fine.
Credit Card: -$109
Still no excitement here. Despite the fact that it seems to make people nervous that I carry around almost $11k in credit card debt, I'm not making any moves to pay it off early.
Reminders: the credit card is still under a 0% interest promo, and I have the cash to pay it off, but I'm currently using that to earn a tasty $300 bank bonus.
Other Debts: +$247
Next year's business taxes + life insurance + car insurance. It'll go down next month (car insurance payment due!) and then it'll climb back up again.
Milestone Progress
Debt Freedom: I didn't make any extra payments to debt this month, so we're still looking at May 2024, as far as I can tell. That may change in the next few months, once we get past my dental work and find out how much my husband's is going to cost. Right now I'm just waiting for the holes where my wisdom teeth used to be to heal up, then I can schedule my appointment to get braces (and three more teeth extracted, yay?) and then schedule my husband's braces consultation. Boy howdy, isn't this an exciting paragraph of debt payoff and literal teeth pulling? I know how to party, I tell ya!

$200,000 in Retirement Accounts: Currently at $106, 370, so $93,630 left to go! And the "goal" is to hit it 5 years after hitting $100k in retirement, so August 2023 (54 months from now). That's $1,733.89 per month, which doesn't seem crazy. Though, the past 6 months have not done that well (only catching up a bit the last 2), so who knows? It may be one of the milestones I blow past way early, or it may be a long slog—all depends on what the market does over the next few years.
Aw yeah, Veronika!
It's been a WHILE since I actually wrote a blog post, but this was a fun one.

Celebrating $100K increase in net worth in 3 years. ?https://t.co/letQpF5LPT

— Debts To Riches (@DebtsToRiches) February 27, 2019
This milestone is pretty near and dear to my heart, since I only just achieved it myself about a year ago, my first $100k in net worth growth. (As soon as I opened up that post to link to it, I was like "Didn't I JUST write this? Didn't I JUST find these gifs?!?") But, since it's been a little over a year, I can now say with authority that it really was that the first $100k was the hardest. Or at least, I seem to have hit a steady stream of other milestones ever since.
Awesome job Veronika!!
How did you fare during this obnoxiously short month? I run my net worth numbers by hand in a spreadsheet, and you could do the same, or you can check out Personal Capital for some automagical tracking. You and I each get a $20 Amazon gift card if you sign up through me and then link it up to at least one valid investment account.
---
Time Travel