I've been busy before at various times in my life. Like when I was in college full time and working 3 jobs and writing for someone else for free (somehow I didn't die of exhaustion). But I swear, this month took the cake. Work's been busy, my kid has been in swim classes and also sick this month, I have a non-optional volunteer position that requires most of my time and attention in July, I signed up for an online course and launched a new side hustle, and I hosted a sold-out film screening with a Q&A panel right in the middle of the month. I managed to get through the month without pulling any all-nighters (just several ill-advised late nights), somehow.
Oh, and the dental work! I knew this month would be a bit of a toss-up for the numbers: it was a three-paycheck month for husband and me (woo!) but husband also got his own $5,000 braces in July (eeeeee!). So, how did the numbers finally shake out? Here goes:
Change: + $4,610 | +3.91%

July Net Worth TOTAL: $122,594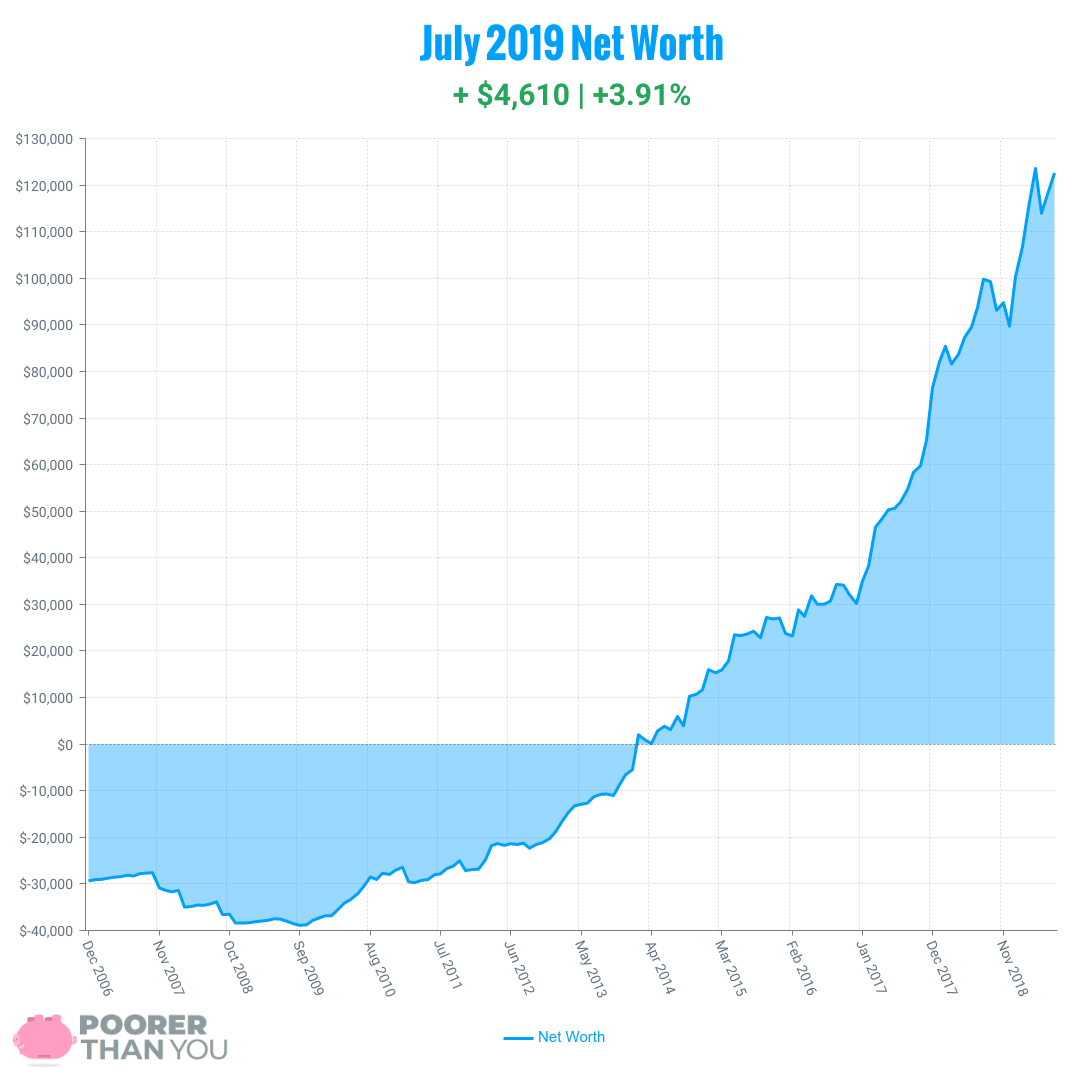 If you're new to my net worth updates, here's what you need to know (returning readers may choose to skip on down to the new stuff by clicking here):
Net worth is assets (what I own, on the left of the green chart) minus liabilities (what I owe, on the right of the green chart).
The net worth is for me alone, though I am married. My husband and I maintain "separate but combined" finances, especially for the purposes of what's shared on the internets. What you see here are the totals of all of the accounts that are in my name only, plus one half of joint accounts. (Debts are all in my name because my husband would rather eat his socks than take on debt. Not anymore! The credit cards for his dental work are in his name and I'm counting them toward his net worth. But also, the savings to eventually pay them off are all in his name now. More on this below in "Cash") This does occasionally cause some wonkiness in the numbers, but I will always call that out and explain it (look for me talking about "the marriage bonus" or "the marriage penalty" from time to time). Also, it tends to even out in terms of helping my net worth about half the time, and hurting the other half.
If you're interested in looking at my past numbers, there's a handy "Time Travel" navigation section at the bottom!
Now, on to what's happened this month:
Cash: +$964
That three-paycheck month at work! Though if that were the only thing going on, then this number would surely be a lot higher. We had some missed work (from the dental work and doing too many dang things this month), we spent some money (bought one of those fancy robot vacuums on Amazon Prime Day, so now I have a second robot servant in my home, and I can tell my other robot servant, Alexa, to have the Deebot clean the floors because the future is now).
The rest of my cash this month, though, went to my husband, to start funding his account to pay off the $5,025 he put on two credit cards for his braces. Now, as I mentioned above, my husband and I keep separate finances, which when things like this happen (we're working together to save for something in one person's name only), it looks a little funky. Case in point, money disappearing from my Cash asset here because I gave it to him. But, you know, he's got a $5,025 debt on his books now, so I think a little cash missing this month for me is the better end of the deal.
Why two credit cards? Well, we were able to get the opening bonus on both cards with just his braces. That's it – one purchase, and we got over $700 in cash back. Plus, one of the two cards has a 0% interest for 15 months offer, for both purchases and balance transfers (with $0 in balance transfer fees), so we're able to get the entire braces purchase at 0% until we can pay it off. As always, I keep track of these offers (the ones that give the most cash back, not travel rewards) in a spreadsheet that you can check out. And it's in need of some updating, but I have the backstory on all this dental work, as well.
Retirement: +$3,411
I can take credit for a very small chunk of this. Instead of ~$500 in contributions, it was ~$750 this month, due to the third paycheck.
The rest? Market growth, baby! At some point, this gravy train will have to pull into a station and we'll have another recession, but until then, it's making my net worth numbers look real good.
Cars: -$163
Darn you, car!
Other Assets: No Change
Honestly, this might be a mistake but I don't care enough to look into it. It's such a small amount of money, that even if it is wrong, it's only off by about $20 or so. And it's possibly not a mistake: I did see that Lending Club managed to recover some of my previously-written off money through a collections effort. So maybe they managed to collect the exact amount that I lost/withdrew from the account this month? Wild if true!
Student Loans: -$76
Minimum payment paid on time as usual. The plan is still to tackle these eventually, after the braces are paid for, and IRA contributions are maxed out. So in theory, I could start paying these down aggressively toward the end of the year. Maybe. We'll see.
Credit Card: -$72
The minimum payment for the 0% interest credit card for my braces (not to be confused with the cash missing for my husband's braces, yes, we both currently have braces and look even more like children). I have cash put aside to pay this off when the 0% rate is close to ending, but I'm riding the interest I earn on my savings until then. (Remember that I'm pretty good at getting up to 5% interest on a savings accounts.)
Other Debts: -$250
No, I didn't pay a big tax bill or anything, I actually spent money and this went down. Because I spent money on my business! Money reinvested in the business removed a growing liability (I account each month for how much I need to put away for hosting and site security), and it lowers my estimated tax bill, as well.
On top of that spending, I also bought Julie & Cody's VIP Etsy Printables online course. Launching an Etsy store with digital downloads and printables relating to Poorer Than You has been something I've been wanting to do for a long time, and I knew this course would save me hours of doing my own research and get me to just start. My Etsy store isn't quite ready to show you (I need to launch a few more products in the shop before I start spreading the word about it), but I promise I'll give it a proper debut here when it is ready. Along with some more posts about my budget wedding, because my first few products are all tools that I built to help me successfully plan that.
Milestone Progress
Debt Freedom: Undebt.it is still telling me that in order to stay on track and be debt free by May 2024 I need to put $55.55 extra toward my debt every month. Which means I didn't get behind by not paying the extra $55.55 this month. But as I said above in "student loans," it won't be until the end of the year that I do put any extra there, if at all. So this date should creep further and further out, until I start focusing on debt freedom specifically.
$200,000 in Retirement Accounts: Another good month in the stock market brings this a bit closer! $77,188 left to go, 49 months remaining to get there "on time" (according to the arbitrary time frame I put on it). $1,575 per month, minus HSA ($583) and IRA ($500) contributions is just $492 in stock market growth needed. So, about that recession… think you could wait until after the next 49 months? Please?
Without much time to think this month, I wasn't really expecting such a great outcome! It was a nice surprise to have the numbers turn out this way after a month of hard work. That may seem silly, but in the early days of my net worth tracking, I could work hard all month and have nothing to really show for it. Finally, those seeds planted are producing fruit!
I run these numbers by hand in a spreadsheet, and you could do the same, or you can check out Personal Capital for some automagical tracking. You and I each get a $20 Amazon gift card if you sign up through me and then link it up to at least one valid investment account.
Either way, add it up and let me know if you're more in "seed planting" or "fruit harvesting" mode!

---
Time Travel