You know, I can remember being in ninth grade Global History class, learning about the Mayan calendar and the urban legends about the end of the world, and thinking "Gosh, in 2012, I'll be 25, turning 26! I'll be a real adult by then!" Ten years later, I'm figuring out that being 25 and being a "real adult" are two completely different things.
But in the spirit of trying to be a real adult, let's look at how the numbers have panned out for this month.
Change: +$70 or +0.26 %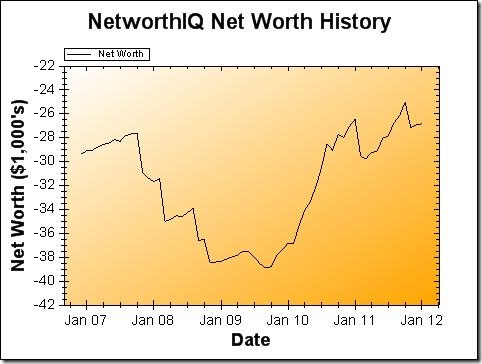 Alright, still recovering a bit from my emotional spending and insane moving costs. I went a little crazy before running the numbers for December. But, all in all, I'm recovering anyways and made just a tiny inch of progress forward this month. Up, not down, is still good… and hopefully I can do better next month.
Since there isn't a huge amount to talk about monthly-progress-wise, now is a good time to have a looksie at future plans. Longtime readers will be familiar with the idea of my Savings Snowball, but if you're newer around these parts, here's a quick explanation:
In order to fulfill multiple savings goals over time, much like a debt snowball, each goal has a minimum payment that gets paid every month, no matter what. Any extra money I can scrounge up goes to the goal on the top. When the goal on the top is met, every dollar that was getting sent to the accomplished goal "snowballs" down into the second goal, and the minimum payment for that goal continues. Therefore, the snowball gains momentum as it goes down the list.
Here's how things looked the last time I futzed with the snowball:
Savings Snowball as of April 2011
| | | | |
| --- | --- | --- | --- |
| Name | Goal Total | Progress | Monthly Payment |
| Future Car Fund | $10,000 | $1096 | $50 + All that I can |
| Travel | Rolling | $0 | $90 |
| Weddings | Rolling | $1140 | $75 |
| Retirement | $5,000/year | $3,714(total) | $150 |
| Charity Fund | Rolling | $95 | $30 |
| Occasionals | Rolling | $361 | $110 |
| Emergency Fund | $3,000 | $3,183 | Achieved! |
Now, let's tweak the numbers a bit here.
First of all, Emergency Fund needs to move back to the top. It's not pretty, but in the last two months I've borrowed from it to avoid carrying credit card debt in my irrational spending spree. Yeah. That happened. So first priority is getting it back up to $3,183.
Secondly, I'm increasing the contributions on Retirement. Not only am I getting a company match on my 401(K) now, but I'd also like to see my contributions inch closer to 10% of my gross salary. It's not going to happen right away, but I'll work my way up.
Third, the travel fund needs to be plumped up. Way up. Back in July or August, I started batting around the idea of attending Space Camp with one of my coworkers. We pinky-swore we'd do it in 2013. The cost of the advanced 6-day course is about $999 and it would need to be paid before this time next year (as I see many of the courses are already booked solid for 2012!). My current contribution of $90/month would get me there, but it wouldn't allow any wiggle room for any other travel this year. And I'm just too young and crazy not to travel as much as I can reasonably manage!
With those things in mind, and updates to the progress I've made since April, the Savings Snowball now looks like…
| | | | |
| --- | --- | --- | --- |
| Name | Goal Total | Progress | Monthly Payment |
| Emergency Fund | $3,183 | $2140 | All that I can |
| Future Car Fund | $10,000 | $2,192 | $50 |
| Travel/SPACE CAMP | Rolling | $90 | $150 |
| Weddings | Rolling | $852 | $75 |
| Retirement | $5,000/year | $150 for 2012 | $325 |
| Charity Fund | Rolling | $60 | $30 |
| Occasionals | Rolling | $545 | $110 |
(The $325/month for retirement includes both the automatic deductions from my paycheck for my 401(K) and the manual contributions I make to my Roth IRA.)
So there it is! All neat and tidy and updated, and a little depressing. I made very little progress on goals since April, and I backslid on my Emergency Fund. But, the good news is that I should be able to fully fund that E-Fund in February, and then progress down the snowball into Future Car Fund again.
We'll see if I'm right about a month from now! Happy February, everyone!