First, a correction: in the last update, I left off one little digit while calculating my net worth, and the final number came out totally wrong. Instead of what I reported, March really looked like this: +$2,148 or +12.81%.
Ahem — sorry about that, folks. Now back to our irregularly-scheduled catch-up update!
April: +$1,378 or 9.42%
May: +$346 or 2.61%
June: +$233 or 1.81%
July: +$1,334 or 10.53%
August: +$540 or 4.77%
TOTAL Change since March: +$3,831 or 26.20%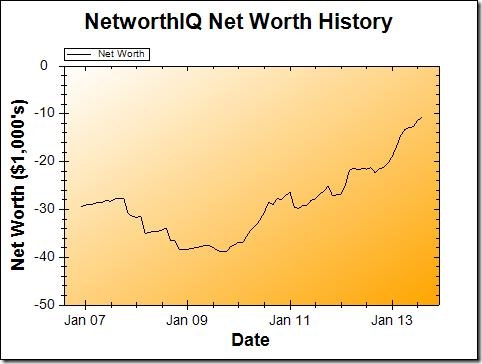 Your eyes do no deceive you! That is indeed positive growth in all five months, culminating in a 26% increase since March. Woohoo!
But before we all put on our celebration hats (which we're all going to do no matter what because September is my birthday), the bad news is coming…
September is going to suck (other than my birthday). Our apartment complex raised the rent (again) this year, and raised it right out of our price range this time. There will be more about that in future posts, but the short story is:
We went pleaded with our apartment office to work with us (got nowhere), then shopped around, found a lovely new place closer to work for both of us (at a lower price than our current rent) – but in order to secure it, we'll need to rent it a whole month before our current lease runs out (so pay an extra month's rent), and also cough up a month's rent for a security deposit, too.
So if we're very, very careful, my net worth update next month will be no more than a $2,000 drop. Yeah. There goes most of the progress since March.
Therefore, no updates on Savings Snowballs or my Quest to Reach a Positive Net Worth by September 2014 this time around. Those sorts of things will be best examined after I see where I stand at the end of September.
To end on a high note (because one must always sandwich bad news in between two pieces of good news): I'm getting married! The Boyfriend (henceforth "The Fiancé") proposed back in July. So there will be at least a few wedding financial updates here, though probably not too many (I have no intention of turning this into a wedding blog).
Got any really good wedding-on-a-budget or moving-on-a-budget advice for me?